The Olympic Bribery Scandal Looming Over Mitt Romney's Likely Chief Of Staff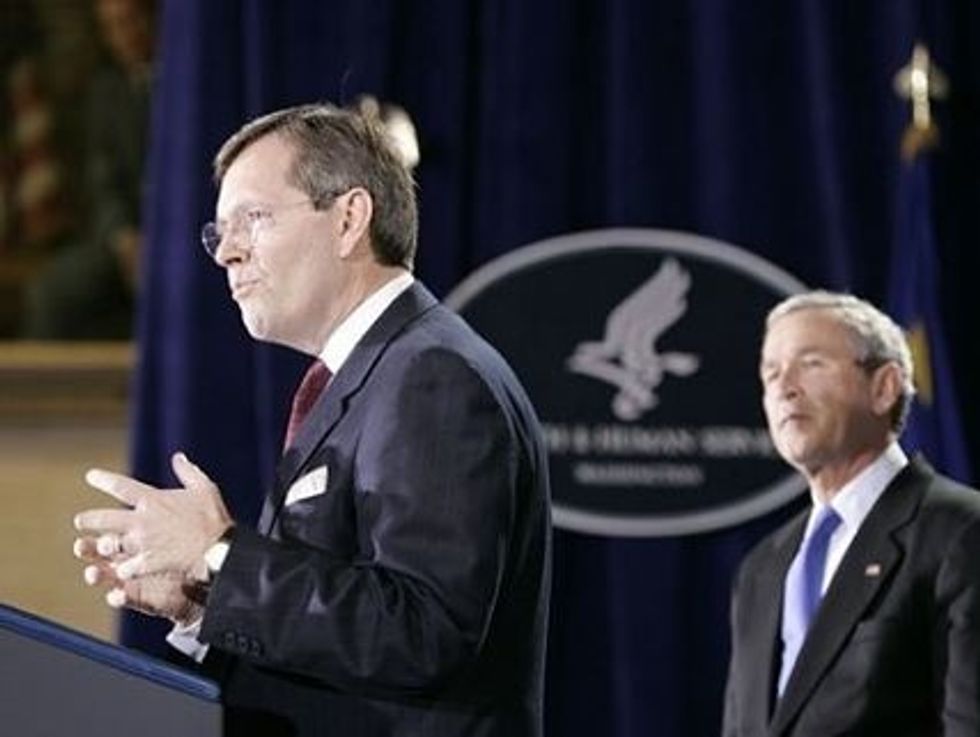 This article was written with Jillian Anthony
The man who implored Mitt Romney to leave Bain Capital and save the Olympics is now planning the GOP nominee's potential presidency as a top personal adviser. But Mike Leavitt, recently named to head Romney's transition team, may still be haunted by questions concerning his own role in the Olympic bribery scandal that brought them together more than a decade ago.
Back then, Leavitt was governor of Utah and at the center of the scandal threatening the 2002 Salt Lake City winter games and the Beehive State. "America needs you," he recalled telling Romney, a fellow Mormon, in a telephone conversation when he called upon the leveraged buyout titan to "turnaround" the image of the Salt Lake City Olympics. (Turnaround ultimately became the title of Romney's first book.)
When the bribes and other crimes surrounding Salt Lake's bid for the games became public — and the Justice Department issued a multi-count felony indictment of bribery and racketeering charges against bid leaders Tom Welch and David Johnson — top Utah Republican legislators said they knew of gifts and scholarships given to International Olympic Committee members a year before the public found out about the scheme. But the governor claimed he knew nothing about those dubious payments.
The Salt Lake City press corps openly questioned whether Leavitt knew more than he let on. A January 23, 2000 Salt Lake Tribune investigation, which is not available online, cast doubt on widespread claims of ignorance:
The revelation [that top Republicans knew about the bribes] raises new questions about when Leavitt, Joklik and others knew about tuition payments to the children of IOC members, and places a harsher light on statements by officials who, at the time the scandal unfolded, said they were shocked, disgusted and totally unaware of past excesses.
The indictment of Welch and Johnson was eventually dismissed — and Leavitt still claims he had no prior knowledge of the bribes. Yet former Utah Senator Scott Howell, a Democrat who also served as a member of the Salt Lake City Olympic organizing committee, told the National Memo: "You'd have to be living in a cave to not have known that type of stuff was going on."
As governor, Leavitt had the final say in approving Olympic budgets, which included International Olympic Committee educational scholarships. Intended for underprivileged athletes in developing countries, those scholarships were re-routed to the privileged sons and daughters of International Olympic Committee members as a "thank-you" for choosing Salt Lake City as the site of the 2002 Olympics.
"I don't think there was any question that he knew what was going on," said Mel Brown, a former Utah House Speaker and one of the Utah Republican legislators who had knowledge of bribes paid by Welch and Johnson a year prior to the scandal's outbreak.
According to Scott Green, the SLOC's former budget director, the committee's former vice president of finance, Gordon Crabtree, "told Governor Leavitt about [the bribes]."
Crabtree later denied making the comment, however, and did not returned multiple requests for an interview.
"Everybody knew what was going on," Green told the National Memo. "It wasn't like Tom and Dave were doing all this in secret. It was well known."
While Leavitt continued to deny knowledge of bribes made by Welch and Johnson, he called their actions "repulsive" and said the duo didn't represent the "values" or
"standards of behavior" in Salt Lake City's Olympic community.
In February of 2000, Leavitt told the Salt Lake Tribune he and the SLOC "deplore" Welch and Johnson's actions and "we revolt at being associated with them." Yet seven months later, Leavitt insisted that the SLOC must pay Welch and Johnson's legal fees. "It is still unclear if they broke the law," he said. "I think SLOC should back them."
"Any comment I made, any opinion I made, was not expressing a view whether or not crimes had been committed," Leavitt told the National Memo in a recent interview.
Welch and Johnson eventually received legal compensation and severance packages. At first, Romney said he didn't "like having to pay for Welch and Johnson's legal fees," because the "image and symbolism" were "distasteful" to him. As time passed, Romney publicly acknowledged that others likely played a role in the scandal — although Leavitt, the man who had the final say in the review and approval of post-bid Olympic budgets, was apparently left off Romney's list of culprits.
Brown, the former Republican legislator, said members of the SLOC and the bid committee could have protected Welch and Johnson by admitting that they had all "made the decision collectively" to grease the IOC members with gifts and scholarships in order to win the Olympic bid. "I think that way would have been a lot fairer for everybody than to point the finger at those two gentlemen," he said.
Today Leavitt is a "regular" at the Romney presidential campaign's national headquarters at 585 Commercial Street in Boston. He participates in strategy meetings and speaks at fundraisers. Along with his volunteer position as a personal adviser, Leavitt, his family members and his family business' associates have donated $24,422 to the Romney Campaign since 2007, signifying the close relationship between two men who tout saving the Olympics as a presidential credential.
If Romney wins in November, Leavitt is a likely chief of staff candidate (or perhaps the only potential cabinet member who happens to be Mormon). He's already outlining a Romney presidency with a plan that insiders call "Project Ready."
While Leavitt and Romney have come a long way since the 2002 Olympics, both men still cite those months in Salt Lake City as a benchmark on the presidential aptitude test —and depict Romney as the "turnaround" man who rescued the Games from disaster. If anyone is advising Romney to herald his Olympic experience, it's the man who's now planning his presidency. What remains to be seen is whether Leavitt can speak candidly about his own Olympics role.