The Only Evidence You Need That The Florida GOP Was Suppressing Voters? Long Lines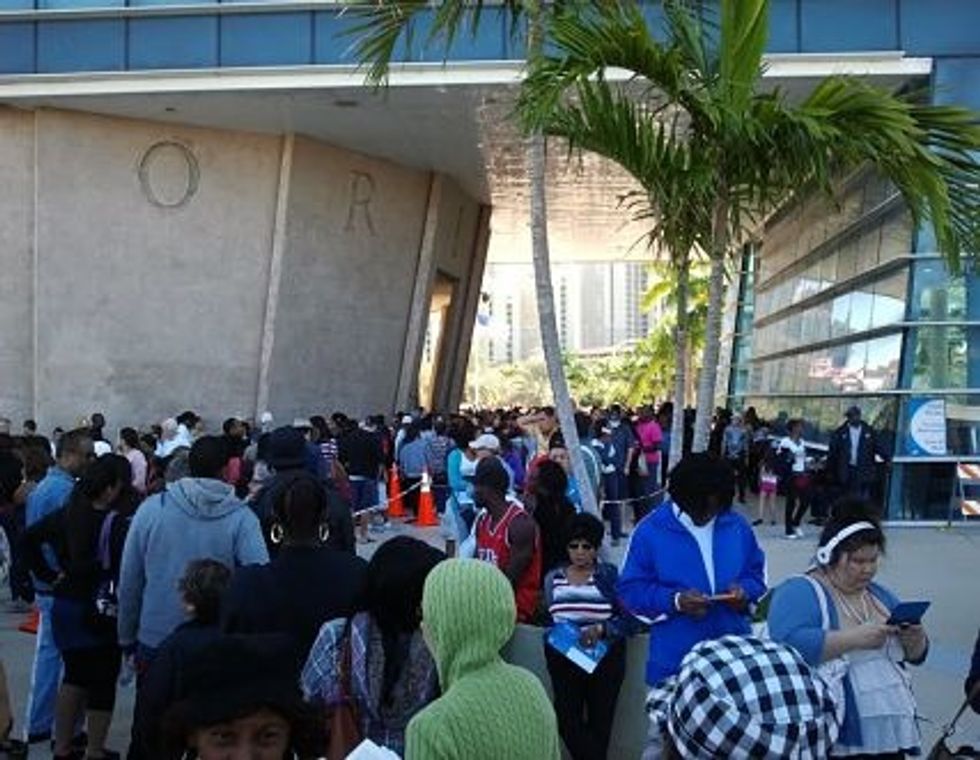 For anyone who spent hours waiting in line to vote in Florida on November 6, the blockbuster report "Former Florida GOP leaders say voter suppression was reason they pushed new election law" in Monday's Palm Beach Post might have them saying "duh."
Anyone who looked at what happened in Florida during this election can see Republicans, led by Governor Rick Scott, intentionally made it more difficult to vote in order to prevent minorities and other likely Democrats from reaching the polls. Thus voters spent up to nine hours in line waiting to cast their ballots — an injustice that can only be properly labeled as a modern-day poll tax.
Still the Post's exposé is important because it details the process that led to the intolerable waits that voters had to endure in order to vote, with testimony from two former, now estranged leaders of Florida's Republican Party and two Republican consultants.
It all began in 2008. Facing long lines for 14 days of early voting, Governor Charlie Crist issued an executive order extending early voting hours. He did this despite signs it would hurt his own party.
Republican consultant Wayne Bertsch said that GOP identified early voting as a weakness for Republicans. "In the races I was involved in in 2008, when we started seeing the increase of turnout and the turnout operations that the Democrats were doing in early voting, it certainly sent a chill down our spines," Bertsch told the Post.
In the aftermath of President Obama's victory in Florida — the first win for a Democrat since 1996 if you don't count 2000 — Crist says Republicans told him that through early voting he "gave" Obama the election. They wanted him to take away what they saw as the Democrats' key advantage.
Crist says he refused to limit early voting, but his term ended in 2010.
"I assume they decided, 'It's 2011, Crist is gone, let's give it a shot,'" Crist said. "And that's exactly what they did. And it is exactly what it turned out to be."
Under the well-worn guise of fighting "voter fraud," new governor Rick Scott cut early voting by over 40 percent.
"It's done for one reason and one reason only. … 'We've got to cut down on early voting because early voting is not good for us,' " former Republican Party of Florida chairman Jim Greer told the Post. Greer is now under indictment and suing the Florida GOP.
They also picked up on a tactic that helped George W. Bush win the state in 2000, purging voter rolls. Florida's Republicans also took a step beyond most of the states engaged in the GOP's War on Voting with some of the most restrictive voter registration laws in the country. The laws were so tough that the venerable League of Women Voters gave up registering voters in the state.

Like many of the anti-voting laws, a federal judge struck down the law. The voter purges were hindered by several lawsuits until officials gave up that effort.
But the restrictions on early voting stood and Scott maintained an unwillingness to extend the hours, though voters were clearly spending hours and hours waiting to vote during the weekends before the election.
"I know that the cutting out of the Sunday before Election Day was one of their targets only because that's a big day when the black churches organize themselves," an anonymous GOP consultant told the Palm Beach Post.
How does Rick Scott answer charges that he intentionally made it more difficult to vote by forcing voters to spend three to four times longer at polling places than voters in other states?
"Well, I'm very comfortable that the right thing happened," Scott told WKMG Orlando. "We had 4.4 million people vote."
The turnout was impressive — but this was a tribute to the voters, not the state government.
According to CBS, more African-Americans voted in Ohio, Virginia, North Carolina and Florida than in 2008. This is a sign that the GOP's voter suppression efforts backfired.
Yet Governor Scott still has a large role in how the 2014 election will take place, though his name will be on the ballot, seeking re-election. If voters feel he's taxing their right to vote, they have to show up in 2014 to vote him out — if they have the time.
Photo credit: Stills999 via Daily Kos