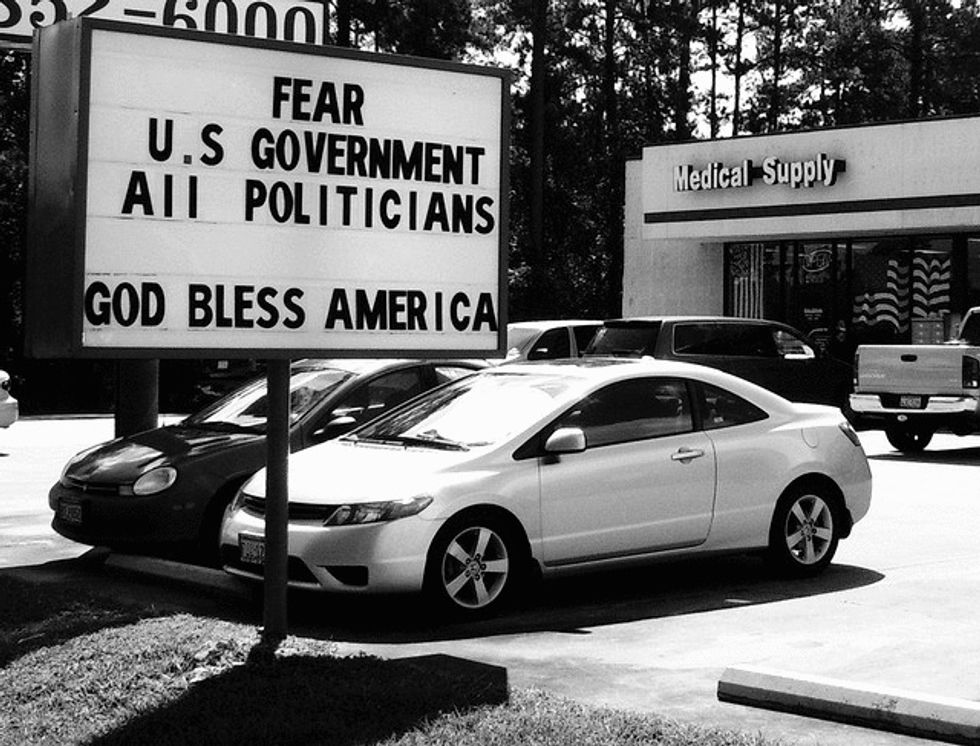 As the presidential election heats up, a question of strategy recurs: Why do candidates for the Republican Party's nomination oppose gay marriage, directly or indirectly, when polls show a growing number of Americans becoming more tolerant of gay marriage?
The question re-emerged after Gallup released two new surveys on Tuesday and Wednesday. The first showed a record high percentage of Americans supporting gay marriage — 60 percent. The second showed for the first time a majority, 51 percent, saying that homosexuality isn't a choice, but rather a trait one is born with.
The surveys concluded, moreover, that this trend should continue to grow in the future, as younger Americans are more likely than older Americans to "express positive views of same-sex relations."
During a radio interview in Texas last week, Senator Ted Cruz said the Democratic Party has "gotten so extreme and so radical in its devotion to mandatory gay marriage that they've decided there's no room for the religious liberty protected under the First Amendment."
Last month, Governor Bobby Jindal promised executive action to allow discrimination against homosexuals if Louisiana's Republican-controlled legislature fails to pass a measure to that effect: "We will be issuing an Executive Order … to prevent the state from discriminating against persons or entities with deeply held religious beliefs that marriage is between one man and one woman."
Why would serious GOP candidates say such things when the polling data is so clear? Why risk appearing outside the mainstream?
One answer is commonplace among partisans. Conservatives are staunchly opposed to gay marriage, especially evangelical Christians. Naturally, Republican candidates must appease the base, but in appeasing the base, they end up alienating everyone else.
Conventional wisdom holds that you can't win the presidency on a platform that conspicuously divides mainstream voters. And if you're not aiming for the political center, you're not a serious contender. This is why most liberals dismiss Cruz and Jindal as cranks.
It's a good story, a variation of another story called "Demographics Is Destiny." As the country grows more racially and culturally diverse, the country will naturally favor the priorities of the Democratic Party while leaving the older, whiter Republican base on the sidelines.
But what if it's not true?
What if the GOP doesn't need to revitalize its base to win? What if it doesn't need to appeal to the fat middle of the electorate? To the contrary, the Republicans may not need to broaden their appeal, not in the short term, because they are masters of the politics of fear.
Before I go on, consider the proper context.
Presidential elections are won and lost in swing states like Ohio, Virginia, and Florida. The popular vote is important in terms of mandates, but in terms of winning, it doesn't matter. What matters is the Electoral College, and that means winning individual states.
Within that context, the GOP-controlled legislatures of 17 states, including Virginia and Florida, have enacted strict voter-identification laws that will disproportionately affect the young, the poor, and the non-white. They will suppress the Democratic vote.
Consider, too, the "drill-down strategy," as it were. A conservative like Ted Cruz has limited mass appeal but that's moot if he can flush out what he estimates to be as many as 9 million evangelical Christians who did not show up for John McCain and Mitt Romney.
A combination of suppressing the Democratic vote and getting out the evangelical Christian vote in swing states may be enough to win.
Indeed, the whole idea of a Republican Party in such disarray that it's incapable of winning the presidency may just be the result of wishful thinking on the part of Democratic Party operatives and liberal intellectuals. If you take into account the GOP's hold on state legislatures, many with super-majorities, as well as the success of the last two midterm elections, it would appear that the Republican Party hasn't been this strong since the Hoover administration, according to analysts Sean Trende and David Byler of RealClearPolitics
"This interpretation is at odds with the prevailing theme of a Republican Party with serious demographic problems," they write. "One can argue that these problems make it difficult for the GOP to win the presidency. But those same shifts have strengthened it in the states, which is where most lawmaking takes place."
Which brings me back to fear.
First, don't underestimate its power. It will give incentive to people who have no other incentive to vote, especially when they are being told that voting is the only way to preserve their freedom to worship.
Second, there is no downside to fear. Since Barack Obama took office more than six years ago, the GOP has exploited fear of a black president with no dire consequences. Each midterm election has rewarded the Republicans for their extremism.
As Jacob Hacker and Paul Pierson write in The American Prospect: "Contrary to expectations that swing voters will punish them for their extremism at the polls, they just keep on going. … Republicans have learned how to have their extremist cake and eat it too."
Americans are becoming more liberal when it comes to marriage equality. That's the good news. The bad news is that tolerance is no guarantee of Democratic success. And the reason is plain to see: in the matchup between acceptance and fear of same-sex marriage, fear usually wins.
John Stoehr (@johnastoehr) is managing editor of The Washington Spectator. Follow him on Twitter and Medium.
Photo: Patrick Feller via Flickr