The Real Walmart: One Store Costs Taxpayers At Least $904,542 Per Year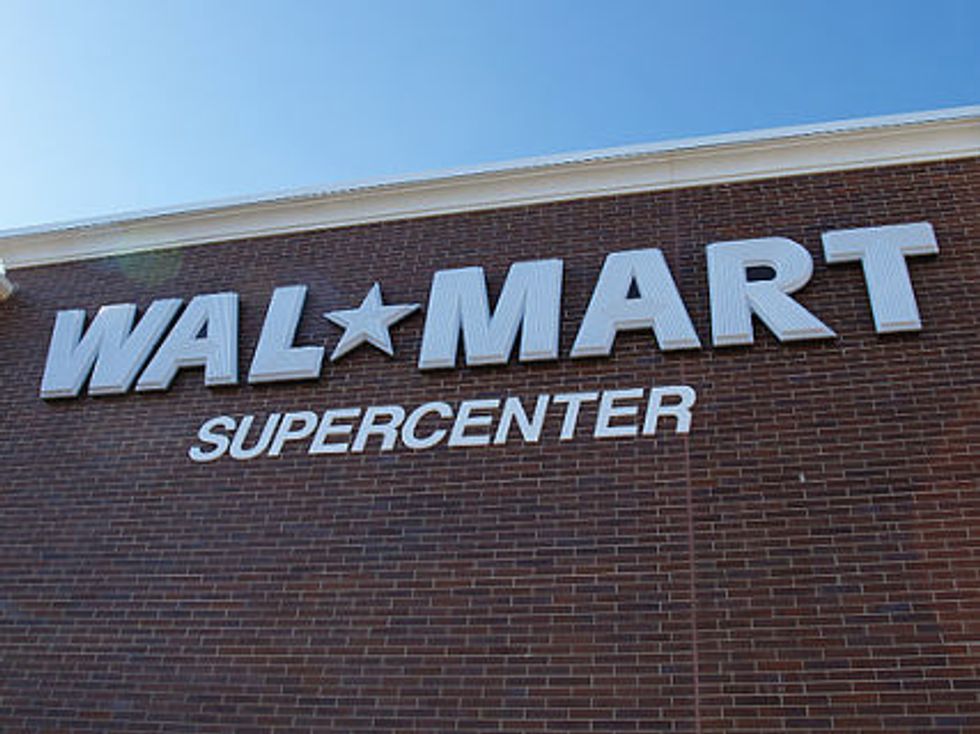 A new study from Congressional Democrats shows that American taxpayers are helping Walmart get away with paying its workers low wages:
When low wages leave Walmart workers unable to afford the necessities of life, taxpayers pick up the tab. Taxpayer- funded public benefit programs make up the difference between Walmart's low wages and the costs of subsistence. This public subsidization of the low-wage model of companies like Walmart received significant attention in the early 2000s. With wage stagnation, income inequality, and federal budget deficits of increasing concern to public policy, this issue is due for a re-examination.

Accurate and timely data on Walmart's wage and employment practices is not always readily available. However, occasional releases of demographic data from public assistance programs can provide useful windows into the scope of taxpayer subsidization of Walmart. After analyzing data released by Wisconsin's Medicaid program, the Democratic staff of the U.S. House Committee on Education and the Workforce estimates that a single 300-person Walmart Supercenter store in Wisconsin likely costs taxpayers at least $904,542 per year and could cost taxpayers up to $1,744,590 per year – about $5,815 per employee.

…

Walmart's size is nothing short of impressive. It employs more than two million workers worldwide. It is the nation's largest private employer; 1 out of every 10 retail workers in America is employed by Walmart. Approximately 1.4 million Americans work at Walmart. Its workforce is double that of the U.S. Postal Service and outnumbers the populations of 96 countries. In 2012, its total revenue exceeded $469 billion, more than the gross domestic product of oil-rich Norway.

Walmart reported an 8.6 percent increase in profit in the fourth quarter of 2012 and a profit margin of 4.38 percent.12 In 2012, it earned $17 billion in profits. In 2011, Walmart ranked second in the Fortune 500.  In 2009, 2010 and 2013 it topped the list. Between 2007 and 2010, while median family wealth fell by 38.8 percent, the wealth of six members of the Walton family – heirs of the founder of the chain – of Walmart rose from $73.3 billion to $89.5 billion. These six individuals own as much wealth as the 48.8 million families at the bottom of the country's wealth distribution (or 41.5 percent of all American families) combined.

However, Walmart's profits have not translated into broad improvements in wages or benefits for its employees. In November 2012, Walmart ranked first in 24/7 Wall Street's "12 Companies Paying Americans the Least." Accurate and timely data on Walmart's hourly wages are not always readily available. According to IBIS World, an independent market research group, the average hourly wage of a Walmart sales associate is just $8.81, with Walmart's Sam's Club sales associates averaging slightly more at $10.30 per hour.

Walmart employees have complained that they find themselves trapped in low-wage, part-time jobs with little opportunities for advancement. An internal Walmart document obtained by the Huffington Post in November 2012 entitled, 'Field Non-Exempt Associate Pay Plan Fiscal Year 2013,' "details a rigid pay structure for hourly employees that makes it difficult for most to rise much beyond poverty-level wages."According to a New York University study published in 2005, Walmart employees earn 28 percent less, on average, than employees of other large retailers.
The retail giant understands that the perception that their practices hurt workers and lower wages across the industry harms their image. So if you want to get their side of the story, you can visit its new site — The Real Walmart.
Photo: Ron Dauphin via Flickr.com