The Troubles That Will Keep Chris Christie Off The Romney Ticket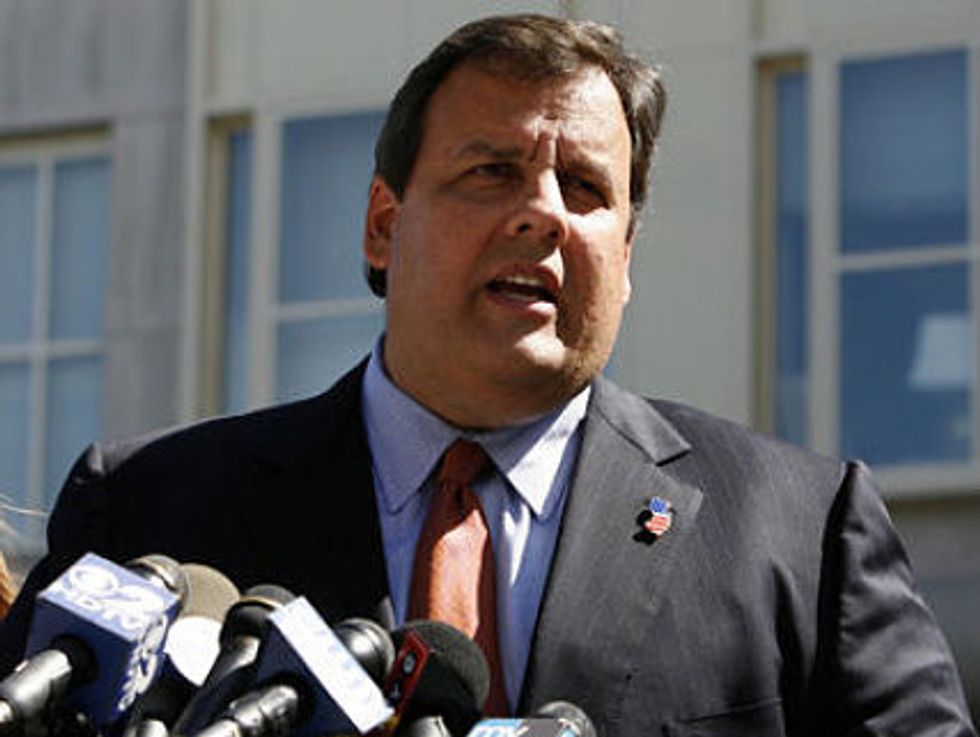 When John McCain picked Sarah Palin to run with him, we quickly learned that her teenage daughter was pregnant — and then more stories started piling up. What will America learn the day after Mitt Romney selects his vice-presidential nominee? What are the skeletons his vetting team is uncovering as they seek the best debate opponent for Joe Biden? To address those vital questions, we bring you The Day After Tomorrow, a series previewing the veep scandals everyone may soon be talking about.
While New Jersey Governor Chris Christie may not  top the list of potential Romney running mates, he remains a potential candidate. Blunt and unpredictable, he could compensate for the uncongenial, aloof Romney. In that sense, Romney-Christie might seem like a balanced ticket. Back in April, a PPP poll even showed that Christie would actually help Romney the most in closing the gap with Obama-Biden. Like all the other speculative Republican ticket mates, he doesn't come without baggage.
Earlier this month, the New York Times published a series of articles on Community Education Centers, a company that, in 2011, received $71 million of the $105 million New Jersey had allocated for halfway houses despite only running six of the two dozen halfway houses in state's privatized system. New Jersey was seen as a pioneer of the private halfway house system, which served as a solution for overcrowding prisons straining state budgets. Halfway houses are designed to help transition jailed inmates back into the community, but as the NY Times found: "Yet with little oversight, the state's halfway houses have mutated into a shadow corrections network, where drugs, gang activity and violence, including sexual assaults, often go unchecked."
Probably what's most discomforting is the number of inmates who have escaped since 2005: 5,200, including at least 1,300 since Christie took office in January 2010.
"They have been arrested on charges of assaulting police officers, holding up a gas station and shooting strangers. They have been found selling drugs outside Newark schools and wielding a knife inside a Cape May bus station. Some have been caught as far away as Miami."
Christie goes around proclaiming that he is proud of the halfway house system; in a 2010 speech given at one of the facilities, for instance, he called it a place that should be "celebrated."
The Governor has several ties to Community Education Centers: his close friend, political adviser, and former law partner, William J. Palatucci, is the senior vice president who had major financial stakes in the company; in 2000 and 2001, Christie was a registered lobbyist for Community Education Centers; in 2010, he hired the son-in-law of Community Education's CEO as an assistant.
Following the recent publicity surrounding horrific flaws in the halfway system, Christie finally ordered new state inspections to ensure the system was effective and safe.
Eventually Christie admitted that the system needed to be re-examined and repaired. But what about inventing your own facts about a vital project — and hoping nobody notices that it's all completely wrong?
That's evidently what happened when Christie cancelled plans for the  Trans-Hudson Passenger Rail Tunnel (ARC). As reported by the NY Times, "The ambitious $8.7 billion plan was hailed as a potential savior for the region's overcrowded mass transit system, reducing traffic congestion and pollution, shortening commuting times, increasing suburban property values and creating 6,000 construction jobs."
Begun in 2009, the project was to be finished by 2018 — until Christie decided to call the whole thing off. In October 2010, he announced that he was cancelling the project due to an increase in the its estimated costs. According to the Governor, ARC would cost more than $11 billion, even as much as $14 billion, and that the state would have to pay 70 percent of the cost. But those numbers were false.
The NY Times found a Government Accountability Office report that disputes Christie's claims. In reality, "the range of estimates…remained unchanged in the two years before he announced in 2010 that he was shutting down the project. And state transportation officials had said the cost would be no more than $10 billion." The same report said that New Jersey would only be paying 14.4 percent of the costs–not the 70 percent Christie had claimed.
So what happened to the money reserved for the tunnel? Well, the governor took four billion dollars for the state's nearly bankrupt, gasoline tax-funded infrastructure fund. Without that influx of money, Christie would have had to raise the gasoline tax. To keep the second lowest gasoline tax in the nation from being raised and and aggravating voters, it's apparently fine in Trenton to grossly exaggerate a few statistics.
But these stories — and others from Christie's past — suggest that Romney is unlikely to choose the loud governor of New Jersey as his running mate.