'The Simpsons' Takes On Donald Trump — And His Hair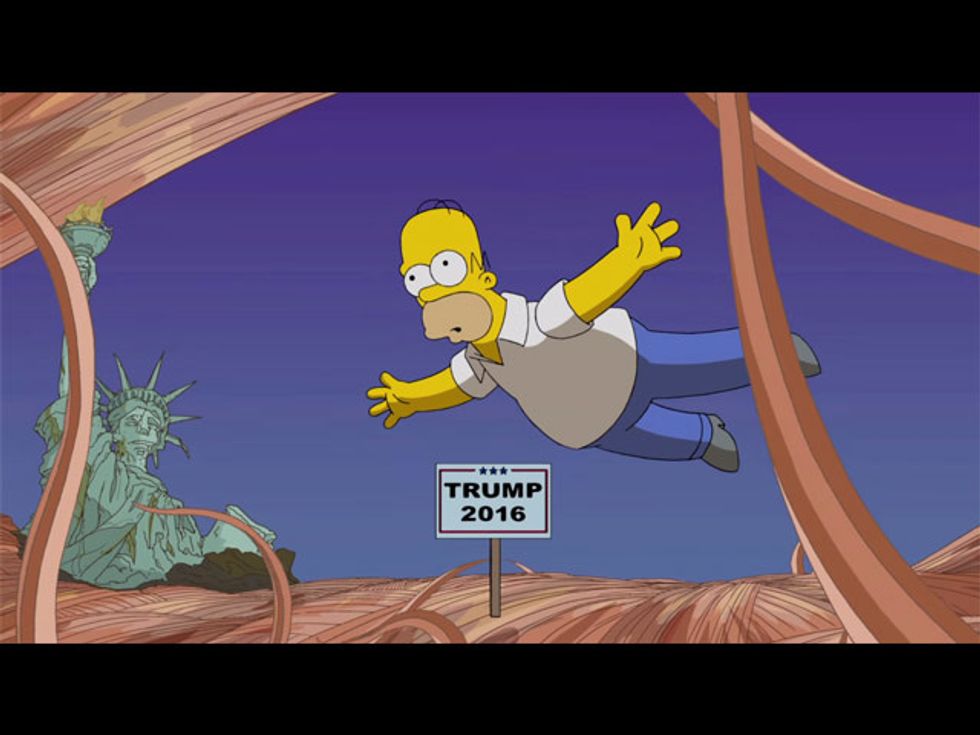 The fine people at The Simpsons are now getting in on sending up Donald Trump's candidacy, in a promotional sketch released on YouTube.
In the sketch, titled "Trumptastic Voyage," Homer ends up at The Donald's announcement speech — and soon gets lost in a mystical journey through the man's hair.
"Ahhh, it's so wispy," Homer says, exulting. "It's a gravity-defying combover. I can't believe that this was once on his ass."
Just a few of the pop-culture and political references that we've picked up:
0:00, the initial setup — Trump's paid actors as cheering supporters at his announcement.
0:19 — Trump's stoic descent from on high (via escalator).
0:42 — The destroyed Statue of Liberty from Planet of the Apes.
0:45 — Bigfoot. (For some reason.)
0:47 — Amelia Earhart, who disappeared during a solo airplane voyage in 1937.
0:50 — NBC canceling its deal with Trump for the Miss Universe pageant.
0:52 — Macy's firing The Donald.
0:54 — The character "Anger" from Pixar's latest film, Inside Out
0:57 — The primitive ape-men and the mysterious Monolith from 2001: A Space Odyssey, plus McDonald's character Hamburglar.
1:00 — Trump putting his name on everything.