The Troubled Trade Deal With South Korea
@DavidCayJ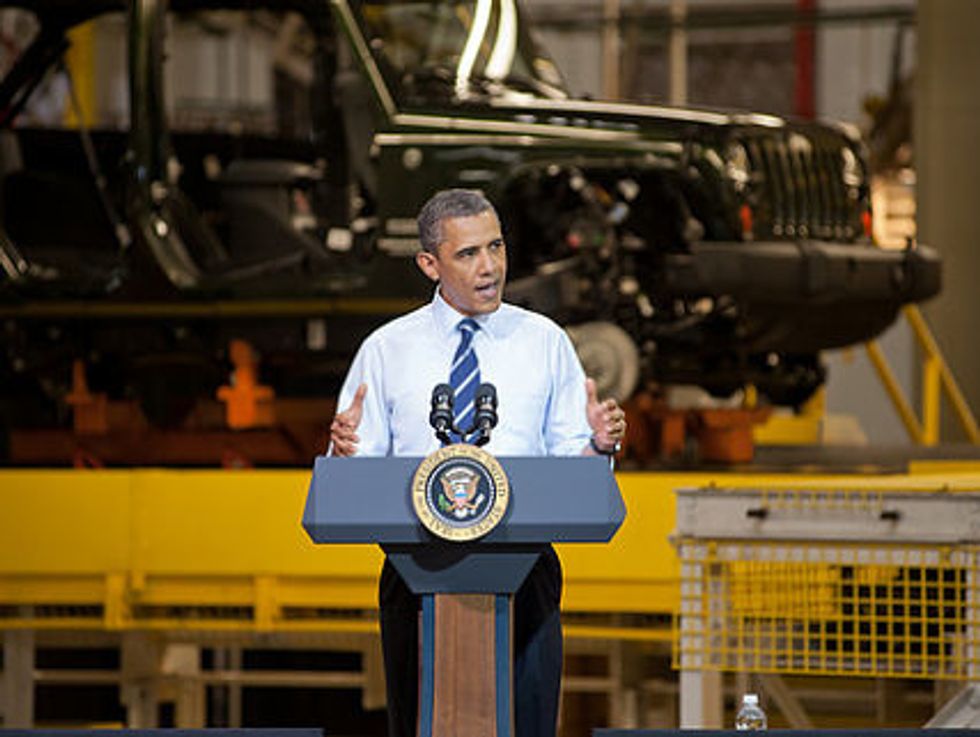 SEOUL — In March, the United States and South Korea implemented a Free Trade Agreement that President Barack Obama touts as more significant than the last nine such agreements combined. He also said it was central to his goal of doubling American exports within five years.
I think the president suffers from irrational trade exuberance, a view reinforced by my reporting in this city of 10 million people.
This deal is likely to turn out badly for American taxpayers and workers, especially autoworkers.
The president predicted 70,000 American jobs would be created as U.S. exports to South Korea grow faster than imports.
That would be terrific for generating taxes and reducing demand for government services like food stamps, which have become the sole income for about 6 million Americans.
But — based on previous major trade deals, the details of this one and a host of Korean business and cultural barriers — I think a much more likely scenario is the destruction of more than 150,000 American jobs over the next few years, as projected by the Economic Policy Institute, a Washington research organization that advocates for low- and middle-income workers.
The president's optimistic statements, made in December, drew on projections by the U.S. International Trade Commission. It predicted that U.S. exports to South Korea would grow at least 52 percent more than imports, creating tens of thousands of American jobs. A March update predicted that eventually exports of U.S. cars to South Korea will "likely increase significantly."
This is the same agency that predicted that liberalized trade with China would result in a $1 billion annual trade deficit for the United States. The actual 2011 deficit: $295 billion.
And remember NAFTA? The United States ran a $1.6 billion trade surplus ($2.6 billion in today's dollars) with Mexico in 1993, the year before NAFTA. Last year, the United States ran a $64.5 billion deficit.
The United States has consistently run trade deficits with South Korea – more than $13 billion last year, according to the U.S. Census Bureau. And, of course, the trade agreement has only been in place a few months. But it is worrisome that the deficit for April and May, after the agreement took effect, soared 63 percent compared with a year earlier.
The U.S.-South Korea trade agreement was reached in 2007, but implementation was held up by objections from some American companies. Notably, Ford Motor Co complained to Congress and in advertisements that South Koreans who bought Fords were hit with tax audits. Ford said the final agreement is much improved, but still not ideal.
In Seoul, local people told me that buying an American-made car risked opprobrium from employers and neighbors.
In three days in Seoul, as the video accompanying this column shows, I found very few American-made cars. Three, on a showroom floor, were Toyotas built in Ohio. On the streets, I counted a half dozen Chrysler vans, a similar number of Ford sedans and one Jeep but not a single American luxury car. I also saw a smattering of cars with Chevrolet nameplates, but they were built locally by the old Daewoo, now called GM Korea.
The foreign cars I spotted most often were Mercedes-Benz, BMWs and Bentleys, brands that seem to resonate more strongly with South Koreans eager to display their affluence.
That fits with the official South Korean data on auto sales. More than nine out of 10 cars sold here are made in South Korea. European luxury cars, sold under a European Union free trade agreement signed last year, far outsell any Detroit cars. Last year, American-made cars sold in the thousands, a fraction of one percent of car sales in South Korea. In June the best-selling American model was the Ford Explorer, with just 109 sold, less than a tenth of one percent of vehicles sold that month.
In the United States, sales of Hyundai Motor Co and Kia Motors Corp, which are owned by the same company, grew 26 percent last year and accounted for every 11th new car sold.
Sean McAlinden, chief economist for the nonprofit Center for Automotive Research in Ann Arbor, Michigan, which studies how public policy affects the industry, ticked off all sorts of non-trade barriers to American-made cars in South Korea. "There aren't going to be any more American auto industry jobs because of this trade agreement," he said.
Indeed, a report by the Congressional Research Service details subtle trade barriers.
Since 2000, the United States has lost almost a third of its manufacturing jobs. Those 5.5 million jobs are the equivalent of eliminating every non-farm job in Michigan and Iowa plus metropolitan Valdosta, Georgia, a serious crisis for blue-collar Americans.
President Obama, the White House told me, continues to believe that his trade policies will mean more American jobs, including manufacturing jobs. That sounds good but lacks factual support.
The opening of Hyundai and Kia assembly plants in the United States may seem like a benefit to the U.S. economy. But taxpayers covered much of the cost. And the value-added work in cars comes less from assembly than from making precision high-strength steel parts, especially in the drive train. To the extent that parts are made in South Korea and shipped to the United States for assembly, the added economic value tends to remain overseas.
One caveat: The way U.S. economic statistics are calculated may miss where value is added in manufacturing cars and other items because of subtle changes in licensing intellectual property, supply chains and other factors, as the Congressional Research Service explained in a report last year.
Jung Jong-yung, America division director at South Korea's Ministry of Knowledge Economy, told me to expect more jobs in both countries, especially four years from now and beyond.
Maybe. But the evidence so far suggests this deal will be a boon for South Korea and another economic albatross for America.