'The Wave Has Reached Us:' EU Gropes For Answers To Migrant Surge
@reuters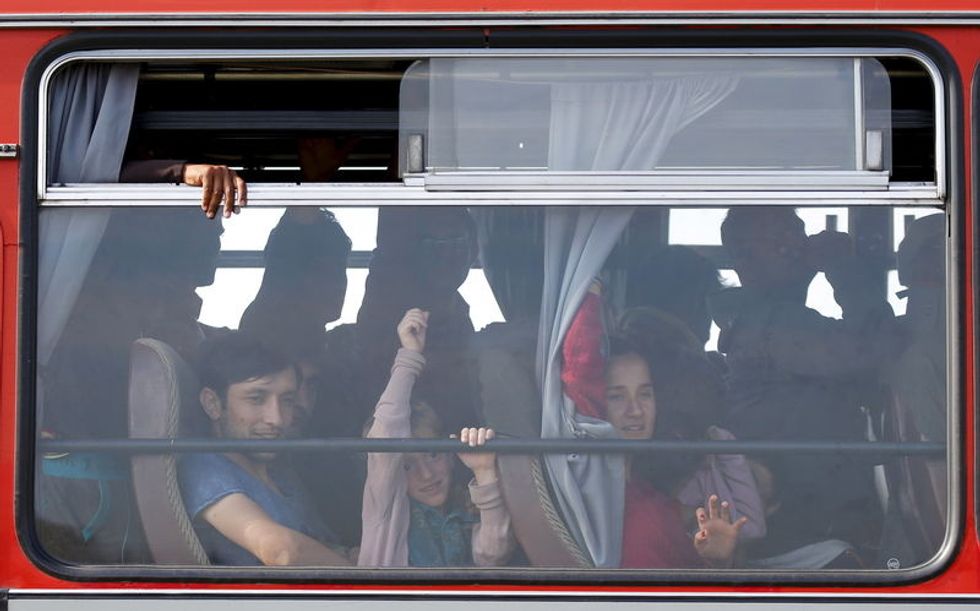 By Marton Dunai
ROSZKE, Hungary (Reuters) – A surge in migrants, many of them refugees from Syria, hit Hungary's southern border on Tuesday, passing through gaps in an unfinished barrier to a Europe groping for answers to its worst refugee crisis since World War Two.
Nearing the end of a flight from war and poverty, they walked around or over coils of barbed wire strung out along Hungary's 175-km (109-mile) frontier with Serbia, children hoisted on shoulders, bags in hand.
"The wave has definitely reached us now," said Mark Kekesi, head of a migration NGO called MigSzol Szeged. "There have never been this many of them, and we expect this to continue for a while."
The Balkans is in the grips of an unprecedented surge in migration fueled by war in Syria and instability across the Middle East.
More than 100,000 migrants have entered Hungary, part of Europe's Schengen zone of passport-free travel, this year en route to the more affluent countries of western and northern Europe. While still small in comparison with the record numbers on the move nearer conflict zones, the flow is increasing.
The influx into Hungary ticked up on Monday to its highest daily rate this year – 2,093. More were on their way, with an estimated 8,000 making their way through Serbia and 3,000 crossing from Greece into Macedonia every day.
Hungary demanded more money from the EU to alleviate the burden, saying the distribution of funds was "humiliating". One senior European official said that, in the absence of action, "Europe has failed".
The United Nations refugee agency, UNHCR, warned against expecting numbers to fall any time soon. "We do not see any end to the flow of people to come in the coming months," said a spokeswoman.
HUNGARIAN FENCE
Even as the migrants entered, the Hungarian army was busy building a border fence to keep them out, bulldozers and heavy machinery shifting earth and erecting walls.
The fence is finished in parts, while in others there are coils of barbed wire easily negotiated by migrants who faced down stun grenades and tear gas in Macedonia last week.
One family of Kurds from Syria waited patiently for an army truck to pass, before one by one they scaled a padlocked gate in the fence, disappearing down a dirt road the other side.
"We have skills, we can survive anywhere," 30-year-old Hassan, an IT engineer from Syria, said after walking across the border into Hungary. "We don't just come to Europe to eat and sleep. We're looking for safety. It's better to walk across half of Europe than to stay in Syria."
A record 50,000, many of them Syrians, reached Greek shores by boat from Turkey in July.
Greece, embroiled in a debilitating economic crisis, is ferrying them from overwhelmed islands to the mainland, from where they head north to Macedonia and points beyond.
Macedonia sealed its border to them last week, but gave up in the face of huge and determined crowds. Macedonia and Serbia are now moving them on as fast as they can.
The Lasta bus company in Belgrade said it had increased its daily departures to the northern Serbian town of Subotica near the Hungarian border from seven to 24.
The crisis is severely testing the unity of the 28-nation EU and fuelling anti-immigration sentiment.
Germany says it expects a record 800,000 asylum-seekers to arrive this year; protests in the eastern town of Heidenau, near Dresden, over the arrival of 250 asylum seekers turned violent over the weekend and police said they were investigating a suspected arson attack on a sports hall in the eastern state of Brandenburg where some 130 were due to be housed.
Finance Minister Wolfgang Schaeuble said the influx would affect the country's budget plans but that Europe's biggest economy could cope.
'SINKING SHIP'
Hungary, however, called for more money.
"Old member states have nicked the money from new members," Janos Lazar, the chief of staff of Hungary's right-wing prime minister, Viktor Orban, told the daily Magyar Hirlap newspaper.
"If we do not take meaningful steps, we will become a lifeboat that sinks beneath the weight of those clinging onto it," he said, in what appeared to be a reference to the deaths of over 2,000 migrants this year trying to reach Europe on overcrowded boats across the Mediterranean.
Critics point out that the vast majority of migrants who enter Hungary do not linger, determined to reach the likes of Austria, Germany and Sweden where they join up with relatives and friends in search of work and security.
But Orban has taken a harder line than other EU leaders, saying such an influx carries risks of terrorism, crime and unemployment. He says the EU does not have a coherent solution, and also faces pressure at home from far-right opponents.
A spokeswoman for the European Commission, the EU's executive arm, said Hungary's share of a seven-year EU budget to 2020 for asylum, migration and policing was more than 85 million euros and Budapest's request for 8 million euros more this year was being fast-tracked.
Hungary's concerns about immigration via the Balkans would be addressed during a summit of regional leaders with senior Commission officials in Vienna on Thursday.
The Commission has made clear its disapproval of the Hungarian fence, with its Cold War echoes in ex-Communist eastern Europe, but Hungary faces no sanction for building it.
"Europe has failed. Europe has to get moving," the deputy president of the European Commission, Frans Timmermans, told Europe 1 radio on Tuesday. "So far, many member states have thought they can go it alone. That doesn't work. We have to do it together."
(Additional reporting by Reuters Television, Fatos Bytyci in PRESEVO, Serbia, Aleksandar Vasovic in BELGRADE, Alastair Macdonald in BRUSSELS, Stephanie Nebehay in GENEVA, Krisztina Than in BUDAPEST; Writing by Matt Robinson; Editing by Giles Elgood and Philippa Fletcher)
Photo: Syrian migrants sit in a bus to register in a camp after they crossed the Hungarian-Serbian border near Roszke, Hungary August 25, 2015. (REUTERS/Laszlo Balogh)