The Weakness of President Trump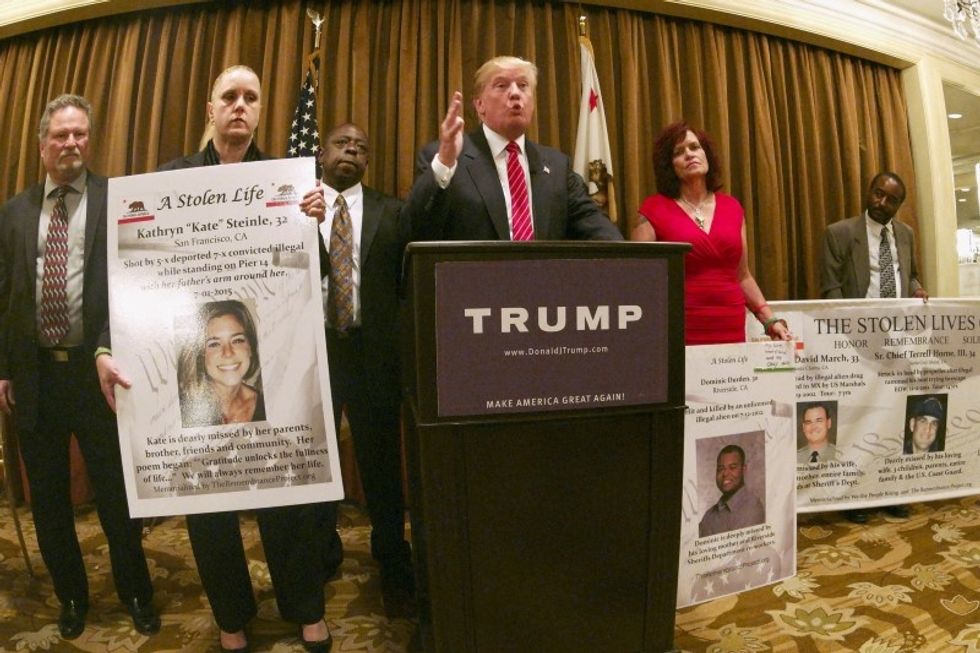 This is happening, America.
Presumptive Republican nominee Donald J. Trump—a man who has never held elected office—swept the Super Tuesday primaries last night, dominating seven of eleven contests. His authoritarian-enamored supporters remain inexorably drawn more than anything else to the candidate's presumed strength.
That strength is supposedly a massive correction to the perceived weakness and fecklessness of President Obama on the world stage. The globe may be on fire, but it will fall in line—if only the American president would be more pugnacious and demanding towards allies and adversaries alike. In this view, Trump's force of personality is a panacea; his self-fulfilling assurances about his own intelligence, likability, and winning record cease to be a means to policy and become the policies in and of themselves.
But what if Trump's supporters aren't just wrong (they are), but catastrophically so? What if that so-called strength—the forwardness, unapologetic aggression, and of course the distaste for "political correctness"—that they so love about candidate Trump turns out to be a debilitating weakness for President Trump and, by extension, our country?
Imagine, for a moment, how President Trump would actually function on the world stage.
Imagine President Trump listening to speeches at the United Nations General Assembly. Say another foreign leader bruises his ego, perhaps with a well-intentioned joke or a purposefully mocking barb. President Trump will not be able to sue, so where will he turn next? From denouncing the leader with juvenile insults to espousing racist sentiments on the world stage, the consequences are sure to be embarrassing.
Imagine President Trump's childish demands falling on deaf ears in the international community. Suppose Mexico refuses to pay for his luxurious wall, or that allies like Japan and Germany decline to pay tribute for hosting U.S. military bases on their soil. President Trump will not be able to bend them to his will through endless bloviating, so what will become of American credibility? From the alienation of longtime U.S. allies to a full-scale evaporation of U.S. soft power, the consequences are sure to be crippling.
Imagine President Trump in top national security briefings, surrounded by patriotic men and women trying desperately to educate and advise him on the nuances of U.S. foreign policy. If he makes good on his campaign promises, he'll be ordering them to pursue catastrophic escalations with rival states or execute war crimes against civilians and combatants alike. President Trump will not be able to force them to abide by his un-American dictates, so what will happen to our nation's civil workforce? Whether we see mass resignations or a full-scale revolt by the people who spend their professional lives working to keep us safe, the consequences are sure to be disastrous.
There are plenty of policy-oriented reasons to decry the prospect of Trump as commander-in-chief—he has a childlike understanding of the world around him, including an astounding ignorance of the details about our enemies, the value of our allies, and the capabilities of our own country. There are obviously moral arguments against him too, among them his unabashed support of torture and his coziness towards any dictator that bats his eyes in Trump's direction. But perhaps more than anything else, it is Trump's temperament that disqualifies him from leadership: The "strength" he loves to flex to raucous applause would leave the United States weaker, isolated, and sapped of all credibility.
Trump would be beyond embarrassing for the United States on the world stage. His gaffes, infantilism, and self-assured ignorance would, intentionally or not, systematically destroy our reputation as a world leader, taking down the international order that the greatest generation raised from the ashes of World War II along the way. Trump's unpredictable and fragile ego — the ego of a man who sends rebuttals to his "losers and haters" signed, literally, in gold sharpie—would become the proxy for how the United States is perceived in the world.
Since 1990, Trump has bemoaned that America is "laughed at" around the world. It is an emotional sentiment that resonates well with his base, but the joke is on them. Should President Trump make his way to the Oval Office, there is little doubt the world will be laughing even harder.
Graham F. West manages The Whistlestop (@thewhistle_stop), a platform for holding candidates and elected officials accountable on issues of national security and foreign policy throughout the 2016 cycle. Views expressed are his own.
Photo: U.S. Republican presidential candidate Donald Trump addresses a news conference regarding issues on undocumented immigrants in Beverly Hills, California, July 10, 2015. REUTERS/Jonathan Alcorn