There's One Good Thing About Donald Trump–As Long As He Loses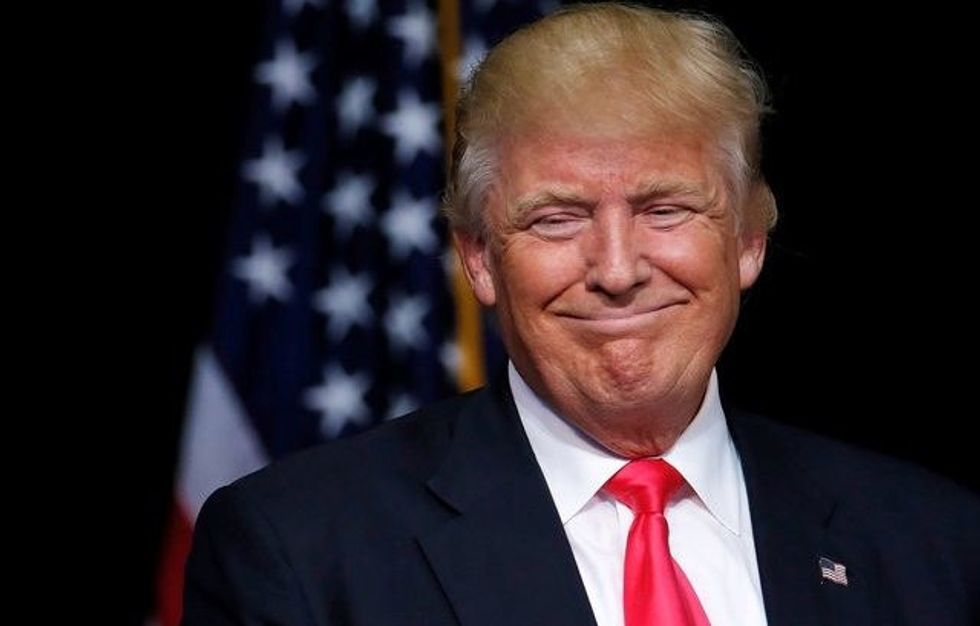 Donald Trump has shaken American politics to their very core. And in the process, he has, maybe without knowing it, completely re-aligned the positions and appeals of the two major parties. That's because Trump is an opportunist: He chases political victories where he knows his opponents would be called hypocrites for defending themselves.
He pushed the entire Republican Party to flip its position on free trade (all of his "establishment" picks for vice president supported NAFTA and TPP, until he told them not to) because the party's now-called "globalist" trade wing was vulnerable in a year of economic populism. He did the unthinkable by calling out George W. Bush for lying about weapons of mass destruction before the Iraq War — in South Carolina, the most military- and Bush-friendly state in the union! — because it's clear now that that war led to the rise of ISIS and other extremist groups.
And he's done the same with the Democratic Party, capitalizing on its mistakes. As long as Trump doesn't become president, his exploitation of the weak spots in our political system can make the whole thing stronger.
For Democrats, that means three things: Drones, deportations, and donations.
While Trump is all over the map on foreign policy, from calling for America-first isolationism to pledging to "bomb the shit out of" ISIS, he has continued to poke at one of the greatest hypocrisies of the Obama era: the Democratic notion of a compassionate counterterrorism policy.
Trump gets to play the war-hungry madman because President Obama, for all it has done to de-escalate George W. Bush's imperialist atrocities, has spent eight years raining terror on Muslim populations across the Middle East with a brutal drone war. Obama and Clinton can decry Trump's temperament, which would surely lead to even more death, but they cannot decry his proposed aggressions without talking about their own unpopular war from above.
The same applies to Obama's role as "Deporter in Chief": The president has made huge strides in protecting undocumented immigrants and their families with his DAPA and DACA programs, recent Supreme Court ruling aside, and with his announcement this week that the United States would expand a program to accept Central American asylum-seekers.
But he has also broken the record, by a lot, of deportations by a U.S. president: More than 2.5 million people have been deported since Obama took office. And though that pales in comparison to Trump's proposal that all 11 million undocumented immigrants in the United States be essentially ethnically cleansed, Obama can't make much of a case that deportations themselves are un-American, given his history with them.
Trump is especially effective on driving home the black mark of corporate sponsorship in the Democratic Party. Trump has in fact forgiven the $47.5 million he had previously only loaned to his campaign. And though he has recently begun fundraising like any other desperate, big-shot presidential candidate — multi-thousand dollar dinners, Super PACs, fundraising emails — the image of Trump as a "self-funder" has forced Hillary Clinton, bank-rolled by big donors and PACs herself, to pledge to overturn Citizens United and work to control money in politics.
So much for the notion that Democrats had to "fight fire with fire" on corporate campaign donations: Donald Trump's insistent prodding on the corruption issue has forced Democrats to fall back on their ideals as a party; on the notion that they ought to be a crowd-funded party of working people.
We can only hope that, facing the prospect of a new wave of Republican nativism, Democrats are pressured to re-establish their ideological high ground: by ending inhumane deportation policies that split families up, by ending a counterterrorism policy which disregards civilian deaths as "collateral," and by reckoning with their own financial distance from working class America. Unless they account for the ways in which they have strayed from their ideals, Democrats will continue to be vulnerable to Trump's brand of demagoguery, which capitalizes on ideological weak points with populist appeals to frustrated voters.
And, not for nothing, such a shift to the left would not only neutralize Trump, but it would also incorporate Bernie Sanders' movement — and future iterations of it — into the party's mainstream. Bernie capitalized on many of the same weaknesses in the Democratic Party that Trump has, and perhaps his supporters' reluctance to support Clinton is a symptom of his attempts to delegitimize what he saw, perhaps correctly, as a corporatist party.
It will be up to Hillary Clinton, and the Democrats who ride her coattails to Washington, to capitalize on Trump's and Sanders' greatest vulnerability: Underestimating the capacity of the Democratic Party to change.
Photo: Republican presidential nominee Donald Trump speaks at a campaign rally in Scranton, Pennsylvania, U.S., July 27, 2016.  REUTERS/Carlo Allegri