These Activists Are Hoping FCC Regulations Can Stop Unjust Police Spying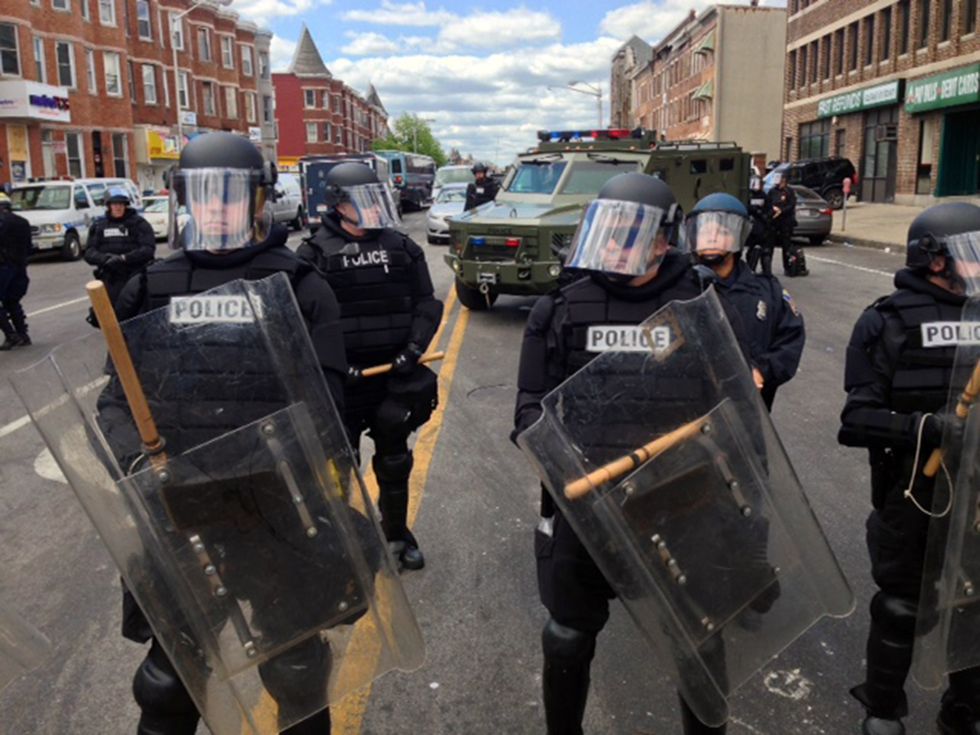 Published with permission from AlterNet
A coalition of civil rights organizations is pursuing a novel strategy for preventing the Baltimore Police Department (BPD) from using tools of war to monitor and surveil city residents.
Color Of Change, Center for Media Justice and New America's Open Technology Institute filed a complaint this week with the Federal Communications Commission, charging that the BDP's use of mass cell phone surveillance devices known as Stingrays violates regulations of radio waves and cellular networks.
Also known as Cell-Site Simulators, Stingrays are used by numerous federal agencies—including the police, Army, and Immigration and Customs Enforcement—to conduct warrantless and dragnet surveillance. They are described by the Electronic Frontier Foundation as "devices that masquerade as a legitimate cell phone tower, tricking phones nearby into connecting to the device in order to log the IMSI numbers of mobile phones in the area or capture the content of communications."
While the exact number of government bodies that employ this technology is unknown, the ACLU says it has identified "66 agencies in 24 states and the District of Columbia that own stingrays." However, the organization says that "because many agencies continue to shroud their purchase and use of stingrays in secrecy," their estimates are likely a dramatic underrepresentation.
Given that Stingray technology was first developed for U.S. military and intelligence purposes, rights campaigners say its broad use is compounding the militarization of police departments nationwide.
"I think it's a scary, slippery slope, the ways in which police departments are using military-grade equipment, or gear designed for military uses, on communities here," Chinyere Tutashinda, national organizer for the Center for Media Justice, told AlterNet. "There's this idea that police are there to protect and serve our communities, but they are increasingly surveilling, occupying and terrorizing communities, and they are using technology to do this across the country."
According to an article written last year by Baltimore Sun reporter Justin Fenton, Baltimore police have used the technology at least 4,300 times since 2007.
Now, the civil rights organizations are arguing that the BPD's dragnet use of this technology violates the FCC's most basic regulations.
"BPD's operation of CS simulators violates the Communications Act in at least two ways: first, BPD fails to obtain appropriate legal authorization to use CS simulators to transmit over radio frequency bands exclusively licensed to cellular carriers; second, BPD's use of these devices interferes with the cellular network, including with emergency calling services," the groups said in a press statement released this week.
"Worse, these harms fall disproportionately on Black neighborhoods where BPD disproportionately exercises its enforcement authority in a racially biased way," the organizations continued.
On these grounds, the groups formally filed a complaint with the FCC on Tuesday. The move came just days after the Department of Justice released the findings of their searing investigation into the BDP's systematic violations of the civil rights of residents, disproportionately targeting African Americans with unjustified stops, searches, arrests and violent force, and committing horrific acts of degradation. The Department of Justice concluded in their probe that "there is reasonable cause to believe that BPD engages in a pattern or practice of conduct that violates the Constitution or federal law."
"For far too long, the Baltimore City Police Department has made a frequent habit out of flouting federal spectrum law and disrupting availability of the cellular network to Black communities in Baltimore," said Laura Moy, who is a visiting assistant professor at Georgetown Law's Institute for Public Representation, which represents the groups' complaint. "The FCC should not sit idly by while police departments in Baltimore and other cities systematically undermine Americans' fundamental rights by intercepting cell phone traffic on licensed spectrum without a license."
Photo: Baltimore police officers standby on Pennsylvania Avenue on Tuesday, April 28, 2015. (Carolyn Cole/Los Angeles Times/TNS)