6 Amazing Things 13-Year-Old Girls Would Like Donald Trump To Know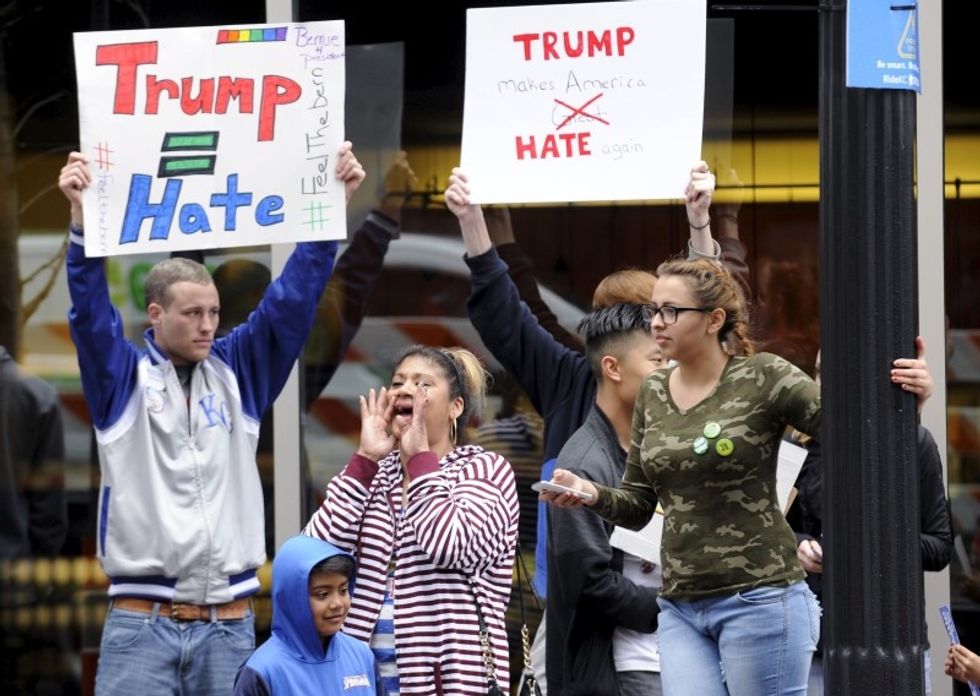 This insane election cycle has no doubt left a permanent impression on everyone. But while articles typically focus on the impact it's having on those of us who can cast ballots in November, a New York Magazine piece published this week shows how jarring the rise of Donald Trump has been to one of America's most susceptible groups: teenage girls.
Sixteen 13-year-old girls spoke with the magazine, divulging their fears and anxieties over the possibility of a Trump presidency. They also explained what it would mean for them as young women to witness the United States finally elect its first female president.
These girls may barely be teens, but that's not stopping them from challenging Trump supporters to rethink electing, as one young woman put it, "a sexist, racist, misogynistic, xenophobic, homophobic, transphobic, anti-choice, ignorant moron."
Here are six incredible takeaways about Donald Trump's impact on the next generation, straight from the mouths of babes.
1. They're horrified by his treatment of women.
One of the most common themes that form these young women is a deep sense of fear over what Trump's candidacy would mean for gender dynamics moving forward. Eighth-grader Proof Schubert Reed said she's scared a Trump presidency would validate the "day-to-day" sexism she already experiences.
"I feel scared that the males in my life subconsciously agree with Trump and see me only as a sexual item, not an intelligent young woman," Schubert Reed wrote.
Kate Griem, also in eighth grade, said she's worried about the message a Trump presidency would send to her future daughters. "What kind of world would they grow up in, knowing that someone who treats women as sex objects, toys to be picked up and cast aside and model in beauty pageants, or servants to cook and clean, has led and changed their country?" Griem asked.
Eighth-grader Lucy Blum said Trump's misogyny terrifies her. "I feel scared that our future president could be a man who forces himself upon women, who allows Howard Stern to call his daughter a 'hot piece of ass,' and who thinks he can do whatever he wants to women because he's rich and famous," she wrote.
"Although I know that some men treat women like property, I never thought one of those men would be a candidate to be the president of the United States," she added.
2. They know their worth and want their voices heard.
Trump's candidacy undoubtedly forced these young women to confront what it means to be a woman in 2016. And luckily, they decided it means standing up for themselves and demanding others treat them with respect.
"I know what it's like to be told I voice my opinions too much when I do it half as much as the boy that sits behind me in history," Schubert Reed wrote. "I know what it's like to be objectified and sexualized and judged and defined by my gender, instead of by who I am."
"And I shouldn't have to feel this way," she added.
Eighth-grader Minna Bachman expressed a similar sentiment. "I don't think that his words should have any place in the lives of young people, especially young girls, who are smarter than he'll ever be," she wrote.
In an epic poem addressing Trump's history of making unwanted sexual advances, eighth-grader Tess Lovell tore into the Republican presidential candidate, demanding he—and others like him—recognize her right to her own body. "If you touch me without consent, it is sexual harassment," she wrote:
"I AM NOT AN OBJECT…./I AM NOT YOUR PROPERTY…./TREAT ME LIKE A HUMAN."
3. They want a president who values women.
Aside from their basic desire to have a president who avoids making women feel like sexual objects, the middle-school students also expressed their deep desire for a president who recognizes women are powerful, capable and worthy.
"Imagine what today's young women experience with a Clinton presidency versus a Trump presidency," eighth-grader Aliza Hacking wrote. "One candidate presents the idea that girls can make a huge difference in the world and that no matter how many people try to bring them down, they are indeed capable of success."
"The other presents the possibility of a world stripped of any female empowerment," she continued. "All simply because the leader of the country, who is supposed to be the ultimate role model for children everywhere, says that women are only useful for sex and eye-candy."
Nora O'Donnell said a Trump presidency would make her feel unsafe because the country would be condoning the notion that she's somehow worth less than a man. "It's dangerous because [Trump] doesn't acknowledge the fact that women are intelligent, valuable, and independent," she wrote.
For Shiloh Gonsky, Trump's penchant for lobbing demeaning insults at women, such as "pig," "bitch" and "disgusting animal," makes her feel as if "the world is on the verge of breaking."
"Every time Trump says anything about a woman, a piece of me breaks inside," Gonsky wrote.
Eighth-grader Nora Youngelson was even more direct about how the country can show it values women. "I want a woman in the White House," she declared.
4. They want a president who stands up for marginalized communities.
Clearly, these young women recognize the importance of electing a president who believes women are strong and capable human beings. But they also recognize the importance of electing a champion for all Americans, regardless of sex, race, class or any other defining characteristic used to marginalize communities.
"I am crying because we deserve so, so, so much more than a sexist, racist, misogynistic, xenophobic, homophobic, transphobic, anti-choice, ignorant moron as a president," Kate Griem said.
Sonia Chajet Wides said the meteoric rise of a candidate like Trump is a sign the country is moving backward. "If people are taking a man seriously who believes that women and Mexicans and gay people and Muslims and so many others are inferior to him, then we are automatically regressing into the worst periods of our country's history," she wrote.
Rosa Lander said she "will never be able to forget" Trump's attacks on the family of Captain Khan for their religion. "I will never understand how he can insult everyone on the planet except for the rich, white, Republican males and still have this many supporters," she wrote.
"When women succeed, the country succeeds," ninth-grader Stella Mahler observed. "When people of color succeed, the country succeeds. When people of Muslim or Jewish or Islamic faith succeed, the country succeeds."
5. They think Donald Trump should STFU about abortion.
One of the more surprising points the young women made involved abortion rights, a topic not often debated in middle-school hallways. Citing Trump's suggestion that women seeking abortions should be punished, two of the young women said his position on the right to choose is unacceptable.
"Saying that [women] should be punished for abortion? He doesn't know (or care, for that matter) what it is like to be a woman," Iris Mastny wrote. "Therefore, he does not get an opinion on the subject of abortion."
Nora O'Donnell said she worries about the right to choose, as well as other pressing issues facing women today. "It's dangerous because he might take away our rights to abortion, because he might never address the wage gap, because he might not take rape seriously," O'Donnell wrote.
6. They're prepared to fight.
Woven throughout the piece is a sense that while young women are certainly fearful of a Trump presidency, they're not interested in becoming passive observers of the hate and vitriol baked into Trump's default setting, even if he is elected president.
"You have spent your campaign humiliating people and making them feel ashamed, when really you should be the most ashamed and humiliated of all," Lucy Blum wrote.
Imagining her reaction to meeting Trump, Proof Schubert Reed said she would stand up to the Republican nominee and "give him a piece of [her] mind."
"I would tell him that he makes me feel unsafe; that he is disgusting, and wrong, and represents everything that is bad about our country," she wrote. "I would stand up to him, and give him a piece of my mind, because keeping my mouth shut and acting like a kind little girl is exactly what he would want me to do."
Shiloh Gonsky, who worried Trump is "chipping away everything good and replacing it with a bomb," promised that the Republican candidate's attempts at minimizing and devaluing women would backfire in the end.
"Instead of destroying women, [the bombs] will ignite them," Gonsky wrote. "And our nation will create stronger girls, stronger women. Fighters."
Elizabeth Preza is an AlterNet staff writer focusing on politics, media and cultural criticism. Follow her on Twitter @lizacisms.
Photo: Protesters yell across the street at supporters of U.S. Republican presidential candidate Donald Trump waiting in line for a campaign rally at the downtown Midland Theater in Kansas City, Missouri, March 12, 2016. REUTERS/Dave Kaup