This Debate Goes To 11! Carly Fiorina Gets Extra Spot At Next CNN Debate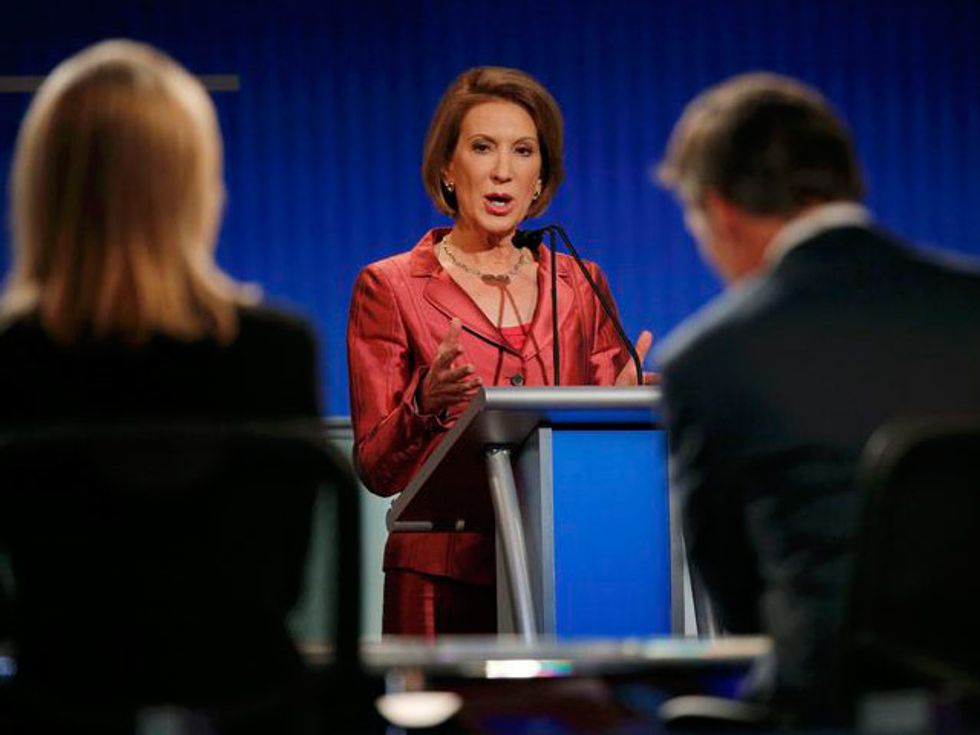 Call it the Spinal Tap debate — because it's going up to 11 candidates, and you might need to get an actual spinal tap after watching it.
CNN is now giving in to public pressure by revising its debate rules — and is on track to add an extra podium for Carly Fiorina. The cable news channel announced late Tuesday that it is adjusting its rules for inclusion in the Republican debate for the top 10 candidates, which had been based on polls from July 16 through September 10.
That meant that Fiorina was still weighed down by polls from before her successful showing in the August 6 minor-league debate on Fox, and would have been excluded from the top-tier table yet again.
Now, CNN will also include any candidate who has been in the top 10 since the first debates on August 6. As its official reasoning, the network is citing the fact that there have been far fewer national polls than previously expected, thus necessitating the rule change.
As an interesting result of this rule change, however, it appears that CNN is drawing on poll numbers from two windows of time: July 16 through September 10, and August 6 through September 10. This means that candidates can be added to the debate, but it's unlikely anyone will be subtracted.
Chris Christie or Rand Paul might have faced the dishonor of getting bumped down to the kids'-table debate. But as it is, they will both remain in the top 10 as long as no further polls in the next week or so cause a plummet in their mathematical average going all the way back to July 16.
Here is an analysis by national polling expert (and, full disclosure, my former political science professor) Charles Franklin:
My ERROR-New CNN rule does NOT bump Christie-It ADDS any candidate in top 10 8/6-9/10 but not in top 10 using 7/16-9/10. Christie in for now

— Charles Franklin (@PollsAndVotes) September 1, 2015
The full text of CNN's statement is below:
In May, we announced criteria for our September 16th Republican debates at the Ronald Reagan Presidential Library. We said that we would use the average of approved national polls from July 16th through September 10th to determine the makeup of the debates. At the time, we expected there to be many more national polls following the first Republican debate, in August, than there appears there will be. In fact, in 2007 and 2011, there were 16 and 15 approved national polls in the comparable AugustSeptember time frame. This year, there have been only three such national polls released. We learned this week that there will likely be only two more polls by the deadline of September 10th. In a world where we expected there to be at least 15 national polls, based on historic precedent, it appears there will be only five. As a result, we now believe we should adjust the criteria to ensure the next debate best reflects the most current state of the national race. In the event that any candidate is polling in the top 10 in an average of approved national polls released between August 7th and September 10th, we will add those candidates to our top tier debate, even if those candidates did not poll in the top 10 in an average of approved national polls between July 16th and September 10th. We have discussed these changes with the Republican National Committee and the Reagan Library and they are fully supportive.
Photo: Republican presidential candidate and former Hewlett-Packard CEO Carly Fiorina responds to a question at a Fox-sponsored forum for lower polling candidates held before the first official Republican presidential candidates debate of the 2016 U.S. presidential campaign in Cleveland, Ohio, August 6, 2015. REUTERS/Brian Snyder