This Time, Hillary Clinton Plays Up Her Gender And Key Issues For Women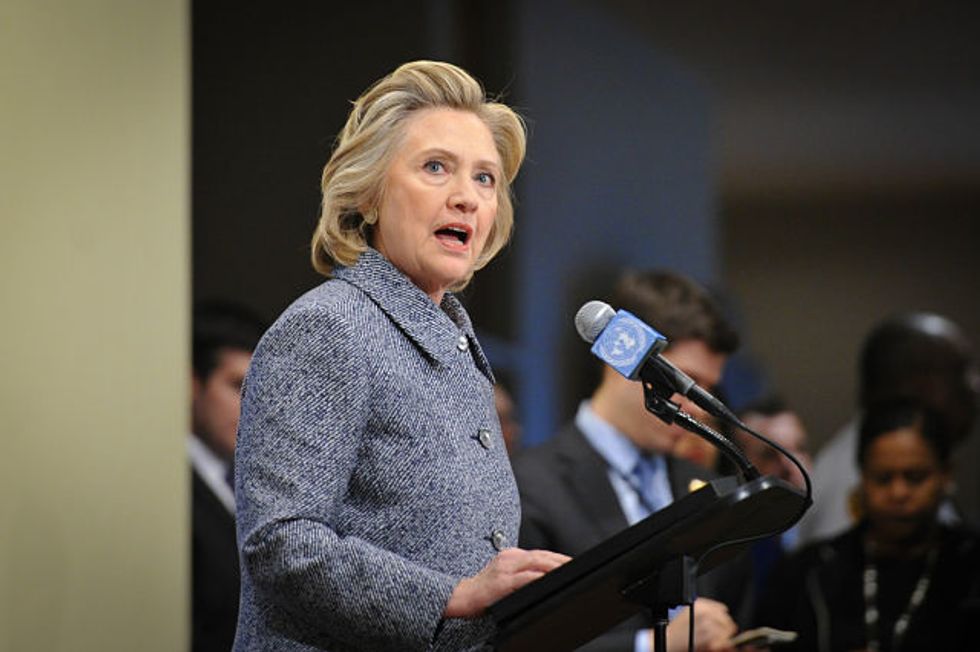 By Evan Halper, Tribune Washington Bureau (TNS)
KEENE, N.H. — Hillary Rodham Clinton waited until the day of her concession speech the last time she ran for president to put the glass ceiling at the center of her campaign.
Seven years later, the country and Clinton both have changed. From the start, her campaign is making a selling point of breaking the gender barrier.
Her advisers once worried that playing up her sex would leave the impression among voters — particularly men — that Clinton was weak and inexperienced. Those worries no longer apply. She has a new team of aides and, more important, "secretary of State" on her resume.
Longtime Clinton supporters and watchers expect her to repeatedly return to the issue of gender on the campaign trail, as she did Monday in her first campaign visit to the early primary state of New Hampshire. She has already staked out positions on such issues as family leave and universal kindergarten, but has also nodded to her womanhood in more subtle ways, including when she brags about being a grandmother.
"She has been talking about how she looks at the world through the prism of being a mom and now a grandmom," said Chris Lehane, who advised the Clintons in the White House during the Bill Clinton administration. "That intergenerational argument is incredibly powerful and compelling. It conveys authenticity."
New Hampshire, where Clinton needs to make a strong showing to keep challengers relegated to sideshow status, is prime territory to focus the spotlight on gender. Its electorate has a proud history of putting women in charge. Two years ago, it became the first and only state to fill its congressional delegation and governor's mansion exclusively with women.
Clinton's first campaign stop in the state Monday was at a family-owned business that builds play kitchens and other furniture for small children, a venue that provided a perfect backdrop for the candidate to discuss child care and universal kindergarten, key issues for women.
Child care was one of the first subjects raised by the workers handpicked to participate in a roundtable with the candidate. Asked what could be done to make child care more widely available, Clinton riffed on the early days of her career, when she advocated for the Children's Defense Fund; the latest science on childhood brain development; and the importance of singing and reading to babies.
"My whole adult life and volunteer work has been around children and families," she said. "It can cost as much as $12,000 per year in New Hampshire for quality child care. That is more than community college costs. What are we going to do about that?"
Democratic strategist Karen Skelton, who also worked in the White House under Bill Clinton, said Hillary Clinton is "coming to the presidential campaign at exactly the time when women are driving the economy as workers, caretakers and consumers, but our nation's policies have not caught up to the reality of women's role and impact. … Women's issues are the 21st century economic issues."
There is also a softer side to the appeal Clinton is making.
"The word 'grandmother' is going to get used a lot," said Samuel Popkin, a professor of political science at the University of California, San Diego.
Clinton made a surprise campaign stop Monday in a bakery, where she picked up a customer's baby. Unlike many politicians, she did not just give a kiss and immediately return the child. She held on.
"I'm going to take her with me," said Clinton, who was more reticent about such displays during her last run for president.
Clinton "had to overcome the perception that a woman could not qualify to be commander in chief," said Kathleen Hall Jamieson, director of the Annenberg Public Policy Center at the University of Pennsylvania. "Her advisers told her that is a threshold test females have to pass. Men do not."
Clinton's tenure as secretary of State changed that for her, Jamieson said. As did aging.
"Our sense of what female leaders look like as heads of state is older, not younger," Jamieson said. "We think of Margaret Thatcher, Golda Meir. We've had grandmothers who have been heads of state."
Clinton talks constantly about being a grandmother. She turned to the topic of granddaughter Charlotte Clinton Mezvinsky once again Monday afternoon, at a New Hampshire house party. "It carries with it a big responsibility, doesn't it?" Clinton asked a group, the older women in it nodding along with her.
"Luckily, my daughter and her husband are obviously well educated, they work hard, they'll provide everything Charlotte needs. But what about all the other kids who were born on Sept. 26 in 2014 in this country who deserve the same opportunities?" she asked, referring to her granddaughter's birth date.
Nor did she shy away from such talk in Iowa, a state that lags behind others in elevating female candidates.
It wasn't until November, when Republican Joni Ernst won a Senate seat, that Iowa elected a woman to Congress. Clinton finished third in the 2008 Iowa Democratic caucus, a blow to her campaign's effort at the time to cast her as the inevitable choice for the party's presidential nomination.
Last week, in addition to talking about Charlotte, Clinton hammered away on another theme popular with women, family leave, as she debuted her 2016 presidential run in the Hawkeye State. During a small-business roundtable at a fruit-packing company outside Des Moines, Clinton seized on the generous maternity leave policy offered by one of the participants, who owns a Web design and marketing business.
"Making your employees feel that you care about these milestones in their lives and you give them the chance to, you know, have a child, adopt a child, recover from a serious illness, take care of a really sick parent and get a period of time that's paid just cements that relationship," she said. "It's an issue I feel strongly about on just personal terms."
(Times staff writer Seema Mehta in Norwalk, Iowa, contributed to this report.)
(c)2015 Tribune Co., Distributed by Tribune Content Agency, LLC
Photo: Former U.S. Secretary of State Hillary Clinton addresses the press after attending the annual Women's Empowerment Principles event at UN headquarters in New York on Tuesday, March 10, 2015. The potential 2016 U.S. presidential contender defended her use of a personal email account for official communications, saying it was "for convenience." (Niu Xiaolei/Xinhua/Sipa USA/TNS)