This Week In Crazy: Generalissimo Graham Prepares To Seize Congress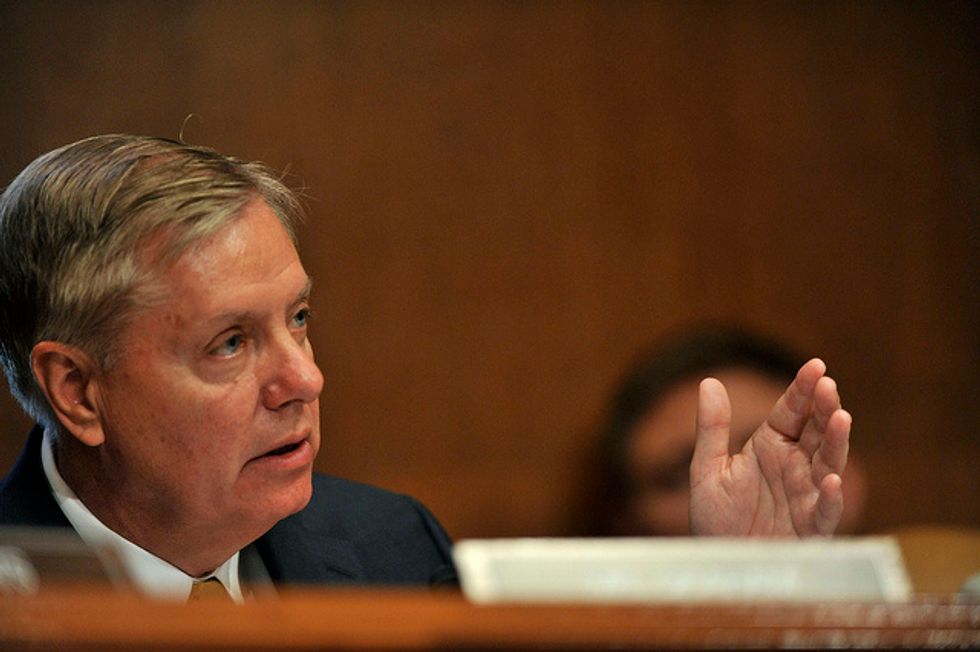 Welcome to "This Week In Crazy," The National Memo's weekly update on the wildest attacks, conspiracy theories, and other loony behavior from the increasingly unhinged right wing. Starting with number five:
5. Lindsey Graham
Senator Lindsey Graham (R-SC) has long complained about President Obama trampling the Constitution, and over the weekend, we may have learned the reason why: Envy.
Speaking at a "Politics and Pies" forum in Concord, New Hampshire, Graham — who is preparing a longshot presidential bid — said that his first order of business in the White House would be deploying the military against Congress.
"And here's the first thing I would do if I were president of the United States. I wouldn't let Congress leave town until we fix this," Graham said, according audio posted by libertarian pundit Ben Swann. "I would literally use the military to keep them in if I had to. We're not leaving town until we restore these defense cuts. We are not leaving town until we restore the intel cuts."
So is Senator Graham actually plotting a coup against Congress? Apparently not. In a statement to Bloomberg's David Weigel, Graham spokesman Kevin Bishop clarified that the line was "not to be taken literally" (despite the senator's literal use of the word "literally").
In other words: Graham/Kyl 2016!
4. Menendez Truthers
When news broke that the Justice Department is preparing to file federal corruption charges against Senator Bob Menendez (D-NJ), it wasn't hard to predict the Republican reaction. And the right wing did not disappoint.
As it turns out, Menendez's legal troubles, like most things in life, are President Obama and Eric Holder's fault.
Senator Ted Cruz (R-TX) explains:
"The timing is curious," Cruz said. Menendez is reportedly set to be charged with corruption for accepting gifts and vacations from a longtime donor after a years-long investigation.

"It raises a suggestion to other Democrats that if you dare part from the Obama White House, that criminal prosecutions will be used potentially as a political weapon as well," Cruz said. "That's a serious concern."
The always paranoid Cruz is not alone; his always hysterical colleague Lindsey Graham also smells a rat:
"All I can say is, they were leaked," Graham said. "He wasn't actually charged officially. They leaked the fact that he may be charged, is gonna be charged. I hate it when that happens for anybody. I like Bob. Like everybody else, he's innocent until proven guilty. He's been a champion on the Iranian nuclear issue. It just doesn't smell right."
Senator Mark Kirk (R-IL) also got in on the action:
"Bob Menendez has been an excellent partner for me on the Iran stuff, and I'm worried now by leaking stuff (from) Justice it's politically motivated to silence Bob for his work on Iran, which he should be praised for," said Kirk.
Of course, back in reality, the Justice Department investigation into Menendez began well before the Iran debate heated up — and while Menendez opposes President Obama's attempts to reach a nuclear deal, he's actually been rather accommodating of the White House. Plus, it's hard to imagine the president flagrantly abusing his power to replace a senator who votes with the Democrats 96.9 percent of the time with Republican governor Chris Christie's hand-picked appointment.
But if nothing else, the Republican Menendez truthers have guaranteed the senator a lifetime full of appearances on right-wing radio if things turn south.
3. Glenn Beck
American Prophet Glenn Beck took a quick break from predicting the Apocalypse on Wednesday, to issue an even scarier warning: The Muslim Brotherhood is making him quit the National Rifle Association!
Well, sort of. By "Muslim Brotherhood," Beck actually means conservative anti-tax activist Grover Norquist. You see, his guest on the show — Islamophobic extremist Frank Gaffney — believes that the Muslim Brotherhood has infiltrated the American conservative movement, Norquist included.
So as long as Norquist serves on the NRA board, Beck has a problem.
"I am not an expert on Grover Norquist by any stretch of the imagination," Beck began his presentation reasonably, "but I've heard enough that makes me concerned enough that — and I hope that the leadership of the NRA hears this and every member of the NRA hears this — that if this man is elected, or re-elected, and confirmed on the board of the NRA, I may drop my membership in the NRA. I am that concerned that he is a very bad influence and a very bad man that if this is who the NRA decides to put on their board of directors, I don't think I can be associated with them."
It takes a special brand of craziness to get banned from CPAC — and naturally, it has a home behind Glenn Beck's microphone.
2. Bryan Fischer
Bad news, gay people: You're going to go blind!
That's the diagnosis from Dr. Bryan Fischer, who has gone from warning that "I don't think you will ever find a more directly demonic energy than when you deal with the homosexual agenda" to trying to save gay people's demonic vision.
As Fischer explained on Wednesday, just as undocumented immigrants brought measles and polio back from the brink of eradication (just go with it), so are gay people bringing back ocular syphilis.
Fischer is especially concerned about black men, who are at greater risk for contracting the disease.
"All we've heard over the last number of months is 'black lives matter,' 'black lives matter,' 'black lives matter.' I agree, black lives matter," he explained. "If you've got a behavior, you've got a conduct, you've got a lifestyle that is resulting in potentially blinding health risks for black males and their​ risk is five times higher than white males, I would say if black lives matter, it is time we started doing something about that."
Never doubt Bryan Fischer's love for black males.
1. Dave Agema
There was no shortage of stupid responses to President Obama's speech marking the 50th anniversary of "Bloody Sunday" on the Edmund Pettus Bridge, but no one even approached this week's "winner," Republican National Committee member Dave Agema.
Agema, an unrepentant bigot and constant source of embarrassment for the RNC, took to Facebook on Monday to share his thoughts on the president's big speech.
When one commenter on the post asked Agema how he knows that the president is just 6.25 percent black, the RNC member replied, "snopes and yahoo- google 'what percentage of white, black and Arab is Obama.'"
Meanwhile, it's still not safe for RNC Chairman Reince Priebus to Google "Republican outreach."

Check out previous editions of This Week In Crazy here. Think we missed something? Let us know in the comments!
Get This Week In Crazy delivered to your inbox every Friday, by signing up for our daily email newsletter.
Photo: Department of Defense via Flickr