This Week In Crazy: Grandpa Steve King Is Upset Over Google's iPhone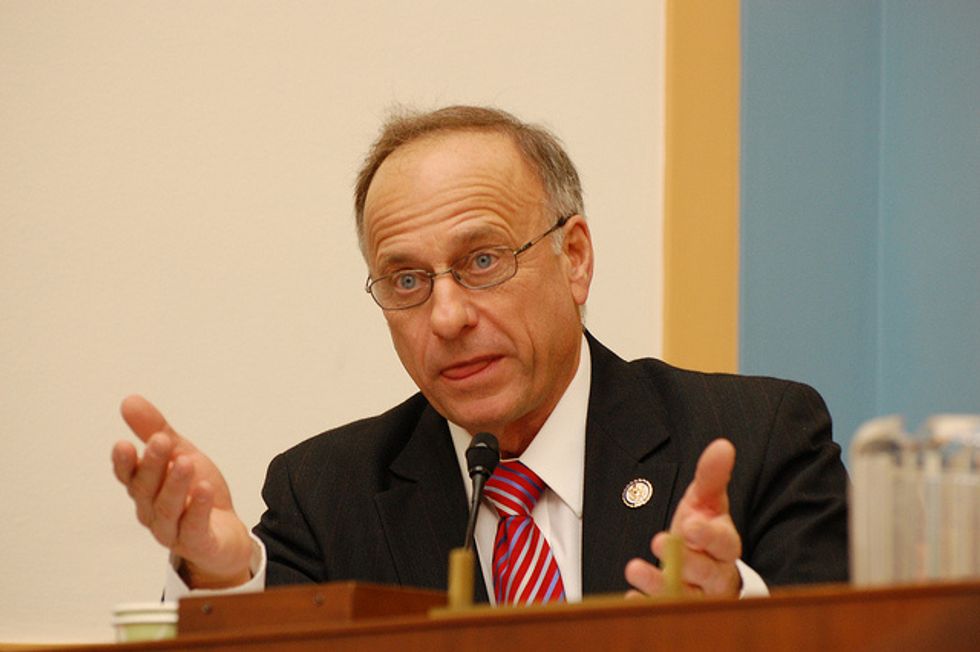 Grandpa King needs help with his phone, David Horowitz proves he's not racist..by being racist, and Russia's coming for your guns! This can only mean one thing. It's This Week in Crazy!
5. David Horowitz
In a world full of crooked politicians, David Horowitz lambasted Colorado Republican lawmakers: "You're too damn nice." This proclamation was in reference to the sweeping losses Rocky Mountain Republicans suffered in the midterm elections.
The right-wing activist warned Colorado's GOP to defend their party when Democrats label them "racists, sexists, homophobes, Islamophobes, xenophobes, and Nazis."
According to Horowitz, the word "liberal" doesn't inflict enough damage as a rebuttal to those accusations. Said he, "What are Democrats liberal about except sex, drugs, spending other people's money, coddling criminals, giving America's mortal enemies like Iran the benefit of the doubt?"  Doesn't sound racist, Islamophobic, or xenophobic at all…
4. Wells Griffith
Climate talks are heating up faster than the ice caps. Unable to stand the heat, Trump's energy adviser tried to get out of the kitchen. After making a case for fossil fuels at the COP24 summit, Wells Griffith bustled through a sea of hostile media. Democracy Now attempted to get a word with Griffith, resulting in a slow-speed chase through the venue.
The Trump aide deployed various tactics to shake journalist Amy Goodman. He offered to give her his card, complained she was "harassing" him, and even tried losing her on a stairwell.
After ten minutes of ignoring, whining, and dodging, Griffith picked up the pace. Ever the Olympic athlete, he ascended two steps at a time, allowing room for a flunky to create distance between adviser and journalist. Courageous!
3. Elliott Broidy
Former Republican Party official Elliot Broidy, invested in land located in Angola. In an $8 million deal with the Angolan government, he agreed to start an oil business and build an Intelligence Center in the country.
Using his connections in the GOP, Broidy was able to secure two seats for Angolan officials at Donald Trump's inauguration. While they were in Washington, Broidy coordinated a meeting for Angolan officials with prominent GOP Senators Tom Cotton (R-AR) and Ron Johnson (R-WI).
But the Angolan government didn't hold up their end of the deal, only doling out $6 million to Broidy. Like any determined creditor, he then dispatched a series of harassing emails…and bribes.
Leaked emails from Broidy to Angolan officials name-dropped his meetings with Mike Pence. Another noted his plans to spend the weekend at Mar-A-Largo. Each ended with a variation of "Pay up, and you can be sipping fruity umbrella drinks in the pool with us."  
2. Rick Wiles
Did you know that the left and Russia are actually working together? According to Rick Wiles they are, and they're coming to get your guns! During his TruNews program, Rick Wiles spread some fake news.
After Russia got caught infiltrating the NRA, Wiles tried to make sense of the situation. The host hypothesized that Democrats and Russians are people "who hate conservatives, who hate gun-owners, who hate Christians, who hate everything the old America stood for."
The impassioned host concluded his rant by saying both parties want "to bring about a collapse of our society and a civil war." Yes, the party that campaigns for inclusion is working with a country that denies gay rights in order to start a Civil War over guns.
1. Steve King
And for Grandfather of the Year, the Award goes to…Rep. Steve King (R-IA). Hoping to protect his seven-year-old granddaughter from finding out how much of a bigot he is, Steve King hijacked last week's Google Congressional Hearing. The Congressman asked Google  Sundar Pichai why negative articles about Rep. King pop up on his granddaughter's iPhone while she plays games.
With a straight face, Pichai offered Grandpa King a polite reminder: "Congressman, iPhone is made by a different company." Guess you'll have to call Tech Support after all, Steve. Word of advice? Say fewer things that will garner unfavorable headlines. Oh, and make sure your granddaughter stays clear of the popups on your laptop!