This Week In Polls: Hillary And Bernie Going Down To The Wire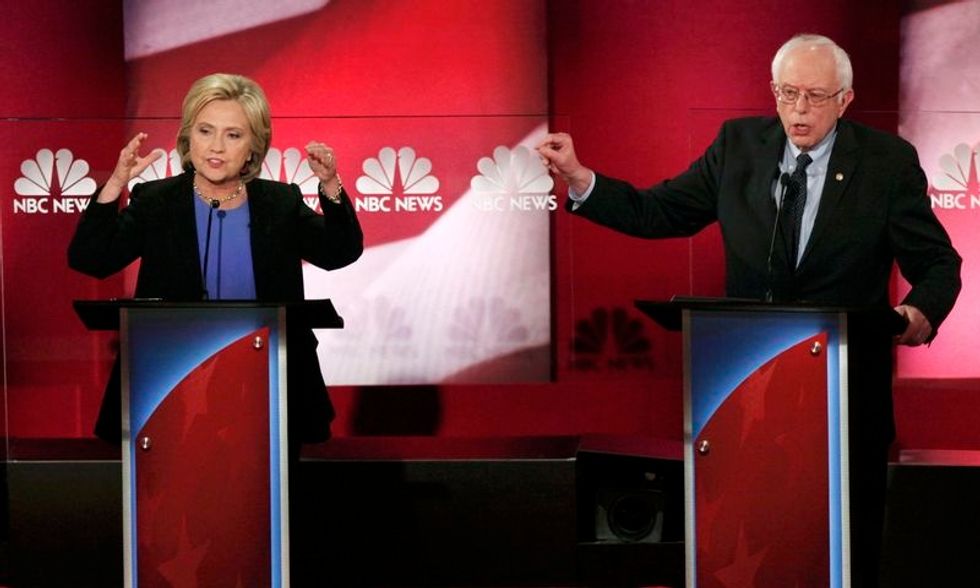 With a week and a half to go until the voting in the Iowa caucuses — and then just over a week after that for the New Hampshire primary — Hillary Clinton and Bernie Sanders are waging a stiff battle for these two kickoff contests.
Iowa
The polls in the first caucus state show a bizarre picture on the Democratic side:
A poll from KBUR radio, Clinton led with 48 percent, then Sanders at 39 percent, and Martin O'Malley with 7 percent.
A CNN poll gave Sanders a shock lead, 51 percent to 43 percent, and O'Malley at 4 percent.
Loras College's poll gave Clinton a landslide lead, 59 percent to 30 percent, and O'Malley 7 percent.
Bottom line: Clinton has been ahead in most polls of this state — though it seems highly unlikely she would win by 29 points. We'll all find out in 10 days.
New Hampshire
In the first primary state, the polls all show Bernie Sanders ahead — but even here the polls are a bizarre mixture, with wildly different margins.
New Hampshire-based American Research Group showed Sanders ahead, 49 percent to 43 percent, plus O'Malley at 3 percent.
Then the ground shook with the release of a CNN poll, showing Sanders with a whopping 60 percent, nearly double Clinton's share of 33 percent, and O'Malley at just 1 percent.
Suffolk University has Sanders ahead by a much less dramatic (but still solid) margin, 50 percent to 41 percent, with O'Malley at 2 percent.
Bottom line: Bernie is probably not ahead by 27 points in New Hampshire — but he probably is ahead in New Hampshire.
Photo: Democratic U.S. presidential candidate and former Secretary of State Hillary Clinton (L) and rival candidate U.S. Senator Bernie Sanders (R) speak simultaneously at the NBC News – YouTube Democratic presidential candidates debate in Charleston, South Carolina January 17, 2016. REUTERS/Randall Hill