This Week In Polls: Hillary Viewed Unfavorably — But Better Than GOPers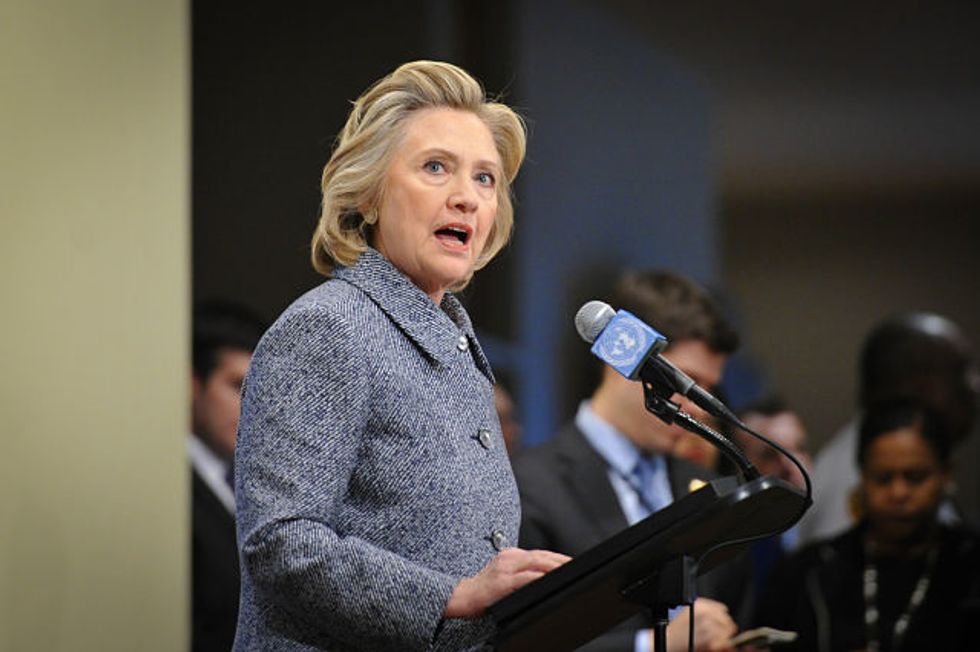 A set of polls out this week shows a fascinating trend: A great number of voters do not trust Hillary Clinton — but she's still running ahead of the Republicans.
Thus, some key middle ground of respondents simultaneously don't like Clinton, but would still vote for her in 2016 after looking at the alternatives.
The polls also provide some insight into the very wide Republican field — and specifically the race-within-the-race for the candidates to get into the crucial top 10 threshold to be admitted into the upcoming cable TV debates.
The CNN poll released this week shows that only 42 percent of Americans say that Clinton is "honest and trustworthy," compared to 57 percent who disagree with that description being applied to her. Also, Clinton's personal rating is just 46 percent favorable, against 50 percent who view her unfavorably.
But at the same time, Clinton still leads all the potential Republican opponents that were tested against her in this poll:
Clinton 51 percent, Jeb Bush 43 percent
Clinton 49 percent, Marco Rubio 46 percent
Clinton 48 percent, Rand Paul 47 percent
Clinton 49 percent, Scott Walker 46 percent
Clinton 52 percent, Ted Cruz 43 percent
For the Republican primary, Marco Rubio was in first at 14 percent, followed by Jeb Bush with 13 percent, Mike Huckabee 10, Scott Walker 10, Ted Cruz 8, Rand Paul 8, Ben Carson 7, Rick Perry 5, Chris Christie 4, George Pataki 3, Donald Trump 3, Rick Santorum 2, Carly Fiorina 1, Lindsey Graham 1, Bobby Jindal 1, and John Kasich 1.
And on the Democratic side, Hillary Clinton dominated the pack with 60 percent, followed way behind by Joe Biden with 14 percent, Bernie Sanders 10, Jim Webb 2, Martin O'Malley 1, and Lincoln Chafee with less than 1 percent.
The ABC/Washington Post poll similarly found that 41 percent of American adults say that Clinton is trustworthy, against 52 percent who say she is not, a personal rating of 45 percent favorable to 49 percent unfavorable. However, in the one potential general election match-up tested in this poll, Clinton still led Jeb Bush, by a margin of 49 percent to 41 percent among the general population, and by 47 percent to 44 percent among a narrower pool of registered voters.
Among Republican voters, Jeb Bush led the field with 13 percent, then Rand Paul at 11 percent, Scott Walker 11, Mike Huckabee 9, Marco Rubio 9, Ben Carson 7, Ted Cruz 7, Chris Christie 5, Donald Trump 5, John Kasich 3, Rick Santorum 3, Carly Fiorina 2, Rick Perry 2, Lindsey Graham 1, Bobby Jindal 1, and George Pataki 1.
And for Democrats, Hillary Clinton led with 63 percent, followed by Joe Biden at 14 percent, Bernie Sanders 9, Martin O'Malley 2, Jim Webb 2, and Lincoln Chafee 1.
And Fox News asked this rather interesting question regarding Clinton: "How concerned are you about allegations of Hillary Clinton's dishonesty and unethical behavior?" The result was that only a total of 31 percent said they were somewhat or very concerned, against 68 percent who were either not very concerned — or not concerned at all.
In the Republican primaries, Jeb Bush and Scott Walker are tied at 12 percent each, then Ben Carson at 11 percent, Rand Paul 9, Ted Cruz 8, Marco Rubio 7, Mike Huckabee 6, Chris Christie 5, Rick Perry 4, Donald Trump 4, Carly Fiorina 2, Lindsey Graham 2, John Kasich 2, George Pataki 2, Rick Santorum 2, and Bobby Jindal 1. (Whew!)
For Democrats, Clinton led with 57 percent, then Bernie Sanders at just 11 percent, Joe Biden 8, Elizabeth Warren 7, Martin O'Malley 4, Jim Webb 2, Lincoln Chafee 1, and Andrew Cuomo 1.
Photo: Former U.S. Secretary of State Hillary Clinton addresses the press after attending the annual Women's Empowerment Principles event at UN headquarters in New York on Tuesday, March 10, 2015. (Niu Xiaolei/Xinhua/Sipa USA/TNS)