GOP Senate Candidate Thom Tillis Has Had A Rough 24 Hours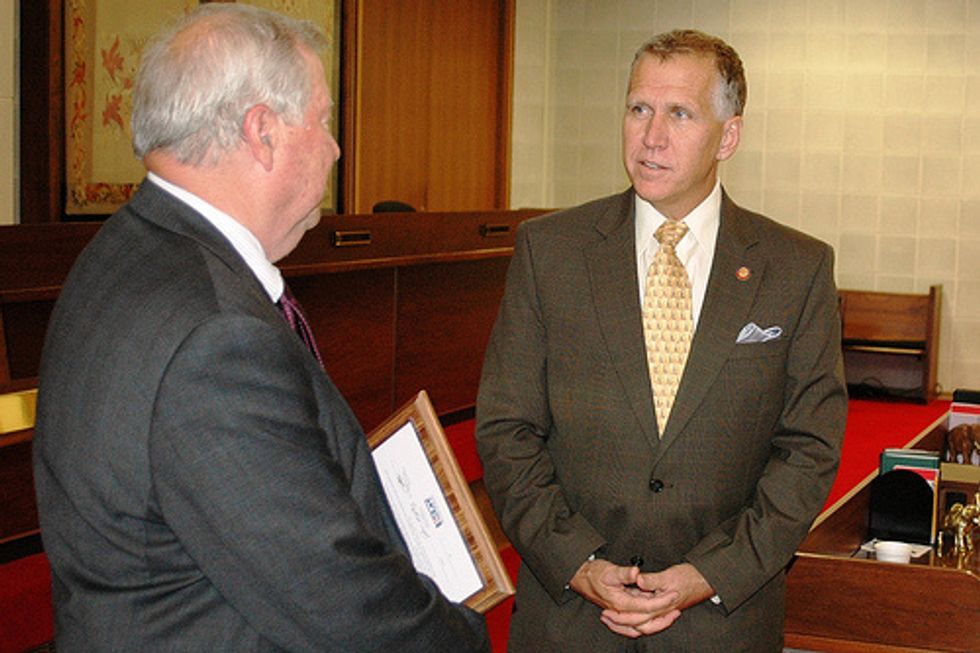 The North Carolina election suddenly isn't looking so good for state House Speaker Thom Tillis (R-NC), the Republican nominee for U.S. Senate. He's trailing incumbent Senator Kay Hagan (D-NC) by 5 points, according to PPP's latest poll, released on Tuesday. This represents Hagan's largest lead in any public poll since September (though most other surveys show the race as a virtual tie).
Tillis also managed to possibly alienate minority voters in his state, when Talking Points Memo uncovered a 2012 interview with Carolina Business Review host Chris William, in which Tillis said that the African-American and Hispanic population of North Carolina were not the "traditional population of North Carolina." William had asked Tillis why he thought the Hispanic vote had shifted from the Republican Party to the Democratic Party. Tillis responded, "There's a number of things that our party stands for that they embrace. I think we have to do a better job of communicating it."
He went on to say, "The traditional population of North Carolina and the United States is more or less stable," as opposed to the growing African-American and Hispanic populations, which he thinks Republicans need to reach out to in the future.
Tillis campaign communications director Daniel Keylin denied the apparent racial implications of his remarks, telling Talking Points Memo, "'Traditional' North Carolinians refers to North Carolinians who have been here for a few generations."
Offensiveness aside, Tillis' claim that the "traditional" white population is stable, while the minority population is growing, isn't entirely accurate. The percentage of people identifying as "black or African-American alone" in North Carolina actually decreased from 21.59 percent of the total population in 2000 to 21.48 percent in 2010, according census numbers. The percentage of people identifying as "white alone" in the state decreased from 72.11 percent in 2000 to 68.47 percent in 2010. But the raw number of white people in the state has actually increased, from 5,804,653 people in 2000 to 6,528,950 in 2010. The number of "persons of Hispanic or Latino origin" in North Carolina did increase from 4.71 percent in 2000 to 8.39 percent in 2010.
Chris Hayden, Sen. Hagan's campaign spokesman, responded to the remarks on Tuesday.
"Once again Thom Tillis is separating, dividing and conquering North Carolinians," he said.
Tillis is already losing the minority vote in North Carolina. The PPP poll shows that only 6 percent of African-American voters support him, while 67 percent are behind Hagan; 41 percent of white voters back Tillis, vs. 32 percent for Hagan. For voters who identify as "other" in the poll, 37 percent support Tillis and 34 percent prefer Hagan.
Overall, Hagan has 39 percent of voter support, while Tillis only has 34 percent. According to the PPP, Hagan's lead likely expanded because the Republican-controlled North Carolina General Assembly is currently in session, and only 18 percent of voters approve of the job that the General Assembly is doing.
Even with Hagan's lead, she still has a tough race to run. She still has a negative favorability rating (42 percent of voters approve of her while 46 percent disapprove), and voters disapprove of President Obama as well (41 percent approve; 53 percent disapprove). Hagan will have to distance herself from the president to maintain her lead and fight off attacks such as the Tillis campaign's new website — penpalkay.com –which brands Hagan as "a rubber-stamp for President Obama's failed policies."
Photo: North Carolina National Guard via Flickr

Interested in U.S. politics? Sign up for our daily email newsletter!