Three Classic Stories From Presidential Inaugurations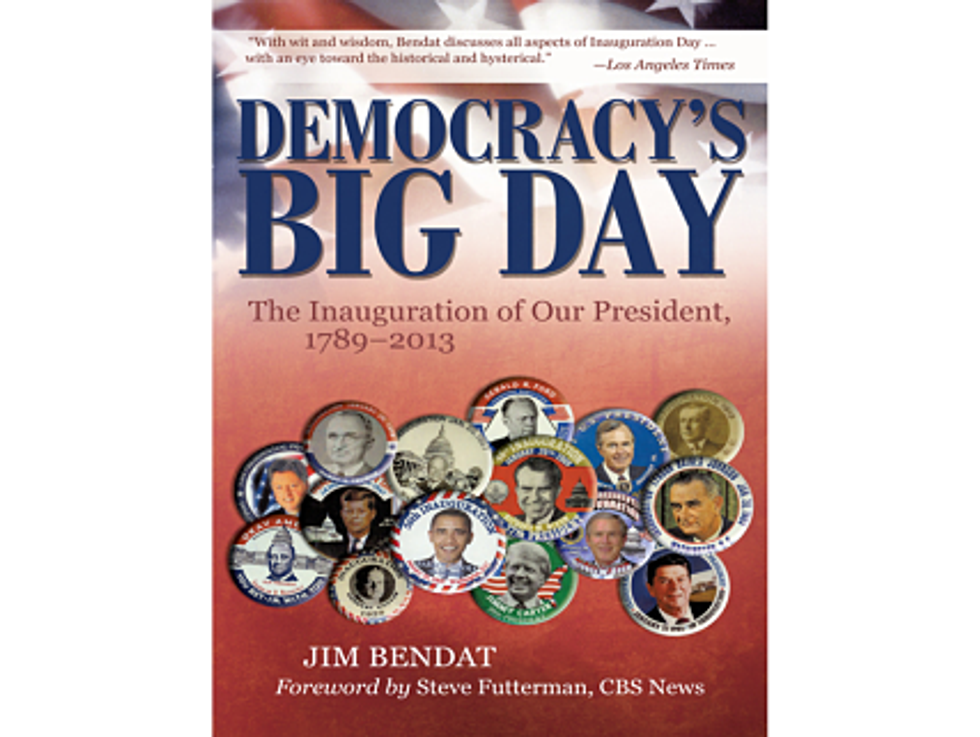 As President Barack Obama prepares to begin his second term, The National Memo takes a look back at stories from past presidential inaugurations. The following vignettes are excerpted from Jim Bendat's new book, Democracy's Big Day: The Inauguration of Our President 1789-2013. You can order the book here
Let's Hear it for the Girl
On March 1, 1929, three days before the upcoming inauguration, Chief Justice William Howard Taft wrote the following note to President-elect Herbert Hoover:
I have thought it would be wise to put into written form the details of the ceremony of taking the oath, so that, subject to your approval, you and I shall know what we are to do.

The ceremony will begin behind the stand where the oath is to be taken, you with your back to the Senate, and I with my back to the House. Without any preliminaries, I am to say:

"You, Herbert Hoover, do solemnly swear that you will faithfully execute the office of President of the United States, and will to the best of your ability preserve, protect and defend the Constitution of the United States."

You will then answer "I do."
Sure enough, three days later, as millions of Americans listened to a live radio broadcast of the ceremony, Taft recited the oath and Hoover said just those two words. Those listeners included an eighth-grade history class in Walden, New York. One of the students in that class was 13-year-old Helen Terwilliger. Helen had memorized the oath, and she was amazed to hear the chief justice conclude, "preserve, maintain, and defend the Constitution of the United States."
Although no one else had noticed such an error, Helen was certain Taft had mistakenly substituted the word "maintain" for the word "protect."
She was so sure, in fact, that she wrote a polite letter to the chief justice in Washington to tell him so.
Taft then wrote back to Helen, "You are quite right that the words of the oath mentioned in the Constitution are 'preserve, protect and defend,' but my memory is not always accurate and one sometimes becomes a little uncertain.… It certainly did not prevent the validity of the oath."
But the 71-year-old Taft also advised Helen, "You are mistaken in your report of what I did say. What I said was 'preserve, maintain and protect.' What I should have said was 'preserve, protect and defend,' and you may attribute the variation to the defect of an old man's memory."
Even after the young critic received this letter from Taft, she stood her ground. She insisted that her version of the chief justice's mistake reflected what had really taken place in Washington. To settle the issue, the Fox Film Corporation, Pathe News, and Paramount News all checked their inauguration sound films. On March 14, these three organizations unanimously declared that Helen had correctly quoted Taft's words. Not only had Taft misstated the oath; he had also been mistaken in his recollection of the particulars of his original error. Or, as the New York World reflected on Helen's accuracy: "She, not the Chief Justice, was right about the way in which the Chief Justice was wrong."
Upon learning the error of his ways, Chief Justice Taft later laughed and said, "I think you'll have to get along with what I've already said. After all, I don't think it's important."
When Americans went to movie theaters that week, they got to see and hear the sound newsreel of the ceremony. Then, absolutely everyone knew the truth: little Helen Terwilliger had been right all along.
One-Day Wonders
On three of the six times that the normal Inauguration Day has fallen on a Sunday, the new president has taken the oath privately on the Sunday, and then again publicly on Monday. Those occurred in 1917, 1957 and 1985.
In 1877, President Hayes took the oath privately a full day early, on Saturday, and then again in public two days later. That was the only time in history when our elected president was sworn into office before the date prescribed by the U.S. Constitution.
The other two years when the inaugural date fell on a Sunday were 1821 and 1849. In those two years, President James Monroe and President Zachary Taylor did not have a private oath taking. Each simply postponed his ceremony until Monday, March 5.
But, according to the Constitution, Monroe's first term (and that of Vice President Daniel D. Tompkins) expired at noon on March 4, 1821.
Similarly, the term of President James K. Polk (and Vice President George M. Dallas) expired at noon on March 4, 1849. Congress had passed a law in 1792 saying that, if those offices were vacant, the responsibilities of the chief executive would pass to the president pro tempore of the United States Senate.
In 1821, the president pro tempore of the Senate was Senator John Gaillard of South Carolina. Because March 4, 1821, fell on a Sunday, one could say that Gaillard served as president of the United States for one day—right in the middle of Monroe's two four-year terms!
A similar situation arose in 1849, and some historians believe that Senator David Rice Atchison of Missouri was also president for a day on Sunday, March 4, 1849. He had been president pro tempore of the Senate through Saturday, March 3; but, in his case, his term ran out on Saturday, and he was technically out of office until his new term as senator began again on Monday. So, our country may have actually had no legal president from noon on March 4, 1849, until noon the next day, when President Taylor was sworn in.
Nevertheless, written on Atchison's tombstone in Missouri are the words, "David Rice Atchison, 1807–1886, President of the U.S. one day."
And, when Atchison was later asked what he did on his one day as our nation's leader, he said, "I went to bed. There had been two or three big nights finishing up the work of the Senate, and I slept most of that Sunday."
The Long and Short of It
The shortest inaugural address was delivered by President George Washington at his second inauguration, in 1793. His address consisted of just 135 words, saying simply that his administration would continue on as before. This speech was given indoors, inside the Senate chamber at Philadelphia's Congress Hall. Washington would go on to fully serve out his second term as president.
On the other side of the spectrum, the longest speech took place in 1841. William Henry Harrison spoke for two full hours—8,495 words that went on and on and on. This inaugural address, written by Daniel Webster, was delivered on a cold and blustery day. Harrison spoke without much in the way of wraps and without a hat on his head.
Harrison was 68, at that time the oldest man to ever become president. On his Inauguration Day, one might say that he did not consider his limitations. Aside from speaking too long, he also rode to the ceremony on his horse, turning down an invitation to travel by closed carriage. He then partied long into the night, at three separate inaugural balls. All of this activity proved too much for Harrison. He caught pneumonia and never recovered. He died on April 4, 1841, just one month after becoming president. No person has ever served as president for a shorter period of time.
For the record, Theodore Roosevelt delivered the second-shortest inaugural address, 985 words in 1905. James K. Polk made the second-longest speech, 4,776 words in 1845.