The Thrifty Traveler: How To Search For An Authentic Spiritual Getaway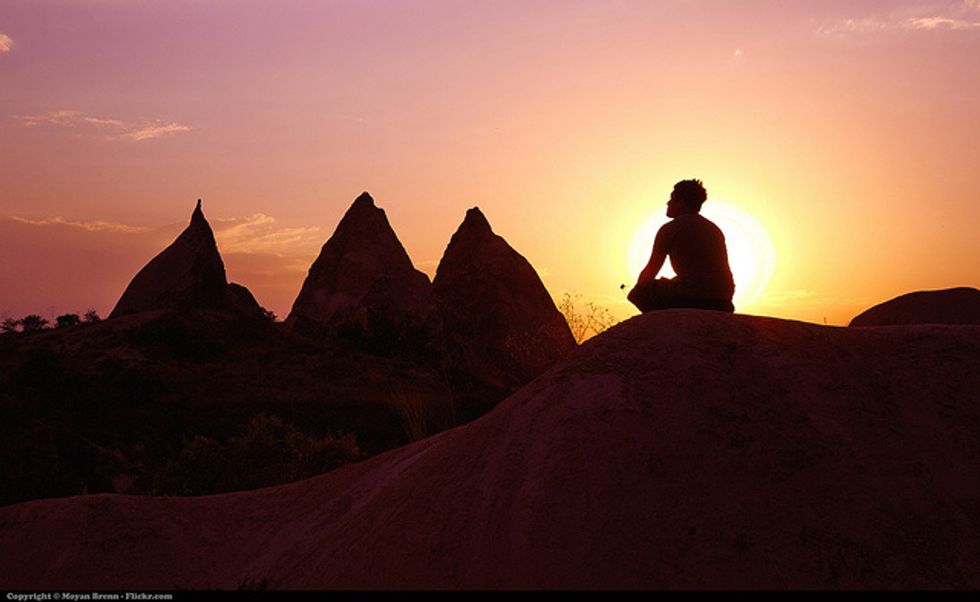 By Myscha Theriault, Tribune News Service (TNS)
Finding time to feed one's soul is something many struggle to incorporate when it comes to work-life balance. So it should come as no surprise that religious retreats are often as preferred a travel choice as romantic weekends or girlfriend vacations.From Saudi Arabia to Sedona, spiritual getaway options are as diverse as the people who seek them. Here are some tried-and-true methods for making sure you book an authentic one.
Lifestyle: Traveling to any place where spirituality is the local lifestyle is a sure shortcut to authenticity. Just ask any world traveler who's ever spent time on the island of Bali, in Indonesia. Whether you're making your way to the mother temple or attending one of the dance ceremonies in the cultural center that is the town of Ubud, it doesn't take long to realize that this place is the real deal. Ditto for Peru's Sacred Valley.
The spiritual practices of your destination don't have to match your chosen religion in order to provide a powerful sense of understanding. While the faith practiced in Saudi Arabia isn't my own, I did notice something undeniable when I visited the country on an exploratory business trip some years ago. Putting it into words has proved difficult over the years, but I am confident it was directly related to the system of prayer.
While other Persian Gulf countries have the same call to prayer schedule, with small mosques available in nearly every public building for those who wish to pray at the designated times, the kingdom takes it to an entirely different level. Prayer time in this country means commerce and other activities literally shut down so spirituality can be practiced like the priority it is for the local people. As a visitor who was there for more than a month, what I started to notice and appreciate was how powerful and profound those times of day were for my personal meditation. It's something I've yet to experience again anywhere else, though I've tried repeatedly to re-create it.
Location: Remote temples and monastery experiences are certainly the gold standard celebrated in the cinema. However, they do tend to be suited to a different type of travel, where excursionists have the time to disconnect from the grid and commit a significant amount of time from their itineraries to get to and experience the sanctuary in question.
For those trying to carve out a bit of time in the family vacation itinerary for some religious reflection, choosing less remote locations that are still slightly removed from the day-to-day hustle and bustle is an affordable and workable solution. For stark desert beauty that provides solitude along with adventure potential for the rest of the family, Jordan's Wadi Rum is tough to beat. If you happen to find yourself in northern Italy, the sanctuary of the Madonna Della Corona is also an excellent choice. A stone church built into the side of Mount Baldo, the structure is an engineering marvel unto itself. The view is stunning, and it's a great stop on a day drive through the area. Picturesque mountain meadows, wineries, castles and other fun stops can be worked into the trip as well, depending on the route you choose.
Heritage: There's a reason ancient religious sites remain pilgrimage destinations for modern-day travelers. People feel something when they arrive. Whether it's a palpable energy suitable for deep meditation, a connection to the culture responsible for its creation or simply a chance to reflect upon whatever practice brought awakening to countless people over the ages, a site's history plays a significant role in the spiritual nature of a traveler's experience.
England's Stonehenge and New Mexico's Chaco Canyon are certainly two of the more famous options, but there are lesser-known options which are equally powerful. For example, the pre-Incan stone towers of Sillustani near Puno, Peru, provide more than enough cause for contemplation, as do the ancient Native American petroglyphs carved into a remote boulder in the middle of Minnesota's massive Lake of the Woods. The fact this boulder is still used by the local Ojibwe as an offering site as it has been for generations speaks volumes about its authenticity.
(Myscha Theriault is a best-selling author and avid traveler. Having just finished a yearlong trip throughout the United States with her husband and Labrador retriever, Theriault is busy planning her next long-term adventure. Readers can keep up with her adventures on Twitter by following @MyschaTheriault.)
©2015 Myscha Theriault. Distributed by Tribune Content Agency, LLC.
Photo: Moyan Brenn via Flickr