Ticks May Have Carried Lyme Disease For More Than 15 Million Years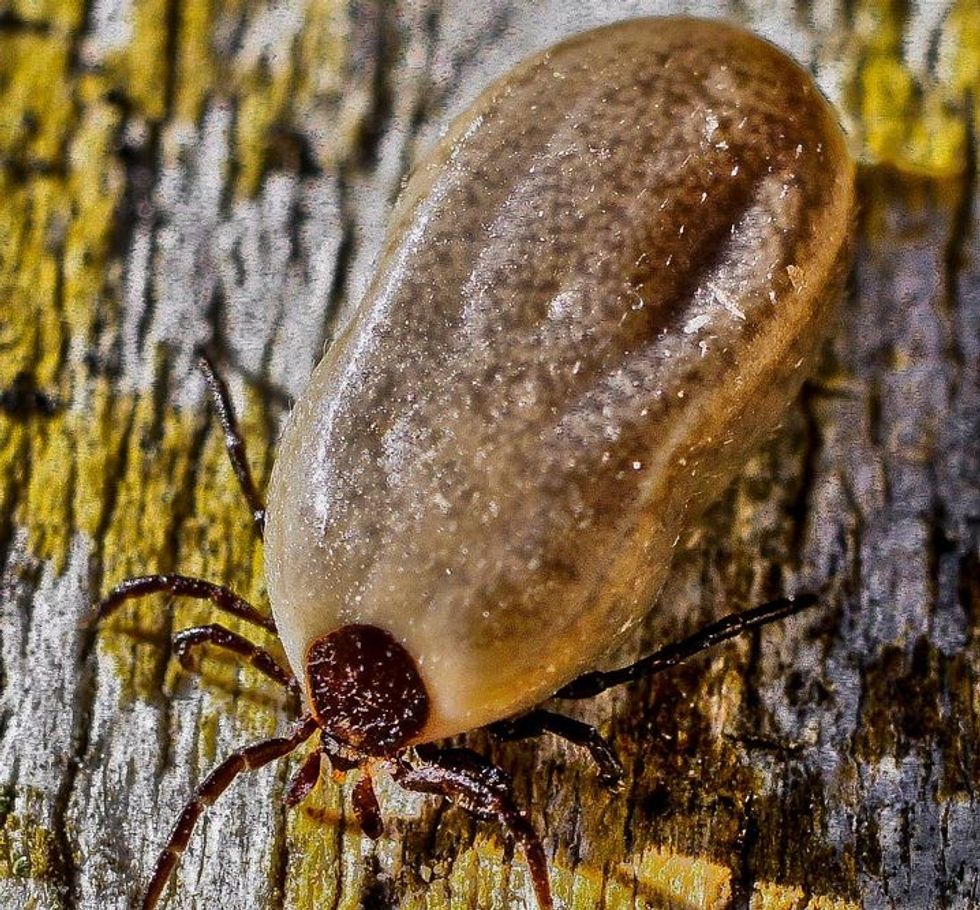 By Monte Morin, Los Angeles Times
LOS ANGELES — A tiny tick trapped in a droplet of amber more than 15 million years ago appears to have been infected with a bacteria similar to the one that causes Lyme disease in humans, according to new research.
In a paper published recently in the journal Historical Biology, one of the world's leading experts on amber-preserved specimens found a multitude of corkscrew-like bacteria in the belly of a young Ambylomma tick.
The bacteria, according to study author George Poinar Jr., a professor emeritus in the Department of Integrative Biology at Oregon State University, appeared very similar to bacteria of the Borrelia genus, a species of which causes Lyme disease.
The larval tick was one of four that was trapped in drops of tree resin 15 million to 20 million years ago in what is now the Dominican Republic, according to the author.
"The time of death of organisms in resin occurs immediately after entombment and tissue preservation begins instantly," Poinar wrote.
Over time, the resin hardened into amber and was buried beneath successive layers of earth, as well as plant and animal matter. The specimens were discovered in the modern age by miners who tunnel for amber fossils.
Poinar said that only one of the four ticks appeared to be infected with the bacteria, suggesting that it either inherited the bacteria from its mother or obtained it from an animal it had seized on for a blood meal.
Although the tick's insides showed no signs of blood, Poinar said it was possible the animal knocked it away moments after it was infected.
Lyme disease, which causes a variety of symptoms, including headaches, joint pain, fever and fatigue, has only been recognized by medical experts in the last few decades.
However, Poinar argues that ticks have been harboring a variety of bacteria that are harmful to humans and other hosts for millions of years.
In another recent paper published in the journal Cretaceous Research, Poinar examined fossil ticks from Myanmar and observed microbes similar to Rickettsia bacteria, which cause Rocky Mountain spotted fever. That amber-encased tick was estimated to be between 97 million and 110 million years old.
"It's likely that many ailments in human history for which doctors had no explanation have been caused by tick-borne disease," Poinar told OSU science writer David Stauth.
Scientists say the oldest case of tick-related disease belongs to Otzi the Tyrolean iceman. The ancient European died in the Alps about 5,300 years ago — under what appear to be a variety of trying circumstances — and his mummified remains were discovered by hikers in 1991.
"Before he was frozen in the glacier, the iceman was probably already in misery from Lyme disease," Poinar said.
Photo: Lance Nix via Flickr