Tillerson Says He Supports Keeping Russia Sanctions — For Now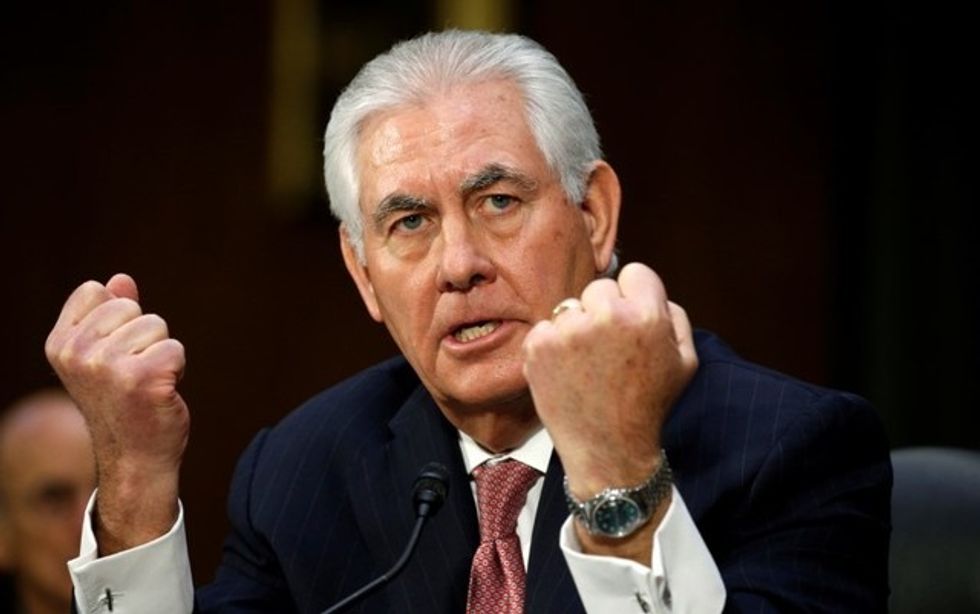 WASHINGTON (Reuters) – President-elect Donald Trump's nominee for secretary of state, Rex Tillerson, said on Wednesday he favored maintaining current U.S. sanctions against Russia for now and that NATO allies were right to be alarmed by Moscow's growing aggression.
But Tillerson's support for a more assertive policy toward Russia than Trump has espoused was tempered by his refusal to commit to support maintaining President Barack Obama's executive order authorizing additional sanctions against Moscow because of its interference in the 2016 U.S. presidential election.
Tillerson, oil company Exxon Mobil's former chairman and chief executive who had extensive business dealings in Russia, refused to call President Vladimir Putin a war criminal and kept the door open to a possible changes in U.S. sanctions policy against Russia, saying he had not seen classified information on Russian meddling.
"I would leave things in the status quo so we are able to convey this can go either way," Tillerson said during a Senate confirmation hearing interrupted sporadically by protesters opposed to his nomination.
He later said, "I would recommend maintaining the status quo until we are able to engage with Russia and understand better what their intentions are."
Tillerson said at other points during the hearing that U.S. sanctions disrupted American business overseas.
Some of Tillerson's answers may reassure skeptical Republicans and Democrats concerned that Trump, who takes office on Jan. 20, will act on his stated aim to improve ties with Russia by revoking all, or some, sanctions against Moscow.
Tillerson said it was a "fair assumption" Putin was aware of Russian efforts to interfere in the U.S. election.
On another contentious matter, Tillerson said he would recommend a "full review" of the nuclear deal with Iran reached with the United States and other world powers, but he did not call for an outright rejection of the 2015 accord in which Tehran agreed to curtail its nuclear program in exchange for relief from crippling economic sanctions.
Trump has made contradictory statements about the nuclear deal and at one point threatened to dismantle it.
Tillerson also faced questions on climate change, China's response to North Korean missile tests and whether he would be able to make unbiased decisions after a long career at Exxon Mobil, the world's largest publicly traded oil producer.
Bob Corker, chairman of the U.S. Senate Foreign Relations Committee, has said he expects the Republican-controlled Senate will easily confirm Tillerson, 64.
TOUGH QUESTIONS FROM RUBIO
Republican Senator Marco Rubio pushed him hard on whether he believed Putin was a war criminal, specifically referring to Russia's military actions in support of Syria's government in the lengthy Syrian civil war.
"I would not use that term," Tillerson said.
"Those are very, very serious charges to make and I would want to have much more information before reaching a conclusion," Tillerson added.
Rubio, who ran unsuccessfully against Trump for the Republican presidential nomination, shot back, "There's so much information out there. It should not be hard to say that Vladimir Putin's military has conducted war crimes in Aleppo. I find it discouraging, your inability to cite that which I think is globally accepted."
Tillerson was also grilled on his views about climate change.
"The risk of climate change does exist and the consequences of it could be serious enough that action should be taken," he said, but he dodged a direct question about whether he believed that human activity was a cause of climate change.
Tillerson did not answer yes or no, but said, "The increase in greenhouse gas concentrations in the atmosphere are having an effect. Our abilities to predict that effect are very limited."
His hearing came at a time of fraught ties with Russia. U.S. intelligence agencies have concluded that Russia was behind the hacks of American political figures in an effort to help the Republican Trump defeat Democratic candidate Hillary Clinton in the Nov. 8 election. Moscow has denied the allegations.
In another revelation, also denied by Moscow, two U.S. officials said on Tuesday classified documents that the heads of four U.S. intelligence agencies presented last week to Trump included claims that Russian intelligence operatives have compromising information about him. Trump dismissed the reports, first made by CNN, as "fake news."
Tillerson opposed U.S. sanctions against Russia in 2014 over its annexation of Crimea from Ukraine because he said he thought they would be ineffective.
On Wednesday, he said he never personally lobbied against sanctions and emphasized that he was not aware of Exxon Mobil directly doing so.
However, later Tillerson acknowledged expressing his view that sanctions on Russia over Crimea would be ineffective, and said he had personally spoken to U.S. Treasury Secretary Jack Lew regarding gaps between American and European sanctions on Russia.
Democratic Senator Chris Murphy vigorously challenged Tillerson's statement that he did not lobby against the sanctions, saying that calling a U.S. senator to express concerns over the measures "likely constitutes lobbying."
Exxon aggressively lobbied Congress on Iran sanctions in 2010, meeting numerous time with legislators, according to regulatory filings. The oil giant's lobbyists discussed not only U.S. sanctions on the Middle Eastern country, but also energy investments, trade and energy security there, according to the filings.
It is not immediately clear how much was spent on those lobbying efforts, as specific dollar amounts are not broken down in filings. In the first quarter of 2010, for example, the company spent $4.1 million to lobby Congress on myriad issues, including not only Iran, but also chemical, environmental and credit card-related issues.
In 2014 and 2015, Exxon lobbied Congress regarding sanctions against Russia following the annexation of Crimea. The lobbying directly related to energy matters, according to regulatory filings, which did not elucidate on which specific energy topics. Exxon has a large business in Russia and has said it would like to expand further there.
(Additional reporting by Lesley Wroughton in Washington and Ernest Scheyder in Houston; Writing by Lesley Wroughton; Editing by Frances Kerry and Will Dunham)
IMAGE: Rex Tillerson, the former chairman and chief executive officer of Exxon Mobil, testifies during a Senate Foreign Relations Committee confirmation hearing to become U.S. Secretary of State on Capitol Hill in Washington, U.S. January 11, 2017. REUTERS/Kevin Lamarque