'Tis The Season For Sleazy Ads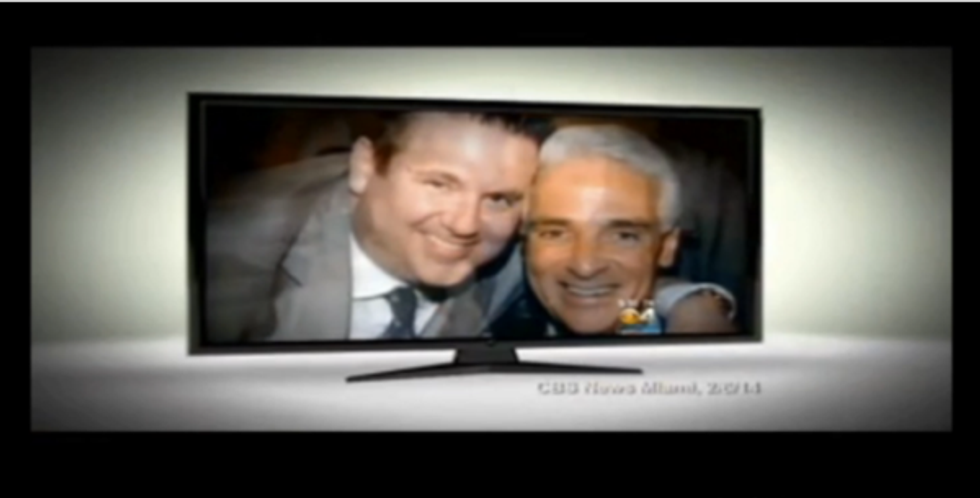 The season of sleaze is in full bloom.
More than 4,000 times, Gov. Rick Scott has broadcast a campaign commercial featuring an unnamed Floridian with a tale of woe.
The poor fellow claims to have been fleeced by convicted Ponzi schemer Scott Rothstein and also former Gov. Charlie Crist, Scott's Democratic opponent in the gubernatorial race.
While governor (and a Republican), Crist took campaign money from Rothstein.
Now we've learned there's a good reason why the aggrieved citizen in Scott's TV commercial wasn't identified.
He is Dean Kretschmar, a wealthy Republican whose attorney is also a GOP activist and donor to Scott.
It gets even muckier.
The attorney, William R. Scherer, was once described as a "mentor" by Rothstein himself, the same lowlife with whom Scott is trying to smear Crist.
Scherer even attempted to get Rothstein a lighter prison sentence for the $1.4 billion swindle.
It didn't work out; Rothstein was sentenced to 50 years, which he is now serving.
Scott's ad doesn't tell you about Scherer. All you see is a downcast Kretschmar saying things like, "I got swindled by both Rothstein and Charlie."
Never does he add: "Oh, by the way, my lawyer's a big pal of Rothstein, too."
Nor does Kretschmar reveal that he recovered most of the $8 million that he'd given Rothstein to invest.
Crist wasn't named in Kretschmar's lawsuit, or any of the Rothstein litigation.
The Scott commercial repeats a sworn claim by Rothstein that he was able to buy Florida judgeships in exchange for contributions to Crist's political campaign. In 2010, that accusation was investigated by federal officials, who said no evidence supported it.
That isn't to say Crist doesn't look bad for taking Rothstein's hefty donations, appointing him to a judicial nominating commission and posing for dorky birthday photos with the man.
But Charlie wasn't the only one who didn't question the source of Rothstein's wealth, or his avid generosity.
At the height of his Ponzi dealing, the Fort Lauderdale lawyer and his firm donated exorbitantly to politicians, mostly Republicans, including the presidential campaign of John McCain.
Crist sheepishly returned the money soon after Rothstein was exposed, whereas McCain had already spent the funds. (Video clips showing McCain at functions with Rothstein were used to embarrass the Arizona senator during his re-election bid in 2010.)
At the time of Crist's Rothstein infatuation, Rothstein's reputation was intact and he hadn't yet been implicated in any crimes.
A politician would have to be nuts to take a campaign check from somebody after that person had been charged, convicted and sent away, right?
Yep — but it almost happened.
Back in 2008, a big South Florida real-estate developer named James Batmasian went to federal prison for cheating the government out of $253,000 in unpaid taxes for his employees.
Batmasian served about eight months, and his law license was suspended.
All these facts are in the public record, easily accessible online. The case had been reported in the media.
Yet earlier this year, astoundingly, the bright bulbs who are running Scott's re-election campaign decided it would be a swell idea for Batmasian to host a $10,000-per-ticket fundraiser for the governor.
The shindig was all set for June 6 at Batmasian's very nice, very large house in Boca Raton.
Then the left-leaning magazine Mother Jones published an online article about it, which tickled Democrats and elicited the following grim response from Scott's office:
"This event has been canceled."
Probably a smart idea. Batmasian is now the defendant in a nasty sexual-harassment lawsuit. His former chief financial officer is suing him, too, alleging illegal business practices that Batmasian denies.
Even in Florida, where crooks permeate politics, Scott's Batmasian bungle is extraordinary. Either he didn't know who the guy was, or he did know and just figured nobody would find out about their get-together.
Charlie Crist might be a little goofy and naive, but during his four years as governor he never once planned a fundraising event at the home of a convicted felon.
Gov. Scott has refused to talk about his connection to Batmasian. It would be a good topic for Crist to bring up during the debates, and an even better topic for a new campaign commercial.
You wouldn't even have to hide the names.
Carl Hiaasen is a columnist for The Miami Herald. Readers may write to him at: 1 Herald Plaza, Miami, Fla., 33132.
Want more political news and analysis? Sign up for our daily email newsletter!