Tom Cotton Slams Obama For Undermining Foreign Negotiations, Kills Irony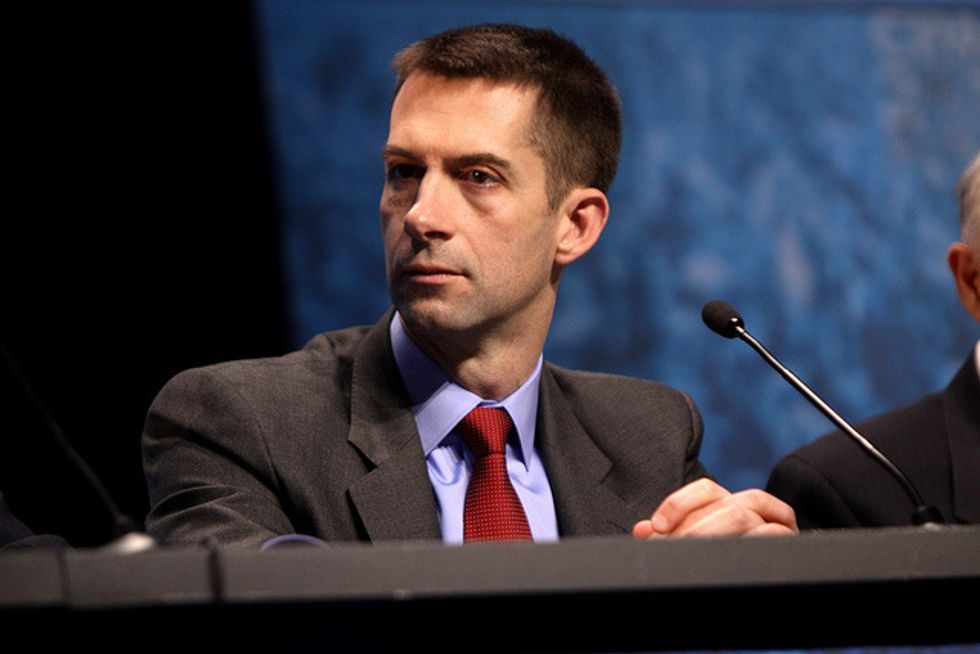 Move over Dick Cheney; Senator Tom Cotton (R-AR) has grabbed the mantle of "least self-aware politician in America."
Over the past 10 days, Senator Cotton has been the subject of bipartisan criticism for organizing a letter — signed by 46 of his Senate colleagues — that attempted to dissuade Iran from agreeing to a deal on its nuclear program with the Obama administration. A week earlier, Cotton strongly supported House Speaker John Boehner's controversial decision to invite Israeli prime minister Benjamin Netanyahu to deliver a speech to Congress warning Americans against signing an agreement with Iran.
But, as Steve Benen flagged at MSNBC, Cotton appears to have had a change of heart on the topic of undermining diplomacy. On Wednesday, State Department spokesperson Jen Psaki said that the Obama administration is "evaluating our approach" towards the partnership with Israel in the wake of Netanyahu's inflammatory comments during his re-election campaign. And that's a big problem for the freshman senator from Arkansas.
"Some observers will dismiss these comments as the petulant response of a president and political operatives who didn't get their way in the elections this week. But there is something much more worrisome underway," Cotton said on the Senate floor on Thursday. "While Prime Minister Netanyahu won a decisive victory, he still has just started assembling a governing majority coalition."
"These kinds of quotes from Israel's most important ally could very well startle some of the smaller parties and their leaders with whom Prime Minister Netanyahu is currently in negotiations," he continued. "This raises the question, of course, if the administration intends to undermine Prime Minister Netanyahu's efforts to assemble a coalition by suggesting a change to our longstanding policy of supporting Israel's position with the United Nations."
Yes, less than a week after sending a letter to Tehran in an open attempt to submarine the negotiations between that country and the United States, China, France, Germany, Russia, and the U.K., Tom Cotton is suddenly worried that the Obama administration could be meddling in other countries' affairs.
For good measure, Cotton added, "I fear mutual respect is of little concern to this administration."
This brand of projection is nothing new for Cotton — see his attempt to dodge blame for voting against the farm bill during his 2014 Senate campaign — but it's still rather unbecoming of a politician who claims honesty as one of his key attributes.
Photo: Gage Skidmore via Flickr