Tom Steyer Outlines One-Term Objectives For U.S. Senate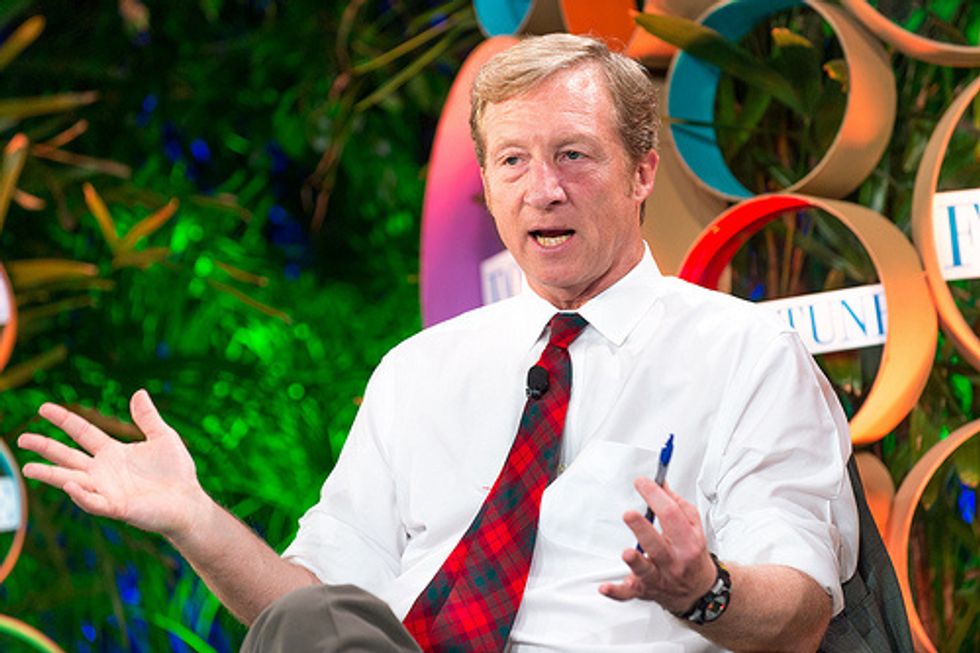 By Christopher Cadelago, The Sacramento Bee (TNS)
SACRAMENTO, Calif. — Tom Steyer, the billionaire climate-change activist weighing a run for U.S. Senate, is telling potential supporters he would commit to serving only one term if he can't reach goals dealing with the environment, economy and education within six years.
Steyer is considering a campaign to succeed California Sen. Barbara Boxer in 2016.
The promise would be part of his formal campaign launch should he decide to run, associates briefed on his plans told The Sacramento Bee on Sunday. A decision on his future could come as soon as early next week.
The pledge, which the 57-year-old Democrat has outlined to various supporters and policymakers, is based on three commitments focusing on the environment, economy and education system.
The environmental piece of the plan would call for a commitment by the U.S. government to a greenhouse gas reduction policy similar to California's landmark 2006 law, which seeks to bring emissions to 1990 levels by 2020.
The goal is to advance policies that decrease carbon dioxide in the air rather than simply slow its rate. Within one six-year Senate term, Steyer is saying, he wants to ensure the U.S. is on a path to removing carbon from the atmosphere.
Steyer, a former hedge fund manager worth an estimated $1.6 billion, is also saying he would advocate for a federal tax system overhaul so the highest earners pay taxes that reflect their wealth.
Under his variation of the "Buffett Rule," named after the billionaire investor Warren Buffett, the highest earners would pay a share of their combined income and wealth that is on par, if not greater than, the middle class.
To that end, Steyer wants to end carried interest, reform capital gains taxes and close tax loopholes. Steyer previously helped push for changes to the state's corporate income tax code under a voter-approved ballot measure in 2012.
His focus on federal tax policy comes as President Barack Obama prepares to press Congress to raise levies on wealthy taxpayers in order to finance tax cuts for middle-class earners and working families.
Steyer also is telling people he wants to reshape education. They said his pledge calls for working to expand public education from kindergarten through high school to kindergarten through college.
Steyer, whose environmental group and campaign contributions have earned him influence in national debate over climate change, is assembling an unorthodox bid. His chief strategist, Chris Lehane, described it as "Not your grandfather's Oldsmobile campaign."
A run would test whether Steyer can retain his venerated reputation with Democrats while challenging one of the state party's next generation of potential leaders. Attorney General Kamala Harris, who shares many of his concerns about climate change, joined the race last week.
Former Los Angeles Mayor Antonio Villaraigosa, state Treasurer John Chiang, Reps. Loretta Sanchez and Xavier Becerra and several members of Congress are considering candidacies. Republicans, despite some early interest, have not yet fielded a candidate.
Steyer has spent the past few weeks polling and talking with supporters and prospective donors about a run. He is using the holiday weekend to huddle with friends and family ahead of a decision.
He began detailing his rationale for potentially seeking the office last week in an essay published by The Huffington Post and later in a question-and-answer forum on the social networking service Reddit.
Photo: Fortune Live Media via Flickr