Top 10 Moments Of The Political Year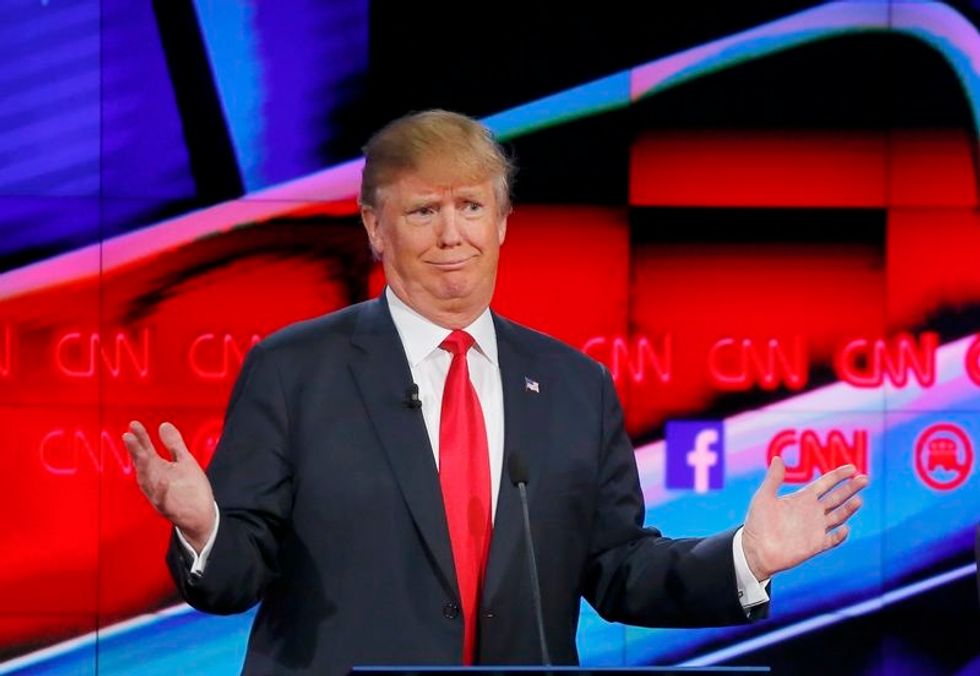 By Lesley Clark, McClatchy Washington Bureau (TNS)
WASHINGTON — Outsiders were in. Donald Trump wanted Muslims kept out. And Hillary Clinton's "damn emails" were no longer a state secret.
It was a tumultuous year in politics: Trump upended the Republican establishment with a brash candidacy that has tapped a deep vein of discontent with politics as usual. Revelations that Clinton used a private email server as secretary of state punched a hole in her presumed inevitability. And Jeb Bush dropped from front-runner to all-but-forgotten.
The top 10, anything but politics as usual, moments:
Carly Fiorina stands up and stands out in the Republicans' first undercard debate in August, enabling her to move up to prime time for the Sept. 16 Republican presidential debate.
Black Lives Matter activists interrupt Democratic presidential candidates Bernie Sanders and Martin O'Malley at a July forum in Phoenix, forcing the candidates to largely stop using the phrase, "All Lives Matter."
Jeb Bush stumbles for a week in May trying to answer a seemingly obvious question about the most controversial element of his brother's legacy, the Iraq war. Bush refuses to say he wouldn't have invaded Iraq in 2003 — even if he knew then that Saddam Hussein did not have weapons of mass destruction.
It wasn't until four days later that Bush said that in hindsight, he would not have gone to war in Iraq.
Wisconsin Gov. Scott Walker, who won three elections for governor –– including a recall ––in four years in the blue state of Wisconsin and had been the GOP front-runner in Iowa over the summer, drops out of the race on Sept. 21 after a stumbling campaign.
Bernie Sanders criticizes the attention paid to Hillary Clinton's use of a private email server as Democratic presidential candidates debate for the first time, on Oct. 13. His comment gives Clinton a pass on the issue from her chief primary opponent.
Vice President Joe Biden on Oct. 21 ends months of speculation that he'd heed the deathbed plea of his son, Beau, and run for president. Biden's decision greatly boosts Clinton's prospects.
Hillary Clinton withstands 11 hours of questioning by critics who accused her of failing to prevent the 2012 attacks in Benghazi, Libya. She emerges unscathed from the Oct. 22 congressional hearing.
Donald Trump in December proposes suspending the entry of Muslims to the United States, touching off sharp denunciations from religious groups, the White House and Republican leaders — but gaining a boost in the polls among Republicans.
The focus of the campaign shifts after terrorists kill 130 and wound hundreds in Paris, and then when a husband and wife kill 14 and wound 21 at a workplace holiday party in San Bernardino, Calif. Tough-talking Trump and Ted Cruz soar while Ben Carson stumbles with foreign policy and voters flee.
Donald Trump on June 16 announces he's running for president in a rambling monologue in which he accuses Mexico of sending "rapists" to the U.S., a brash proclamation that upends the Republican race for the nomination and puts immigration policy front and center in the debate.
"They're sending people that have lots of problems, and they're bringing those problems with us," he says. "They're bringing drugs. They're bringing crime. They're rapists. And some, I assume, are good people."
©2015 McClatchy Washington Bureau. Distributed by Tribune Content Agency, LLC.
Photo: Republican U.S. presidential candidate businessman Donald Trump speaks during the Republican presidential debate in Las Vegas, Nevada December 15, 2015.    REUTERS/Mike Blake