Top Bar Group That Endorsed Kavanaugh Urged FBI Probe
@EricBoehlert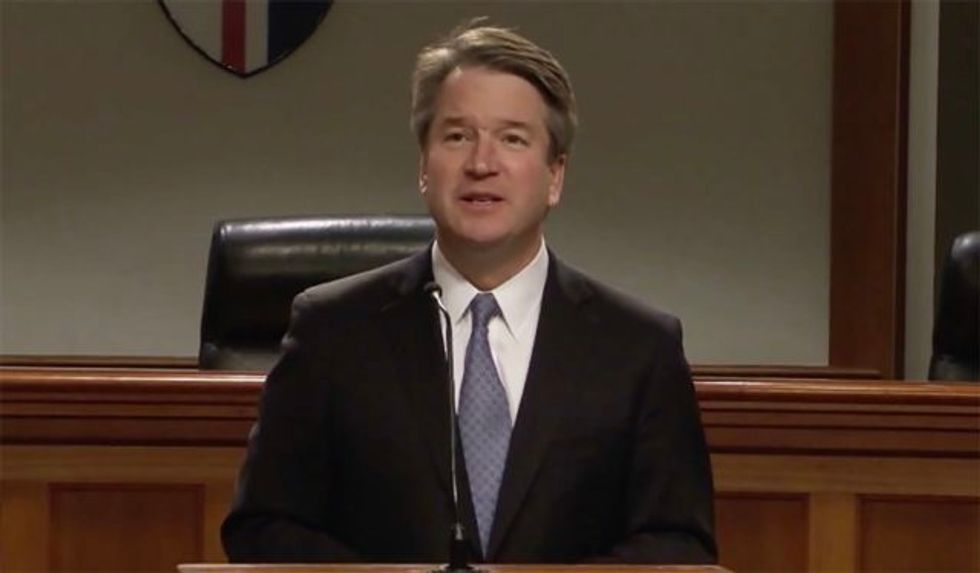 Reprinted with permission from Shareblue.
The country's largest lawyer organization, the American Bar Association, has taken the extraordinary step of demanding Brett Kavanaugh's Supreme Court nomination be halted.
The group made the call after one of Kavanaugh's accusers, Dr. Christine Blasey Ford, on Thursday publicly detailed her allegations of sexual assault at the hands of Kavanaugh back in high school.
The ABA's move comes after Kavanaugh and his Republican defenders in the Senate constantly referred to the group's positive rating of the nominee as a reason why he should be confirmed, even as unanswered questions swirl around the nominee.
Specifically, the ABA wants the FBI to investigate the mounting allegations against Kavanaugh.
"The basic principles that underscore the Senate's constitutional duty of advice and consent on federal judicial nominees require nothing less than a careful examination of the accusations and facts by the FBI," ABA President Robert Carlson wrote in a letter to leaders of the Senate.
Over and over at Thursday's hearing, Kavanaugh refused to call for an FBI investigation, which would allow for a far more thorough vetting of the facts.
The non-partisan ABA boasts 400,000 members. It regularly rates judges in the U.S. and those scores are often touted as proof that a particular nominee is qualified for a top job.
"Here's my understanding: If you lived a good life, people will recognize it like the American Bar Association has, the gold standard," Sen. Lindsey Graham announced on Thursday.
Kavanaugh himself at the hearing boasted about his judicial record. "That's why I have well unanimous, well-qualified rating from the American Bar Association," he testified.
Now the ABA is demanding that the GOP put a halt to the confirmation until there's a responsible vetting of the facts.
And it's not just the ABA that was deeply concerned about what transpired at Thursday's hearings, as an angry and paranoid Kavanaugh lashed out for hours in public, showing little or now judicial temperament in the process.
To date, five Republican governors in Maryland, Massachusetts, New Hampshire, Ohio and Vermont have called for a delay in Kavanaugh's confirmation
Also, following the tumultuous hearing where Kavanaugh often seemed unhinged, the influential Catholic magazine America withdrew its previous endorsement of the nominee.
"It is time for the Kavanaugh nomination to be withdrawn," the editors announced. "If Senate Republicans proceed with his nomination, they will be prioritizing policy aims over a woman's report of an assault."
Kavanaugh regularly points to his Catholic education and his Catholic faith as proof of his strong character.
Today, more people have doubts about his character.
Published with permission of The American Independent.