Top Democrats Urge GOP Speaker To End 'Dangerous' Partisan Attacks On Law Enforcement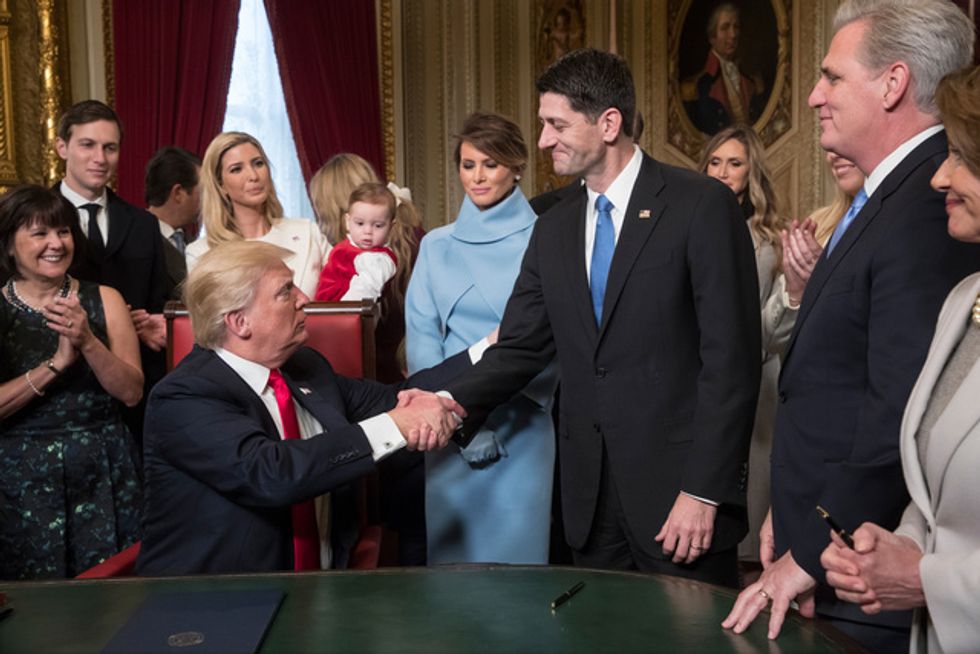 The two highest-ranking Democratic officials in America are calling on Speaker Paul Ryan to rein in his party's out-of-control 
smear campaign
 and attacks on law enforcement.
House Minority Leader Nancy Pelosi and Senate Minority Leader Chuck Schumer sent letters to Ryan, asking him to remove Rep. Devin Nunes (R-CA) from his position as chair of the House Intelligence Committee.
Nunes 
created a highly dubious memo
, attacking the FBI in an attempt to undermine its credibility in the investigation of Russia's election interference and connections to the Trump campaign.
The FBI warned against release of the memo because its omissions, conspiracy theories, and half-truths  could endanger law enforcement and threaten national security.
With Republicans and the White House ignoring those warnings, the FBI took the rare step of releasing a public statement expressing its "grave concerns" about the memo.
In 
her letter
 to Ryan, Pelosi called the alteration of the memo "dangerous" and noted that Nunes "has disgraced the House Intelligence Committee" and "abused his position to launch a highly unethical and dangerous cover-up campaign for the White House."
House Republicans have engaged in a "pattern of obstruction and cover-up," designed to hide the Trump-Russia scandal, she added. Those actions represent "a threat to our intelligence and our national security."
In his letter, Schumer told Ryan, "Quite simply, under your leadership, dangerous partisanship among many House Republicans seems to have taken precedent over the oath we all take to protect our nation."
Ryan has enabled his caucus' behavior, refusing to criticize their rhetoric and even giving tacit approval of the campaign to smear and purge the FBI, saying he wanted to "cleanse the organization."
Now he is being publicly called out for letting things get out of control and endangering those serving on the front lines of the battle against crime and terrorism.
Ryan has already pledged his loyalty to Trump, and apparently has no problem with throwing the FBI under the bus to help out his legislative ally.