Top Election Expert Quits 'Verified Voting' Organization In Protest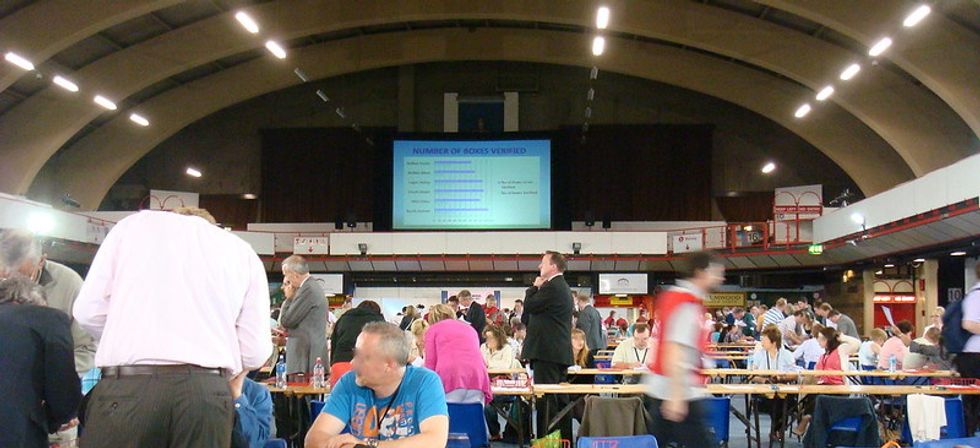 This article was produced by Voting Booth, a project of the Independent Media Institute.
Verified Voting, the national advocacy group seeking accountable election results, has been "providing cover" for untrustworthy new voting systems and the public officials buying them, according to an esteemed academic board member who has resigned in protest.
"VV [Verified Voting] is on the wrong side," said the resignation letter from Philip Stark, a University of California mathematician who created a vote-verification tool being adopted by growing numbers of states that has been widely promoted by Verified Voting and advocacy groups following its lead.
Verified Voting is a heavyweight in election policy circles. It relies on its academic credentials to tell public officials to trust them and to dismiss competing views. To be accused by the inventor of its "gold-standard" audit solution of selling out while states and counties are buy voting technology that will be used into the 2030s is remarkable.
That tool Stark is concerned about is called a risk-limiting audit (RLA). It uses statistics and manual examinations of a subset of hand-marked paper ballots to assess with 95 percent certainty if the election results were accurate. The problem is that vendors have been pushing new voting systems that replace hand-marked ballots with computer-printed ballot summary cards. (The cards display a voter's choices in text and barcodes. The cards' barcodes are used to tally results at the process's next stage.)
Stark and other critics say that the cards produced by a so-called ballot-marking device (BMD) may not be accurate because potentially insecure software sits between a voter's fingers and the printout. Thus, Stark contends that his audit tool cannot assess if the reported result is correct. Also, BMD systems are far more costly than hand-marked ballot systems, he and other critics have said. They note that the acquisition costs are followed by per-machine service agreements designed to generate millions in annual revenues for vendors.
"VV is helping election officials who purchased poorly designed, unnecessarily expensive, insecure, universal-use BMD systems justify their purchases—despite the fact that virtually every expert on our board and advisory board recommended against purchasing universal-use BMDs," Stark's resignation letter said.
"The election officials are now touting the fact that VV helped them conduct (i.e., pilot) RLAs to brag that their systems are trustworthy after all—and to claim in court that the audits prove their systems are trustworthy," he continued. "VV is giving vendors quotes, talking points, and—in effect—product endorsements for insecure, inaccessible systems. VV is on the wrong side."
Nonetheless, tens of thousands of BMD machines are being acquired by states and counties for wide use in 2020. These jurisdictions include the states of Pennsylvania, Georgia, South Carolina and Delaware, and counties in Ohio, Wisconsin, North Carolina, Florida, Texas, California, Kentucky, Kansas and Indiana. Counties in New York and New Jersey may also buy the new systems.
The rationales for BMDs are layered. Their manufacturers say that they are responding to the needs of jurisdictions that are replacing precincts with vote centers. At these hubs, computers can easily retrieve the ballot styles in many languages and print the summary cards, as opposed to stocking potentially hundreds or thousands of ballot varieties.
Many election officials also like BMD systems not only because they appear modern, but also because computer printouts eliminate political fights over interpreting voter intent (from hand-marked ballots) that can arise in challenges and recounts. Advocates also say that voters with disabilities should not be forced to use different devices from other voters.
While there are many criticisms of BMDs, Stark's focus is checking the reported results. He said that Verified Voting has been "overclaiming what applying RLA [audit] procedures to an untrustworthy paper trail can accomplish… This is security theater, not election integrity."
In recent years, Verified Voting President Marian Schneider and other staff have been lobbying states to adopt laws specifying risk-limiting audits. (They lobby against other audit methods.) Meanwhile, Verified Voting has been saying that election officials can conduct RLAs with computer-printed ballot summary cards from BMDs. They also have praised jurisdictions for buying these new systems.
At the DefCon hacking convention's "Voting Village" this past summer, Schneider reiterated these views in an interview with Voting Booth.
Stark's letter also said that Verified Voting has sought to undermine the anti-BMD advocacy efforts by him and other computer scientists on its advisory board. The group's stances are "whitewashing inherently untrustworthy elections," he said.
"Our message to jurisdictions that buy poorly designed, insecure, universal-use BMD systems should be, 'We tried to warn you. You need a better voting system,'" Stark wrote. "Instead, we're saying, 'Don't worry: VV will teach you to sprinkle magic RLA dust and fantasies about parallel testing on your untrustworthy election. All will be fine; you can use our authority and reputation to silence your critics."
Stark said he would rejoin Verified Voting's board if they changed their policies—which they have not, although they recently retracted claims concerning RLAs in Philadelphia for its new BMD-based system.
Stark has also urged other advisers to resign. One advisory board member who wished to remain anonymous at press time said that he was considering that action. Another, who disagreed with its embrace of BMDs, said that he has not heard from the group in two years—even though his name was listed on the advisory board webpage.
Stark's resignation is not likely to draw much attention outside election policy circles. But the issues that he is raising are significant and could affect the trustworthiness of election results for years to come.
Steven Rosenfeld is the editor and chief correspondent of Voting Booth, a project of the Independent Media Institute. He has reported for National Public Radio, Marketplace, and Christian Science Monitor Radio, as well as a wide range of progressive publications including Salon, AlterNet, the American Prospect, and many others.