Top GOP Lawmakers In New Jersey Pass On Chance To Challenge Booker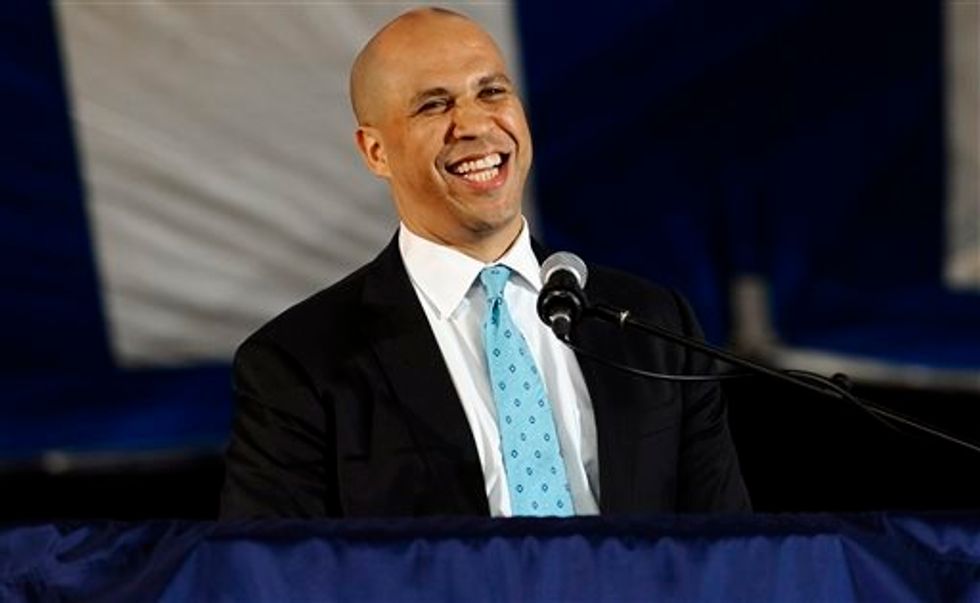 By Andrew Seidman, The Philadelphia Inquirer
TRENTON, N.J. — Even as the national GOP works to take control of the Senate in November's midterm elections — and high-profile challengers crop up in states that had seemed out of play — New Jersey's top Republican political talent is passing on a chance to try to take out U.S. Sen. Cory A. Booker (D-NJ).
In last fall's special Senate election, Booker won a closer-than-expected race against Republican Steve Lonegan, whose campaign attracted support from conservative heroes such as former Alaska Gov. Sarah Palin, Texas Gov. Rick Perry and U.S. Sen. Rand Paul of Kentucky.
Republicans boasted that they had exposed Booker, the former Newark mayor, as a celebrity who preferred late-night talk shows to answering hard policy questions. But none of the candidates who filed by Monday's deadline to run in June's GOP primary has held elective office.
Experienced state legislators opted out, though they would have been able to run without risking their seats.
"Some of the party's better candidates interested in exploring (a run) kind of froze the field for a long time," said Bill Layton, chairman of the Burlington County GOP. "That put us behind the eight ball in terms of candidate selection. As a result, the candidates are off to weak start."
Why the hesitation? A Republican hasn't been elected to the Senate in New Jersey in more than 40 years, and registered Democrats outnumber Republicans by 700,000 voters. And the George Washington Bridge lane-closure scandal has engulfed Gov. Chris Christie, the leader of the state party.
"Some people think the Republican Party gets together and makes decisions as a unit. These are all individual decisions by individual elected officials," said Assembly Minority Leader Jon Bramnick, R-Union, who cited personal reasons in deciding not to run.
The national political climate may favor Republicans — President Barack Obama's approval ratings are low, as is support for his health care law — but in New Jersey, Booker still enjoys significant advantages, political observers said.
Among them, far greater statewide name recognition than any of his potential challengers, formidable fundraising prowess, and an established campaign infrastructure.
Booker spent more than $11 million on his election last year and had $1.8 million cash on hand at the end of 2013, according to Federal Election Commission data. Layton said he thought the Republican nominee would need $15 million to compete, given the expensive Philadelphia and New York media markets.
The Republicans planning to run had not raised any money as of the end-of-year filing deadline, according to FEC data. Another report is due April 15.
"I don't know a single Republican I'd put on the ballot in New Jersey that would have a shot at Booker," said Jennifer Duffy, senior editor of the Cook Political Report, a nonpartisan handicapping site.
"Obviously, with Christie's problems, he wouldn't be within striking distance right now," she said. "It's just not a good time, not a good state. And Booker hasn't done anything to attract a challenge."
Voters do not appear to be itching for a change: 47 percent approve of the job Booker is doing, compared with 20 percent who disapprove, and a majority say he deserves to be re-elected, according to a March 3 Monmouth University/Asbury Park Press poll.
No more than 10 percent of poll respondents had any opinion of the Republicans vying to challenge Booker: Murray Sabrin, a professor at Ramapo College, who has twice run unsuccessful statewide campaigns; Jeff Bell, who knocked off the state's last incumbent Republican senator in the 1978 primary, but lost in the general election; Brian Goldberg of West Orange, who runs a concrete business; and Rich Pezzullo, a Monmouth County businessman.
"The Republican Party really has for the past several years revolved around the personality of Governor Christie," said Brigid Harrison, a political scientist at Montclair State University. "We don't see this kind of deep bench of qualified competitors who have strong name recognition throughout the state, because the spotlight really has been monopolized by him."
This isn't the first time the Republican establishment has written off a Senate race. In 1990, Christie Todd Whitman, then a Somerset County freeholder, won the GOP nomination and lost a close race to Democratic incumbent Bill Bradley with 47 percent of the vote. Three years later, she shifted her sights to the governor's office and defeated Gov. Jim Florio.
"That's usually why you run in this election: get your name recognition up, show what you can do, and prepare yourself for other races," said Patrick Murray, a pollster at Monmouth University. "This is just an indication that there's very little field talent."
Regardless of who becomes the nominee, Republicans are betting that a tide of anti-Obamacare sentiment will roll through New Jersey and knock off Booker, who is seeking his first full term. Last year's special election was to finish the term of the late Frank R. Lautenberg.
The health care law is relatively unpopular in the Garden State: 51 percent of registered voters support repealing it, while 43 percent oppose doing so, according to a March 4 Rutgers-Eagleton poll.
"The political climate is so bad right now for Democrats that whoever wins the nomination has a very good chance of being a U.S. senator for six years," said Rick Shaftan, a Republican strategist who advised Lonegan last year. "It's going to be a complete debacle" for Democrats, he said.
Booker's record in Newark, meantime, has come under additional scrutiny since he left office. In February, the state comptroller released a scathing report alleging that from 2008 to 2011, a nonprofit that managed the city's watershed properties "recklessly and improperly spent millions of dollars of public funds with little to no oversight."
Booker, the report said, did not attend any of the nonprofit's board meetings, even though he was chair. He delegated that responsibility to the city's business administrator, but when that official resigned in 2010, Booker didn't send a replacement to the meetings.
Booker has condemned the wrongdoing alleged in the report and said his efforts to improve accountability at the watershed nonprofit were blocked. When problems emerged last year, Booker told the Newark Star-Ledger, he brought the nonprofit's operations under "the direct control of the city."
The Republican nominee for U.S. Senate "will and should be all over that" report, said Chris Russell, a New Jersey GOP political consultant.
On Monday, Booker's campaign announced that it had submitted nearly 16,000 petitions — well above the 1,000 signatures needed to qualify for June's primary — "a clear indication of the grassroots enthusiasm and organization backing Senator Booker," campaign manager Brendan Gill said in a statement.
Murray, the pollster, said Booker "wants to alleviate anyone's concerns that he's going to take this election for granted."
AP Photo/Jessica Hill