Top GOP Lawyer Spearheads Secret Plot To Curtail College Student Voting (VIDEO)
@next2godwin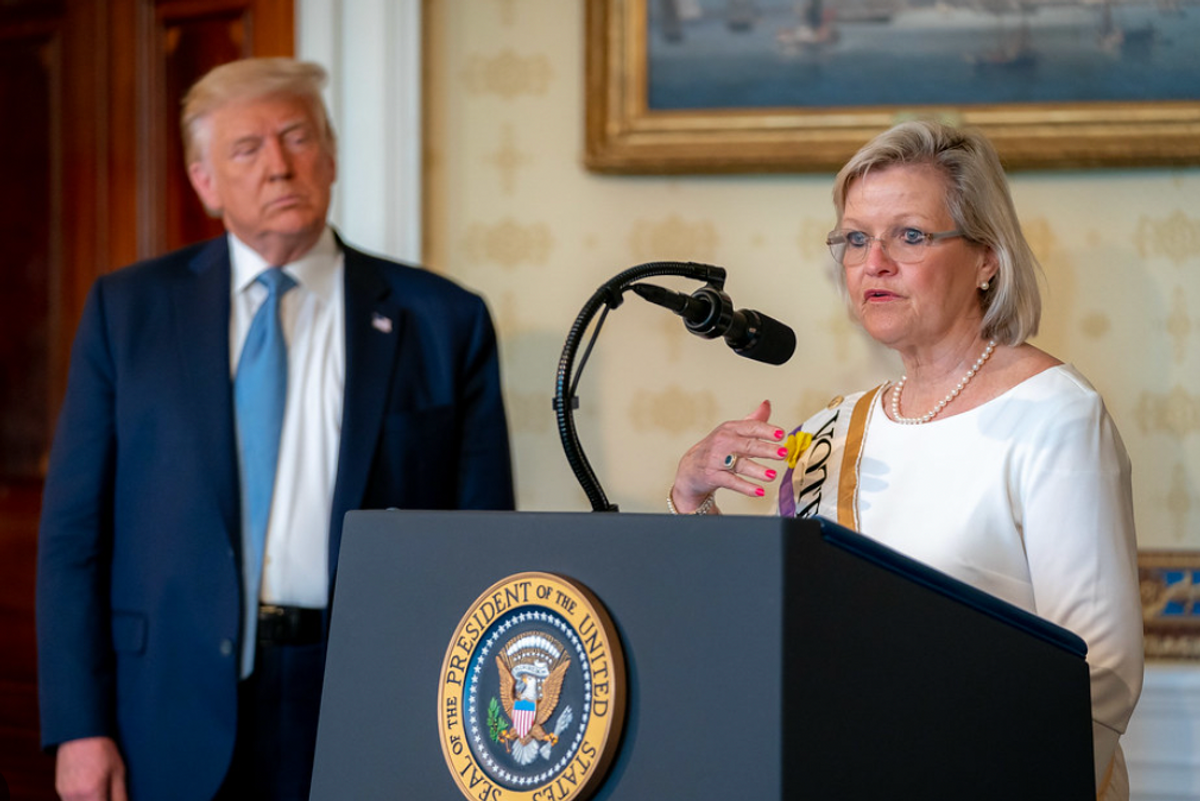 Photo by White House archive
A prominent Republican lawyer involved in efforts to overturn the outcome of the 2020 election is spearheading a sinister, clandestine campaign to limit voter access across key states, curtailing turnout among demographic groups that skew Democrats, including young voters.
The lawyer, 72-year-old Cleta Mitchell, a notorious election denier and ardent Trump supporter, urged GOP donors to "combat" measures that facilitate voting on college campuses, same-day voter registration, and automatic mailing of ballots to registered voters, according to the Washington Post.
Mitchell made the petition at a Republican National Committee donor retreat in Nashville on Saturday, giving a 50-slide PowerPoint slide presentation — titled "A Level Playing Field for 2024" — audio portions of which the Post obtained from journalist Lauren Windsor.
"What are these college campus locations? What is this young people effort that they do?' Mitchell demanded, according to audio of the presentation reviewed by the Post. "They basically put the polling place next to the student dorm, so they just have to roll out of bed, vote, and go back to bed."
\u201cEXCLUSIVE AUDIO: Trump coup attorney Cleta Mitchell wants to "combat" voting on college campuses, citing North Carolina and Wisconsin, and says that when Republicans win the state Senate in Virginia, they can eliminate 45 days of early voting and same day voter registration.\u201d

— Lauren Windsor (@Lauren Windsor) 1682005267
Mitchell's "special legal presentation" proposed limiting early voting and repudiated campus voting in five states with large public universities and in-state student populations: Arizona, Georgia, Nevada, Virginia, and Wisconsin.
"Forty-five days!" Mitchell fumed about Virginia's early-voting period. "Do you know how hard it is to have observers be able to watch for that long a period?"
Mitchell told the conservative audience at the event that to eliminate any chance "for any candidate other than a leftist to have a chance to WIN in 2024," the nation's electoral system must be "saved," per the Post.
"The Left has manipulated the electoral systems to favor one side … theirs," Mitchell falsely stated in her presentation, driving a GOP-wide election disinformation campaign that fueled the January 2021 attack on the U.S. Capitol by a mob of conservative voters.
"Our constitutional republic's survival is at stake," she added.
Unlike a large swathe of the new breed of fringe conservative agitators, Mitchell's strong election denialism goes back a decade, pre-dating former President Donald Trump's 2016 presidential campaign effort.
In a 2010 letter soliciting contributions for Tea Party-backed Nevada Republican Sharon Angle in the high-profile race against then-Senate Majority Leader Harry Reid, Mitchell alleged without evidence that Reid would steal the election.

"Reid intends to steal this election if he can't win it outright… Understand, EVERYTHING we have worked for in the last year could be destroyed by dirty tricks and criminal acts," Mitchell wrote.
Shortly after major news outlets projected Joe Biden as the winner of the 2020 presidential election, Mitchell, then a Trump legal adviser, appeared on Fox News to spread election fraud conspiracy theories, Media Matters reported at the time.
"We're already double-checking and finding dead people having voted. We're going to be finding people have voted across state lines, voted in two states, illegal voting, noncitizens and that sort of thing. So we are building that case," Mitchell said.
Several Fox anchors, including Trace Gallagher, Maria Bartiromo, and Jon Scott, gave Mitchell a platform to air the sort of election lies that, in April 2023, cost Fox News to pay Dominion Voting Systems the largest known defamation settlement in U.S. history.
Mitchell also participated in the now-infamous hour-long phone call between Trump and Georgia Secretary of State Brad Raffensberger, during which Trump pressured Raffensberger to "find 11,780 votes," enough to overturn Biden's 2020 victory in the state.
"All we have to do, Cleta, is find 11,000-plus votes," Trump said on the call, which Fulton County's district attorney, Fani T. Willis, is investigating as part of a probe into Trump's efforts to subvert the state's 2020 election results.
Facing criticism for her presence on the call, Mitchell tweeted, "Happy to be considered a nut job because I believe in the rule of law," per the Post.
In the weeks before the call, Mitchell tweeted conspiracy theories targeting Raffensperger, alleging that the Georgia recount was a "total sham" and political "cover" for the secretary of state.
\u201cThe Georgia \u201crecount\u201d is a sham. Total sham. It is cover for the SOS. See this video.\u201d

— Cleta Mitchell (@Cleta Mitchell) 1605287900