Top Official At Dallas Presbyterian To Offer Mea Culpa To Congress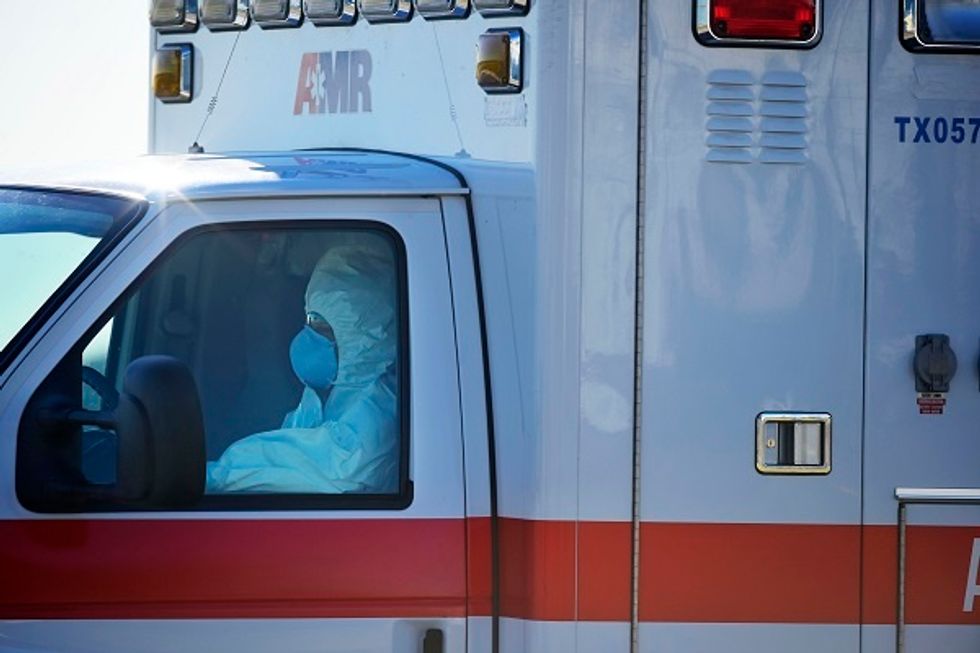 By Michael E. Young and Matthew Watkins, The Dallas Morning News (MCT)
DALLAS — Dallas officials alarmed at the spread of Ebola plan Thursday to take aggressive steps to restrict health care staffers exposed to the virus — possibly placing them in shelters — as the hospital where they work apologized for its potentially deadly mistakes.
"We are deeply sorry," said Dr. Daniel Varga, chief clinical officer for Texas Health Presbyterian Hospital Dallas, which has faced intense scrutiny for its initial handling of an Ebola case that has escalated fears nationwide.
A second Presbyterian nurse was diagnosed with the virus Wednesday, and fellow passengers on an earlier flight she took into Dallas from Ohio were being told they will need to be monitored. The nurse, Amber Joy Vinson, 29, was transferred Wednesday afternoon to a specialized hospital in Atlanta.
The latest infection came as local leaders grew increasingly concerned that federal authorities were not doing enough to keep tabs on more than 70 other Presbyterian workers who had been in contact with Thomas Eric Duncan, the Liberian struck down by Ebola after several days of intensive treatment.
The full details of the rules that could be imposed on the health care staffers hadn't been worked out Wednesday night. But Dallas County Judge Clay Jenkins said they probably will include restrictions on using public transportation and visiting areas where they'd be at risk of transmitting Ebola.
The county — which has a special meeting Thursday afternoon to discuss declaring a local emergency — also was trying to find lodging for those worried about infecting friends and family members as they wait to see whether they contracted the virus.
Jenkins said he's worried more workers from that hospital will test positive. "We are preparing contingencies for more, and that is a very real possibility," he said.
The Centers for Disease Control and Prevention said 76 health care providers at Presbyterian had contact with Duncan between Sept. 28 and 30. Two nurses who cared for him now have Ebola, Nina Pham, 26, who remains in good condition at Presbyterian, and Vinson, 29, diagnosed early Wednesday.
Vinson was transferred by jet from Presbyterian to Emory University Hospital in Atlanta, which has treated two other Ebola patients. The move was made at the request of the CDC and Texas Health Systems, Emory officials said.
The hospital's apology, from Varga, is included in a statement to be delivered Thursday to the U.S. House Energy and Commerce Committee's Subcommittee on Oversight and Investigations. It is looking into why the hospital didn't immediately detect that Duncan might have had Ebola and other questions about his treatment.
"It's hard for me to put into words how we felt when our patient, Thomas Eric Duncan, lost his struggle with Ebola on October 8," Varga writes. "It was devastating to the nurses, doctors and team who tried so hard to save his life. We keep his family in our thoughts and prayers.
"Unfortunately, in our initial treatment of Mr. Duncan, despite our best intentions and a highly skilled medical team, we made mistakes," he writes. "We did not correctly diagnose his symptoms as those of Ebola. We are deeply sorry."
Registered nurses at Presbyterian told the group National Nurses United that when Duncan was brought to the hospital a second time, he was left for several hours in an area with other patients. No one on staff knew what kind of personal protective equipment nurses should use, and none had been trained in the proper procedures for dealing with a potential Ebola case.
"Were protocols breached? The nurses say there were no protocols," the group reported.
Rawlings, who has been supportive of Presbyterian in recent days, offered a much sharper critique Wednesday.
"There's no question that missteps were made," he said. Asked to rate the hospital's performance so far, he said, "I don't think we've succeeded at all."
When Vinson was diagnosed, Rawlings said the "situation has outgrown Presbyterian." He pointed to the CDC's decision to send her to Atlanta for treatment as an example of that.
Zachary Thompson, the Dallas County health director, said those who treated Duncan and were potentially exposed shouldn't "have been able to move around."
Vinson, who had extensive contact with Duncan, had flown home to visit family and plan her upcoming wedding, and boarded the commercial plane for the trip back to Dallas with a fever of 99.5, officials said.
The CDC cleared her to fly. A spokesman told The Associated Press that she spoke with the official responsible for monitoring her health, reported her temperature was below 100.4 degrees and said she had no symptoms. Ebola sufferers aren't contagious until they show symptoms.
The official said she could board Frontier Airlines Flight 1143, which landed at 8:16 p.m. Monday at Dallas/Fort Worth International Airport. Now the CDC has asked all 132 passengers to call a CDC hotline. Those determined to be at any potential risk will be actively monitored, getting their temperatures taken daily.
At a press briefing Wednesday, CDC Director Tom Frieden faced sharp questions about the agency's response and control of the crisis, including why Vinson was allowed to fly.
He said going forward, officials will "ensure that no other individual who is being monitored for exposure undergoes travel in any way other than 'controlled movement.'"
He did not give details, saying such steps would be worked out with local and state authorities.
Thompson said his department wasn't responsible for monitoring the movement of those who treated Duncan — that was the CDC's job — but he said he favors tighter restrictions.
The county's expected action Thursday will do just that. An emergency declaration, if approved by the governor, permits the county judge or mayor to control access to a disaster area and "control the movement of persons and the occupancy of premises in that area."
Besides possible restrictions, the county is trying to find temporary housing for the hospital staffers while they are being monitored.
In Washington, President Barack Obama vowed a more aggressive federal role.
He offered assurance that a "serious outbreak" remains extremely unlikely _ a somewhat weaker promise than one last week, when he said the threat of any outbreak in this country remained "extremely low."
"I want people to understand that the dangers of you contracting Ebola, the dangers of a serious outbreak, are extraordinarily low," Obama said. "But we are taking this very seriously at the highest levels of government."
(Staff writers Elizabeth Findell and Tom Benning in Dallas and Todd J. Gillman in Washington contributed to this report.)
Photo: A suited-up ambulance driver who helped transport Amber Joy Vinson, 29, a Texas Health Presbyterian Hospital nurse infected with the Ebola virus, who was flown to Emory University Hospital in Atlanta from Love Field in Dallas on Wednesday, Oct. 15, 2014. (Michael Ainsworth/Dallas Morning News/MCT)