These Top Prosecutors Are Threatening Legal Action Against Betsy DeVos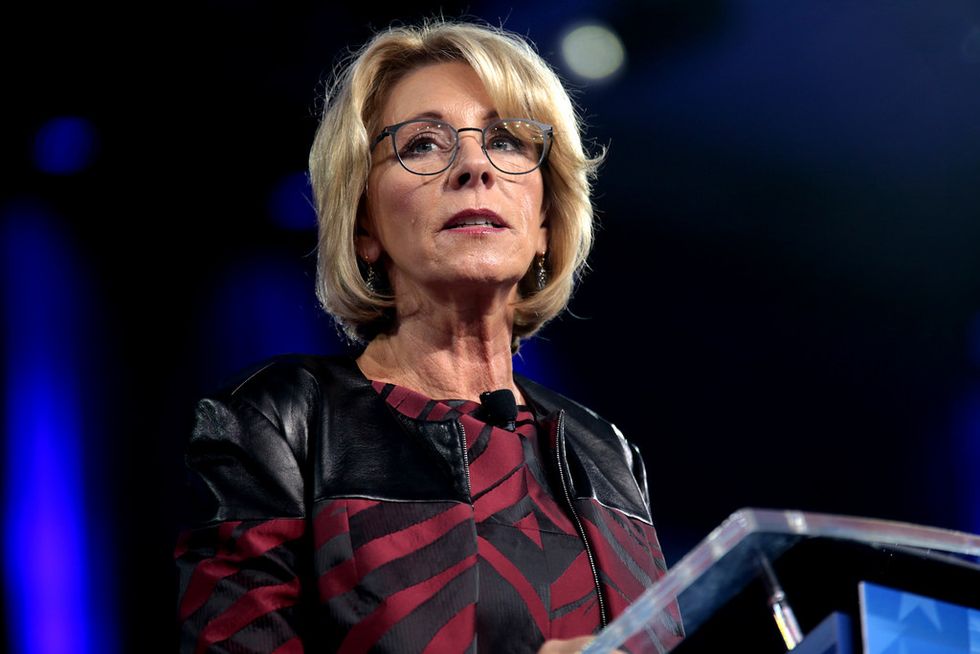 Reprinted with permission from AlterNet.
Secretary of Education Betsy DeVos has recently drawn criticism for lending an ear to men's rights groups and individuals advocating for the rights of those accused of rape, causing worry that the secretary of education may roll back Obama-era guidelines on how colleges should handle sexual assault.
Among those speaking out in alarm are 20 Democratic attorneys general from 19 states and the District of Columbia who collectively wrote a letter to DeVos on Wednesday demanding she keep the Obama administration's Title IX guidelines on sexual assault in place, according to Buzzfeed News. Pennsylvania Attorney General Josh Shapiro, who organized the letter, told Buzzfeed News that the 20 attorneys general were "prepared to take legal action" to protect Title IX and rape victims.
"The 20 AGs who signed that letter were putting Secretary DeVos on notice that we support the current regulations, and if she rolls them back, then she will have us to deal with further," Shapiro said. "We'll see what actions she takes. What I can tell you is we are committed to ensuring these protections stay in place. And if need be, we'll take legal action to try and protect victims."
In the letter, the state attorneys general ask DeVos to keep in place the guidelines outlined in the 2011 "Dear Colleague" letter affirming that sexual assault is a form of sex discrimination prohibited by Title IX. The letter also demands that DeVos does not rescind a 2014 document expanding on the 2011 directives issued by the White House campus rape task force.
"While we recognize that there is a great deal more that can be done to protect students and agree on the importance of ensuring that investigations are conducted fairly, a rushed, poorly considered effort to roll back current policies sends precisely the wrong message to all students," the letter reads. "Yet there is every indication that is exactly the approach your Department is taking."
A portion of the letter also takes issue at comments Candice Jackson, acting assistant secretary for civil rights, made to the New York Times, in which she claimed that 90 percent of campus sexual assault allegations "fall into the category of 'we were both drunk.'" Jackson later apologized and said her comment was "flippant," but not before Democratic Sen. Patty Murray called for her resignation.
While the letter did not explicitly demand Jackson's resignation, the attorneys general wrote that they "have serious concerns as to whether Ms. Jackson can be entrusted to oversee a fair, thorough process in evaluating the Department's policies in this area."
Several of the groups DeVos met with last week, including the National Coalition for Men and Families Advocating for Campus Equality, allege that the Obama-era Title IX directives provide harsh guidelines encouraging colleges to circumvent due process protections for students accused of sexual assault. Despite rhetorical attempts to paint the accused as victims, research has shown that only between 2 and 10 percent of rape accusations are false.
While groups advocating for the rights of the accused now have a sympathetic ear in the White House, the reality is that 88 percent of women who experience sexual assault still do not report the incident, according to the Cambridge University Student Union's women's campaign survey. For the women who do come forward, the investigations into their cases—whether conducted by law enforcement or the university—are often convoluted and emotionally and mentally draining. On the other hand, accused rapists rarely face conviction, and those who do often receive the equivalent of a slap on the wrist: Accused Stanford rapist Brock Turner received a mere three months for raping an unconscious woman behind a dumpster.
Celisa Calacal is a junior writing fellow for AlterNet. She is a senior journalism major and legal studies minor at Ithaca College in Ithaca, New York. Previously she worked at ThinkProgress and served as an editor for Ithaca College's student newspaper. Follow her at @celisa_mia.
This article was made possible by the readers and supporters of AlterNet.