Top Shiite Cleric Urges Iraqis To Fight Advancing Militants
@AFP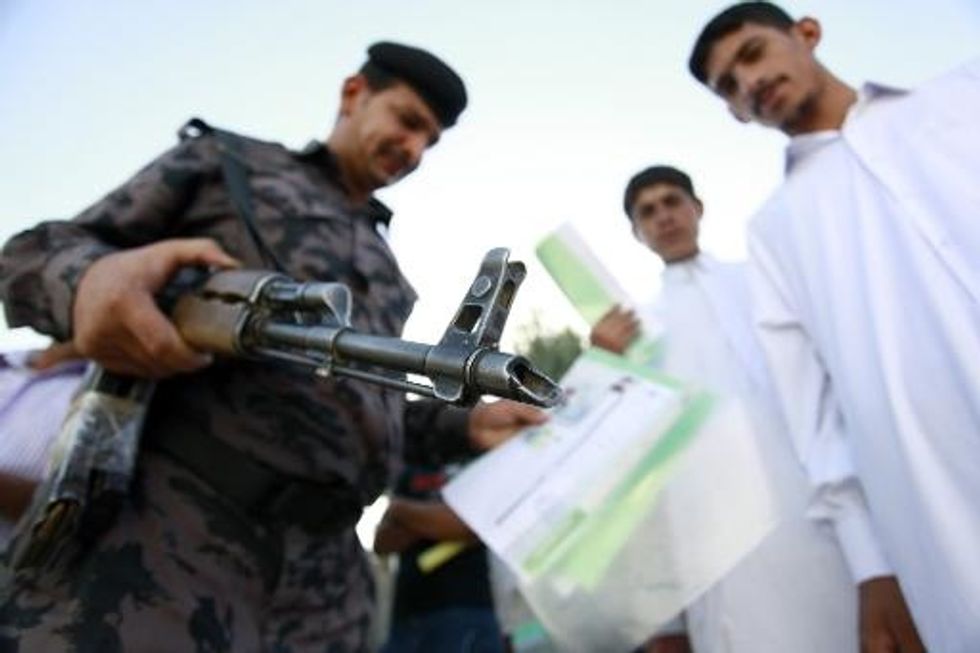 Baghdad (AFP) – Leading Shiite cleric Grand Ayatollah Ali al-Sistani called on Iraqis Friday to take up arms against Sunni extremists marching on Baghdad, as thousands volunteered to bolster the the capital's defenses.
Sistani's call to defend the country against the offensive spearheaded by the jihadist Islamic State of Iraq and the Levant (ISIL) came as U.S. President Barack Obama said he was exploring all options to save Iraq's security forces from collapse.
The United Nations reported a spate of summary executions by ISIL fighters in its campaign, which began with the capture of Iraq's second city Mosul on Tuesday, before spreading south toward Baghdad.
"Citizens who are able to bear arms and fight terrorists, defending their country and their people and their holy places, should volunteer and join the security forces to achieve this holy purpose," Sistani's representative announced on his behalf during the main weekly prayers in the Shiite shrine city of Karbala.
"He who sacrifices for the cause of defending his country and his family and his honor will be a martyr," he added.
The elderly Sistani, who rarely appears in public, is highly influential in the Shiite Muslim world and is adored by millions.
Obama said Iraq was going to need "more help from the United States and from the international community" to strengthen security forces that Washington spent billions of dollars in training and equipping before withdrawing its own troops in 2011.
"Our national security team is looking at all the options… I don't rule out anything," he said.
One option under consideration is the use of drone strikes, like those controversially deployed in Afghanistan, Pakistan and Yemen, a U.S. official told AFP.
But there is no current plan to send ground troops back into Iraq, where around 4,500 American soldiers died between the U.S.-led invasion of 2003 and the withdrawal of U.S. forces in 2011.
Secretary of State John Kerry called for Iraqi politicians to close ranks against the militants.
"Now's the time for Iraq's leaders to come together and to show unity," he said.
Iranian President Hassan Rouhani pledged his government's full support against "terrorism."
Despite their many differences, Tehran and Washington are united in their determination to prevent Iraq following its western neighbor Syria into civil war.
The Iraqi interior ministry said it had adopted a new security plan for Baghdad to protect it from the advancing jihadists.
"The plan consists of intensifying the deployment of forces, and increasing intelligence efforts and the use of technology such as (observation) balloons and cameras and other equipment," ministry spokesman Brigadier General Saad Maan told AFP.
"We have been in a war with terrorism for a while, and today the situation is exceptional."
North of the capital, militants were gathering for a new attempt to take the city of Samarra, home to a revered Shiite shrine whose 2006 bombing sparked a sectarian war that killed tens of thousands, witnesses said.
Witnesses in the Dur area, between militant-held Tikrit and Samarra, said they saw "countless" vehicles carrying gunmen south during the night.
Residents of Samarra, just 110 kilometers (70 miles) from Baghdad, said gunmen were gathering to the north, east and southeast of the city.
A tribal leader said militants had approached the security forces in the city, asking them to leave peacefully and promising not to harm the Al-Askari shrine.
But security forces had refused, he said.
Militants already mounted two assaults on Samarra, one on Wednesday and one late last week, which were thwarted only after heavy fighting.
The militants, who have swept up a huge swathe of predominantly Sunni Arab territory in northern and north-central Iraq since launching their offensive in Mosul late Monday, have pushed south into ethnically divided Diyala province.
On Friday, they were fighting pro-government forces near Muqdadiyah, just 80 kilometers (50 miles) from Baghdad city limits.
With militants closing in on the capital, forces from the autonomous Kurdish region took control of a swathe of territory they have sought to rule for decades against the objections of successive governments in Baghdad.
Kurdish security forces moved into the strategic Saadiyah and Jalawla districts of Diyala province overnight after the army withdrew, Deputy Governor Furat al-Tamimi said.
Diyala's mixed Arab, Kurdish, Sunni and Shiite population has made the province a byword for violence ever since the overthrow of Sunni Arab dictator Saddam Hussein in the 2003 invasion.
Kurdish forces already took control of the ethnically divided northern oil city of Kirkuk on Thursday.
It has been the fulfillment of a decades-old Kurdish ambition, opposed by successive governments in Baghdad, to expand their autonomous region in the north to incorporate a swathe of historically Kurdish-majority territory across northern and north-central Iraq.
The swift collapse of Baghdad's control comes on top of the loss of Fallujah, west of the capital, earlier this year. It has been a blow for Western governments that have paid a steep price both in lives and money in Iraq.
UN human rights chief Navi Pillary condemned reports of summary executions by ISIL and the displacement of as many as half a million people from their homes in northern Iraq.
The UN said it had received reports of women committing suicide after being raped or forced to marry ISIL fighters and the summary execution of people believed to have worked for the police.
AFP Photo/Haidar Hamdani