Those Touched By Ebola Recount How Their Lives Have Changed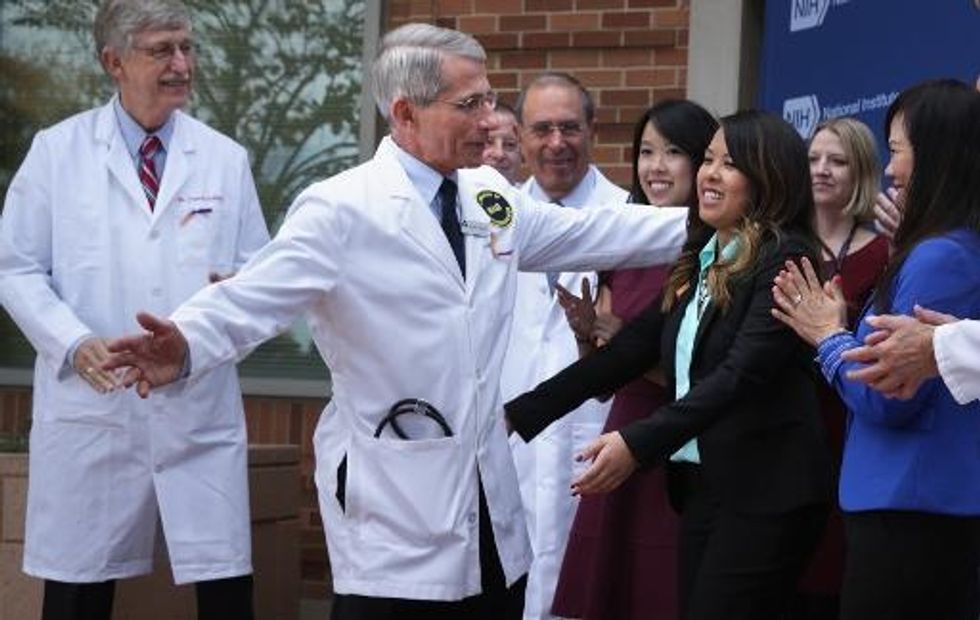 By Judy Wiley, Fort Worth Star-Telegram (TNS)
FORT WORTH, Texas — Nina Pham came home still suffering from the after-effects of Ebola virus disease and found herself dealing with harsh, new realities — such as reporters hanging around outside her family's house.
"Of course it was very crazy right after I came home, media camped outside my house and everything," said Pham, who grew up in Fort Worth, in an interview with the Star-Telegram. "It's just weird being normal and not seeking the celebrity and just kind of — very weird. It's not natural to me."
Pham, 26, was an intensive care nurse at Texas Health Presbyterian Hospital in Dallas when she tested positive after caring for Thomas Eric Duncan, the Liberian man who died of the virus at Presbyterian on Oct. 8.
"Whenever I found out, he had just died three or four days prior," she said. "I was the first person to contract it in the U.S. I thought, what's going to happen? There's no proven treatment, so we have limited resources — it was very scary, not knowing."
After Duncan's diagnosis on Sept. 30, Ebola began its burn into the public consciousness, fueled by the 24-hour news cycle and a deluge of stories that ranged from repetitious to useful.
So most people knew about the virus by Oct. 12, when Pham tested positive. In fact, "What is Ebola?" was the top search on Google for 2014.
Well-wishers lined up to waved good-bye to the young nurse as an ambulance carried her to Love Field for the flight to the National Institutes of Health Clinical Center in Bethesda, Md., where she ultimately recovered. Her release from the hospital on Oct. 24 was covered live by the major TV networks and later that day she met with President Barack Obama in the White House before returning to North Texas.
Pham lost most of her belongings in the rush of fear and the abundance of caution that followed her diagnosis. A hazmat crew packed nearly all the contents of her Dallas apartment into blue barrels and took them away to be incinerated. Realizing a dog in Spain had been euthanized after its owner contracted Ebola, she insisted her dog, Bentley, be kept alive.
The Cavaliar King Charles Spaniel was quarantined and tested for Ebola while Pham was being treated.
"I don't think I could have lived with myself if something happened to Bentley and not me," she said.
He's become a little media hound, tweeted around the world and recently part of helping a good cause.
"I'm trying to use my voice for positive things," Pham said. "The other day Bentley and I presented a check to Dallas Animal Services. They were very instrumental in helping Bentley."
She plans to attend a veterinary conference next month to speak about Ebola and animals.
Beyond that, Pham is still weighing her options for the future. She said she has good days and bad days physically, and still suffers from fatigue, so she isn't ready to return to the pressures and 12-hour shifts of the ICU.
"Right now it's a little too soon, I'm trying to focus on my health," she said.
And she's considering other avenues as well. She said whatever she does will probably having to do with involve nursing or with helping people, "perhaps pursuing a graduate degree or something in advocacy. There are a lot of options out there. I want to see what I can do to help people in the biggest way."
The new ability to help in a larger sense than before also drives Dr. Kent Brantly, the Fort Worth-trained doctor who contracted Ebola while caring for patients on a mission for the Samaritan's Purse, an international charity.
Like Pham, Brantly, 33, of Fort Worth was wrenched from obscurity onto the cover of Time magazine, which honored "the Ebola fighters" collectively as Person of the Year. Both their stories were included, and Brantly's portrait was on one of the five covers.
He is not doctoring for now, but instead spreading the message of Ebola's continued lethal march through West Africa, and helping Samaritan's Purse chart the course ahead for fighting the disease.
The death toll from Ebola in Guinea, Liberia and Sierra Leone — the West African countries most affected — stood at 7,693, according to the U.S. Centers for Disease Control. Total deaths in the U.S. stood at seven, and eight people had died in Nigeria.
"Right now, I feel like the best role I can play in fighting Ebola is to stand here and be a voice for the people of West Africa who have no voice here," Brantly said at a Tarrant County Commissioners Court meeting Dec. 9, which was declared "Dr. Kent Brantly Day."
Amber Vinson, a second young nurse who contracted Ebola virus from Duncan, also survived and the last time she surfaced publicly, said she is happily continuing with her plans to marry.
Presbyterian Hospital was not left unscathed. A series of missteps in the way Duncan's diagnosis was handled left the hospital and its parent company, Texas Health Resources of Fort Worth, with a lot of explaining to do. But the ordeal ultimately ended in a settlement with Duncan's family designed to help Ebola victims in West Africa.
Other area hospitals benefited from Dallas's experience.
"Ebola's arrival in North Texas strengthened and broadened our internal response knowledge for how to protect our employees while also providing care to victims of a possible pandemic," said Robert Earley, president and CEO of JPS Health Network in Fort Worth.
Another life forever changed by the crisis in North Texas was that of Louise Troh, the woman Duncan came to the U.S. to marry.
One day she was a woman looking forward to starting anew with the man she loved, and a few days later she had become a pariah struggling to find a place to live. Nobody wanted anything to do with people who had been exposed to Ebola, regardless of whether they were symptomatic or diagnosed.
Ultimately, the Catholic Diocese of Dallas took in Troh, her son and two nephews at its Conference and Formation Center in Oak Cliff. She confronted the same problem even after she and other relatives completed a quarantine period at the center, and finally moved into a condo purchased by members of the Wilshire Baptist Church in Dallas.
Troh reportedly has a book deal to write her story — she has said it will be a love story about growing up in Liberia, meeting Duncan at a refugee camp in Ivory Coast and the events that followed.
AFP Photo/Alex Wong