Transport Secretary Chao Claims Almost 300 Hours 'Private Time'
@EricBoehlert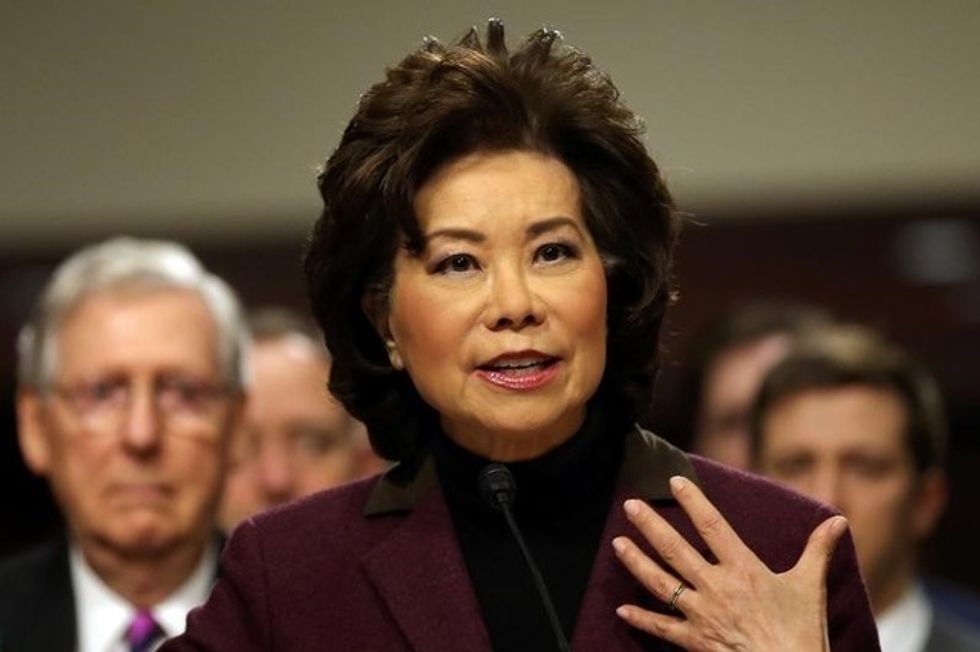 Reprinted with permission from Shareblue.
Trump's Secretary of Transportation Elaine Chao has already put in nearly 300 hours of "private" time while serving as a Cabinet member.
The highly unusual practice raises all sorts of questions about how Chao is spending her time as a taxpayer-paid public official.
"In total, Chao clocked more than 290 hours of appointments labeled private — the equivalent of about seven weeks' vacation — during her first 14 months in President Donald Trump's Cabinet, based on a review of documents provided under the Freedom of Information Act," Politico reports.
There's a suspicion that Chao just isn't work that hard, as she constantly fills up her Friday afternoon schedules with "private time" meetings. Either that or Chao and her office are purposefully trying to hide from the public what she's doing as secretary of transportation.
If Chao is regularly checking out early on Friday afternoons, she would be mirroring the light work schedule of her boss. Trump typically doesn't start his workday until 11 a.m., after he's taken advantage of three hours of "executive time," which usually means watching Fox News.
Chao's office insists the unknown "private" time blocks of time listed on her day-to-day calendars are used to conceal Chao's travel plans for security reasons. Or they're because she's doing things like meeting with personal friends, going to the doctor, or having lunch with her husband, Senate Majority Leader Mitch McConnell (R-KY).
That's a lot of lunches and friend meet-ups.
As one example, Politico notes that on Feb. 9, 2018, Chao's schedule noted "private" meetings at 9 a.m., 9:45 a.m., 10 a.m., 10:30 a.m., 11 a.m., 2 p.m., and 5 p.m. The only public entry for the entire day was a 30-minute phone call from 10 a.m. to 10:30 a.m.
And that followed February 8, when Chao's entire afternoon had been blocked out with "private" appointments.
So from noon on February 8 until the end of the workday on February 9, Chao logged exactly 30 minutes of non-private time.
Former DOT officials tell Politico the endless "private" events don't add up. "It certainly appears that they have just tried to over-redact meetings they would prefer the public not know about," said one.
What is Elaine Chao hiding?
Published with permission of The American Independent.