Tributes For Robin Williams After Apparent Suicide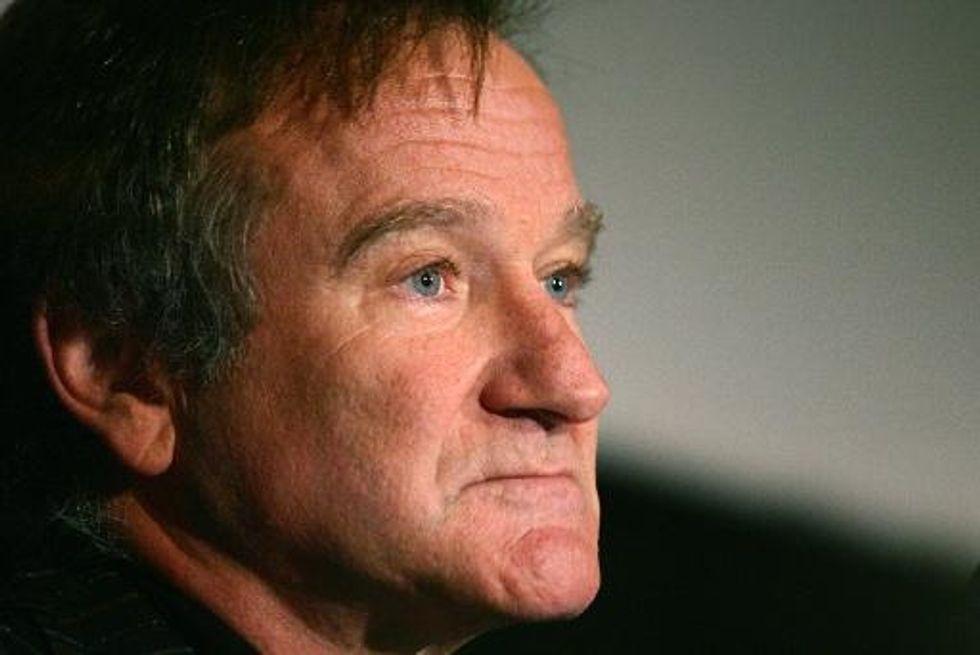 By Veronique Dupont
Los Angeles (AFP) — Tributes poured in Tuesday for Robin Williams after the Oscar-winning actor and comedian apparently took his own life following a battle with severe depression.
Williams, 63, known for high-energy, rapid-fire improvisation, and clowning, was one of the most beloved entertainers of his time. One publication called him the funniest man alive.
The star of films such as "Good Will Hunting," "Good Morning Vietnam," and "Mrs Doubtfire" was found dead at his home outside San Francisco shortly before midday on Monday.
President Barack Obama led tributes to an entertainer he described as "one of a kind."
Hollywood titan Steven Spielberg, a close friend, hailed Williams as a "lightning storm of comic genius."
Fans turned William's star along Hollywood's Walk of Fame and a park bench in Boston that featured in "Good Will Hunting" into miniature shrines in his honor.
And radio stations across the United States played Williams' "Good Morning Vietnam" wake-up holler on their rush-hour shows.
A statement Monday from Marin County Sheriff's Office said Williams' death appeared to be "suicide due to asphyxia."
An autopsy was scheduled for Tuesday, as well as a coroner's press conference at 1800 GMT.
Described in 1997 by Entertainment Weekly as "the funniest man alive", Williams suffered from "severe depression" prior to his death, his publicist Mara Buxbaum said.
The comedian and father-of-three, who wedded his third wife Susan Schneider in 2011, had himself spoken openly in the past about his battles with alcoholism and drug abuse.
"Cocaine is God's way of telling you you are making too much money," he once quipped.
After beginning his career as a stand-up comic, Chicago-born Williams rose to fame in the U.S. sitcom "Mork & Mindy", channeling his anarchic, high-energy style into his role as an extra-terrestrial struggling to fit in on Earth.
He later reeled off a string of big-screen hits throughout the 1980s and 1990s in roles which often showcased his fast-talking, improvisational skills.
Those abilities were showcased in 1987's "Good Morning, Vietnam," where his performance as motormouth military disc jockey Adrian Cronauer earned him the first of four Oscar nominations.
Other nominations followed his performance as the inspirational English literature teacher John Keating in 1989's "Dead Poets Society" and for playing a mentally ill homeless man mourning the loss of his wife in 1991's "The Fisher King."
He finally landed an Academy Award for 1997's "Good Will Hunting," which earned him a best supporting actor statuette and helped launch the Hollywood careers of co-stars Matt Damon and Ben Affleck.
Williams appeared most recently on film in "The Angriest Man in Brooklyn," after playing president Dwight D. Eisenhower in "Lee Daniels' The Butler."
He is due to return to the silver screen posthumously in "Night at the Museum: Secret of the Tomb," scheduled for release before Christmas.
"Robin Williams was an airman, a doctor, a genie, a nanny, a president, a professor, a bangarang Peter Pan, and everything in between. But he was one of a kind," said Obama, vacationing in Martha's Vineyard, Massachusetts.
"He arrived in our lives as an alien — but he ended up touching every element of the human spirit.
Spielberg mourned the loss of "a comic genius … Robin a lightning storm of comic genius and our laughter was the thunder that sustained him."
"He was a pal and I can't believe he's gone," added the director, who regularly phoned Williams to cheer himself up during filming of his 1994 Holocaust drama "Schindler's List."
"He was a giant heart, a fireball friend, a wondrous gift from the gods. Now the selfish bastards have taken him back," said British actor, director, and Monty Python alum Terry Gilliam.
"I could not be more stunned by the loss of Robin Williams, mensch, great talent, acting partner, genuine soul," added comedian Steve Martin, breaking a self-imposed hiatus from Twitter.
Poignant tributes also came from members of the U.S. military, for whom Williams frequently performed in USO live shows in Iraq and Afghanistan.
"I feel Mr. Williams' passing is worthy of lowering the flags," wrote U.S. army veteran Zach Reid on the USO's Facebook page. "One of the last things America agreed on is gone now."
AFP Photo/Tiziana Fabi
Interested in national news? Sign up for our daily email newsletter!