Troops Working To Rescue Stranded People In Kashmir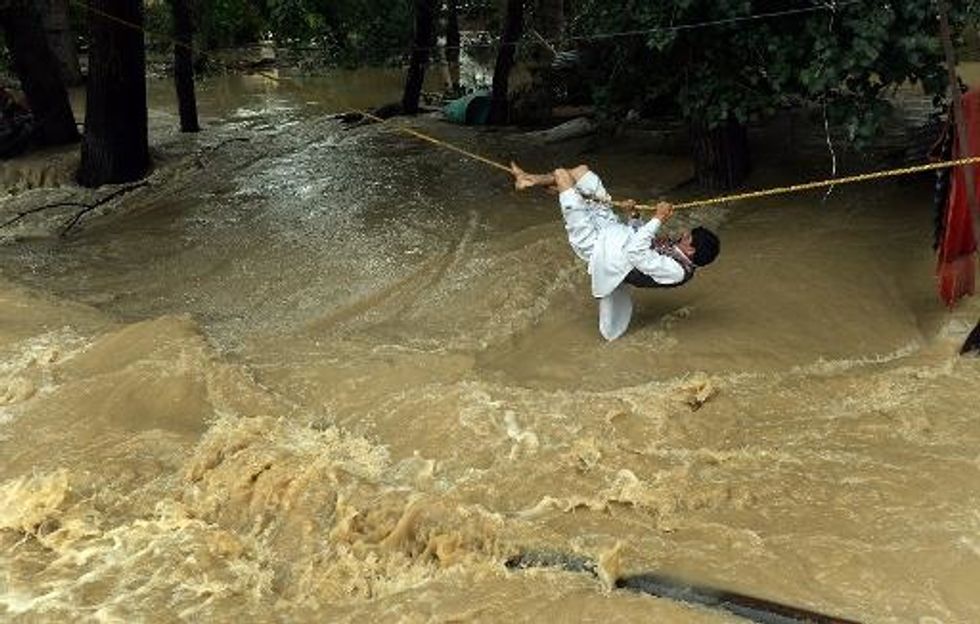 By Siddhartha Kumar, dpa
NEW DELHI — Indian troops stepped up rescue work Tuesday as the rain held off in Jammu and Kashmir state, but thousands were stranded in the worst floods in the region for 60 years.
State capital Srinagar was flooded by the Jhelum river and an estimated 400,000 people were stranded in the city and surrounding regions, broadcaster NDTV reported.
Disaster management agencies data showed that about 200 people had died since last week.
The toll included 27 killed in a landslide in Udhampur district.
"Only my husband and I have been rescued. Both my sons are left behind. My house was destroyed. I was stuck on the terrace for three days," one Srinagar resident told CNN-IBN network.
"I am 60 years old and I have never seen such a situation here. This is really scary," another resident added.
Thousands more were awaiting rescue teams and searching for their relatives.
By Tuesday evening, officials said the army and relief workers had rescued more than 42,000 people. Many teams were using boats in Srinagar, rescuing people from rooftops and terraces.
The army deployed 20,000 soldiers, while 61 helicopters and other aircraft were dropping relief supplies and transporting people.
"The Indian Army will not move back to the barracks until the last man is brought to safety," army chief General Dalbir Singh said Monday.
Officials said the Jhelum River was receding in some areas, but water in the city's Dal Lake was rising.
Road and communication links were cut off, making it difficult to reach stranded people.
The main highway linking the Kashmir valley to the rest of India was closed because of landslides, and could take about five days to be reopened, officials said.
Srinagar resident Sheikh Tariq, whose house was swept away in the floods, said his family was incommunicado.
"I have no idea how and where they are. The last call from them came three days ago. I am totally helpless," he told NDTV from a university campus in Srinagar that has become an emergency refugee center.
AFP Photo/Punit Paranjpe
Interested in world news? Sign up for our daily email newsletter!