The Dark Money Outfit Behind Far-Right 'Truck Convoy' Movement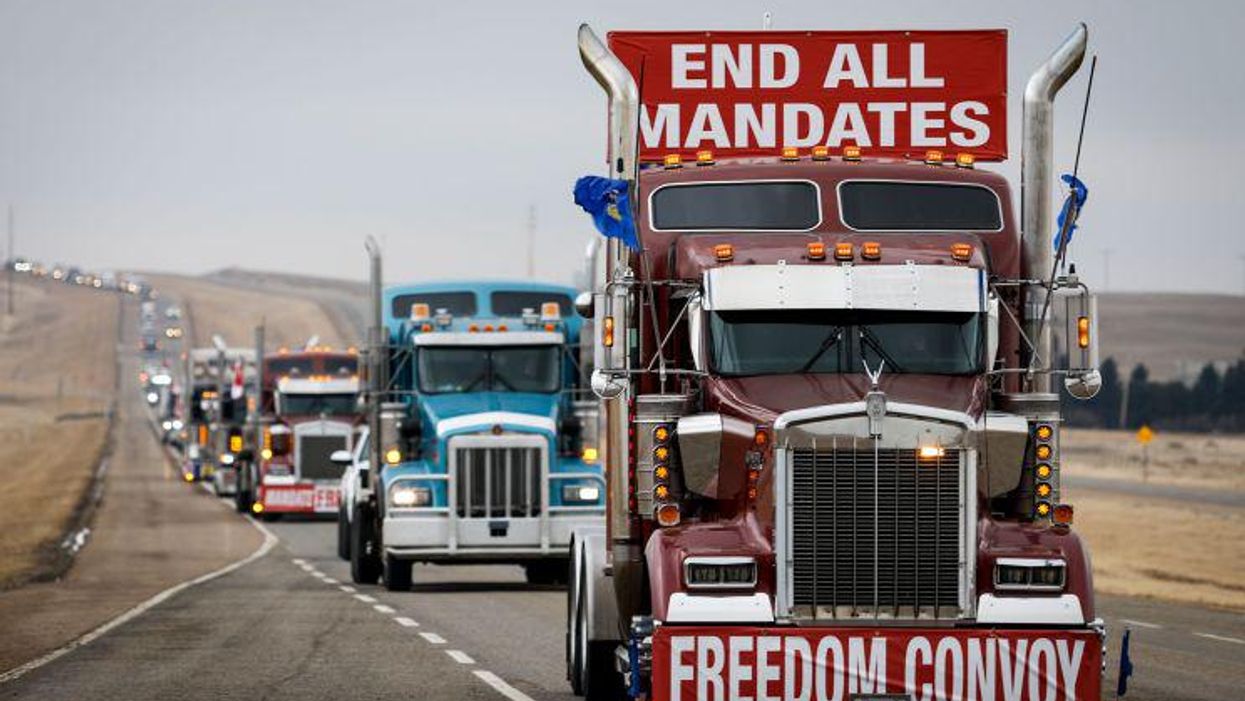 One dark-money conservative group that was developed to fund efforts challenging the outcome of the presidential election pivoted its financial efforts to support the trucker convoy, per a new report published by The Daily Beast.
By Wednesday, February 23, the American Foundation for Civil Liberties and Freedoms (AFCLF) had raised a total of $464,731 for what is protesters have billed "the People's Convoy." In recent days, the group's fundraising amount has tripled and is expected to continue to increase in the coming days.
The far-right group, which previously focused on raising funding to push former President Donald Trump's false election claims, has stated that "100% OF THE DONATIONS GO TO SUPPORTING THE CONVOY!"
"Convoy up, America — the donate button is going toward the funding of the ride to Freedom: we are going to take back our country for ourselves and future generations!" the group's website says. The group explained that donated funds will "reimburse fuel and hard costs of the trucker," as they noted that "the fund is being handled by volunteer accountants and overseen by a law firm."
Since the group is categorized as a non-profit structured under section 501(c)3 of the tax code, the AFCLF has the advantage of getting the best of both worlds: tax-deductible donations, which would be considered "gifts," and the ability to conceal the identity of its donors.
When The Beast contacted AFCLF chair Chris Marston, it asked him another of critical questions about the funding along with who would qualify to receive it. However, according to The Beast, Martson offered no solid answers saying "everything came together too quickly to establish rules."
"Trucker leaders are on finance committee to determine where needs are but methods depend on the nature of expense," Marston said via text message. "This all came together too fast to have pre-determined rules so we set up a committee with Lawyer, account, and trucker oversight." [sic]
Martson went on to add that a lot of the group's planning efforts are still undetermined.
"We don't have agreements with truckers on destination plans," Marston explained. "We are supporting fuel, food, signage and basics for their journey," he said, adding that the organization "coordinated with local authorities along the path to be cooperative."
Reprinted with permission from Alternet