America's Sorest Loser Mulls Third-Party Run To Sink Republicans In 2024
@next2godwin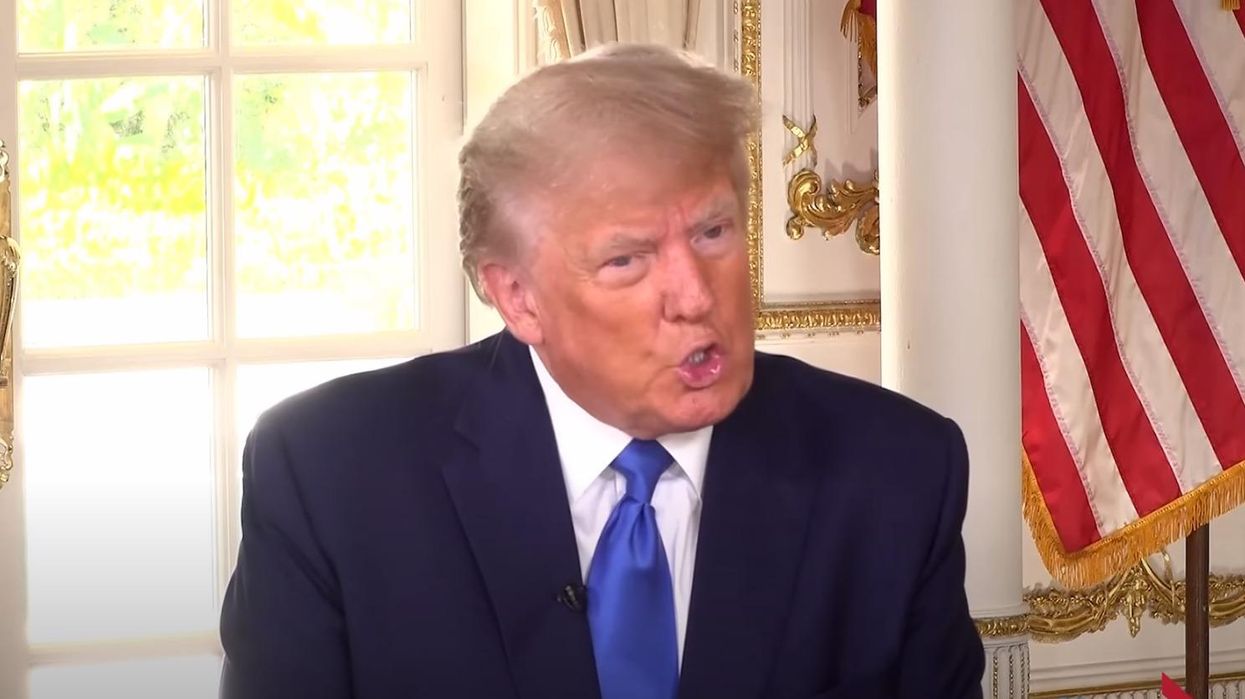 Youtube Screenshot
Former President Donald Trump put his own party on notice Wednesday when he promoted an editorial that castigated the GOP and implored Trump to mount his third presidential run as a third-party candidate if Republicans don't make him their 2024 presidential nominee.
The editorial, penned for the MAGA-promoting journal American Greatness by Dan Gelernter, argued that by not willingly submitting to subjugation by Trump and the MAGA cult, the Republican Party was courting a downfall as Democrats had in 2016, "when they stole the primary from Bernie Sanders."
Trump shared the editorial with his followers on Truth Social — ground zero for the Big Lie, QAnon, and other fringe far-right conspiracy theories — just over two weeks after aUSA Today and Suffolk University poll found that Republican voters were ready to dump him for Florida Gov. Ron DeSantis.
Gelernter, who once branded Trump "the greatest man alive" and pushed Covid-19 vaccine misinformation, suggested in an earlier article that "establishment politicians" feared Trump, whose listless 2024 campaign many experts consider moribund.
Gelernter compared the GOP's ailing relationship with Trump to the 1912 Republican Party's treatment of Theodore Roosevelt, whose "personality traits" and appeal Gelernter claim mirrored Trump's.
"The Republican Party of 1912 decided it would be better off renominating William Howard Taft, even though its voters would have preferred another Roosevelt term," he wrote.
Roosevelt's fate — losing the election to Democrat Woodrow Wilson after his third-party run severed the GOP — would befall Trump if he went the third-party route, Gelernter conceded.
"Do I think Trump can win as a third-party candidate? No. Would I vote for him as a third-party candidate? Yes. Because I'm not interested in propping up this corrupt gravy-train any longer," he wrote.
"The RNC can pretend Trump isn't loved by the base anymore, that he doesn't have packed rallies everywhere he goes. But I'm not buying it: Talk to Republican voters anywhere outside the Beltway, and it is obvious that he is admired and even loved by those who consider themselves 'ordinary' Americans," Gelernter added.
"Now, if the Republican Party thinks it's not big enough for Trump," he declared, "it's not going to be big enough for me either."
In another article, Gelernter said that voting for Ron DeSantis — the preferred candidate of a majority of Republican voters, as a Wall Street Journal survey found in mid-December — was "just playing into the Left's hands."
To hammer
Trump's Truth Social antics came as the GOP grappled with internal squabbles for positions of power, feuds between Republican lawmakers in the House and Senate, and the cascade of criticism and investigations trailing its "embellishing" Rep.-elect George Santos (R-NY).
Sharing the link on his Truth Social was not the former president's first stint threatening a third-party run, according to reporting by the Independent and Business Insider.
In 2021, Trump threatened to exit the GOP in his last days as President because the party had not backed his election-subverting gambit, the Independent's Andrew Feinberg reported, citing a book by ABC News' chief Washington correspondent Jonathan Karl.
In a New York Post op-ed last week, former Attorney General William Barr sounded the alarm on how far Trump would go if the GOP didn't cave in to his demands.
"Unless the rest of the party goes along with him, he will burn the whole house down by leading 'his people' out of the GOP," Barr said. "Trump's willingness to destroy the party if he does not get his way is not based on principle, but on his own supreme narcissism."
"His egoism," Barr noted, "makes him unable to think of a political party as anything but an extension of himself — a cult of personality."
Frequently Asked Questions (FAQ)
Q1: What is the current situation with Donald Trump and the Republican Party?
Ans: Former President Donald Trump has threatened to run as a third-party candidate in the 2024 presidential election if the Republican Party does not nominate him.
Q2: Why is Trump considering a third-party run?
Ans: It is believed that Trump is considering a third-party run to exert influence over the Republican Party and possibly punish them for not fully supporting him.
Q3: How likely is it that Trump will actually run as a third-party candidate?
Ans: It is difficult to predict whether or not Trump will follow through on his threat. Some experts believe his chances of winning as a third-party candidate are slim, and he may ultimately decide not to run.
Q4: What would be the consequences of a Trump third-party run?
Ans: If Trump were to run as a third-party candidate, it could potentially split the vote and harm the chances of the Republican Party in the 2024 election. It could also lead to further polarization and division within the party.
Q5: Is there any support for a Trump third-party run?
Ans:
Some supporters of Trump have expressed their willingness to vote for him as a third-party candidate, while others believe it would be a risky move that could ultimately harm the Republican Party.