Trump Administration Puts Yellowstone Grizzlies In The Crosshairs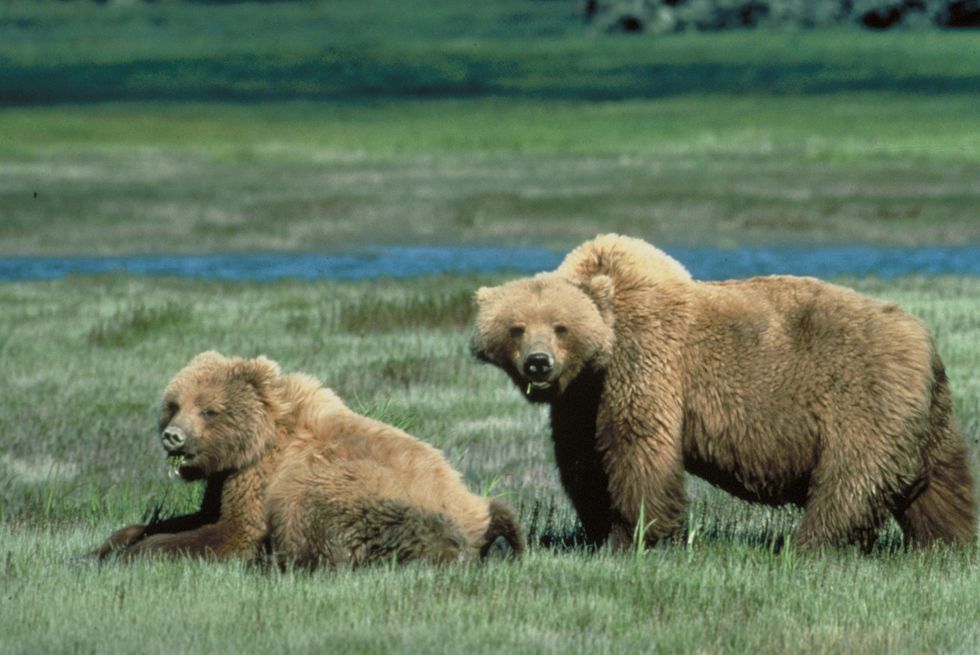 Reprinted with permission from Alternet.
Despite having received more than half a million citizen comments opposing the action, the U.S. Fish and Wildlife Service announced on June 22 that it is removing federal Endangered Species Act protections for grizzly bears in the Greater Yellowstone Ecosystem and effectively transferring management authority over these bears to Idaho, Montana and Wyoming. State authorities and wildlife managers have already signaled their plans to allow trophy hunting of America's greatest carnivores. If their plans are realized, it will be the first time grizzlies have been legally hunted in the lower 48 states in decades.
Matt Hogan, the regional U.S. Fish and Wildlife Service official who led the delisting effort, was the former chief lobbyist for the Safari Club International, the world's leading trophy hunting club. Opening up grizzly bear hunting has been a long-time aspiration of the SCI, and killing one of the largest bears in the world is the goal of so many would-be Walter Palmers within its ranks. (Palmer is the Minnesota dentist who traveled half way around the world to shoot Cecil the African lion.)
According to multiple stories in the Native American media outlet Native News Online and also High Country News, oil, gas and mining interests have also pushed for federal delisting. They are interested in developing public lands in grizzly bear habitat and extracting energy (even as the price of oil has sunk to around $40 a barrel).
Matt Hogan appears not to have disclosed his ties to Anadarko Petroleum and Gas, Wyoming's main lease holder and landowner, prompting the Oglala Sioux Tribe to request last year that Congress investigate the USFWS's call to delist Yellowstone grizzly bears.
Against this backdrop, 125 Native American tribes from the United States and Canada have signed onto a historic treaty—one of three of its kind in written history—that calls for continued protections for grizzly bears and expresses their opposition to trophy hunting of an animal sacred to tribes across the continent.
U.S. Reps. Markwayne Mullin, R-Okla., Tom Cole, R-Okla. and Raúl M. Grijalva, D-Ariz., and Sens. Bernie Sanders, I-Vt., Tom Udall, D-N.M. and Cory Booker, D-N.J., have sent letters to Congress or Secretary of Interior Ryan Zinke requesting that the USFWS engage in consultation with the tribes before delisting grizzly bears from the ESA. Thus far, the USFWS has sidestepped meaningful consultation with the tribes, abrogating U.S. treaty obligations to them.
But it's not just the tribes that don't want trophy hunters to kill bears for their heads and hides. Polling shows upwards of 80 percent of all Americans oppose this practice.
What's more, live grizzlies are an economic boon to the Yellowstone region and the gateway communities that surround the park. Surveys reveal that watching mega-fauna such as grizzlies and wolves is the number-one reason why people visit the area. Wolf- and bear-watching generate tens of millions of dollars in economic activity. While Congress and the administration may cater to the industries intent on killing grizzlies or degrading their habitat, millions of Americans want the agency to maintain protections and shield the animals from state wildlife managers aligned with trophy hunting and ranching and oil interests. Protecting the animals is not just the right moral position. It's the right business action too.
Even without trophy hunting, through a variety of circumstances, humans claim the lives of bears—more than 100 in 2015 and 2016. Many hazards befall these animals, from poaching and mistaken identity killing during the black bear hunting season, to roadkill. Some bears are killed for threatening livestock or public safety. These risks are compounded because the species' key food sources are depleted—including white bark pine nuts and cutthroat trout—and that circumstance has spurred them to roam to find nourishment. When their interactions with humans increase, the grizzlies typically lose.
"I don't think the population can sustain any increase in mortality," grizzly bear expert David Mattson told The HSUS. "In fact, the population will continue to decline unless we actually reduce the number of bears dying from all causes." Another grizzly bear expert, Professor Robert Weilgus, told The HSUS that trophy hunting will disrupt the social relationships of surviving bears, causing more aggression between them.
Specifically, young adult males will move into the territory of a slain male grizzly and fight with fight with each other and even kill the cubs of females, so they can mate with them. "Grizzly bears haven't evolved to be hunted like game," Prof. Weilgus stated. "If they hunt them [around Yellowstone], I don't see how the bear population could continue to stay at the level it is now. It would pretty much have to decline."
The USFWS has subordinated protecting rare species to appeasing special interests. Delisting is not a success story, but a precursor to severe exploitation. That said, there is an extraordinary coalition of tribes, businesses, animal advocates, scientists, and environmentalists prepared to defend the grizzlies. The HSUS is prepared to take swift action to protect this majestic icon. We'll see the parties who want to kill the bears in court. And we'll have plenty of company.
This article was originally published on Wayne Pacelle's blog, A Humane Nation.
This article was made possible by the readers and supporters of AlterNet.