Trump Administration Seeks To Muzzle Scientists Protecting Vital Native American Sites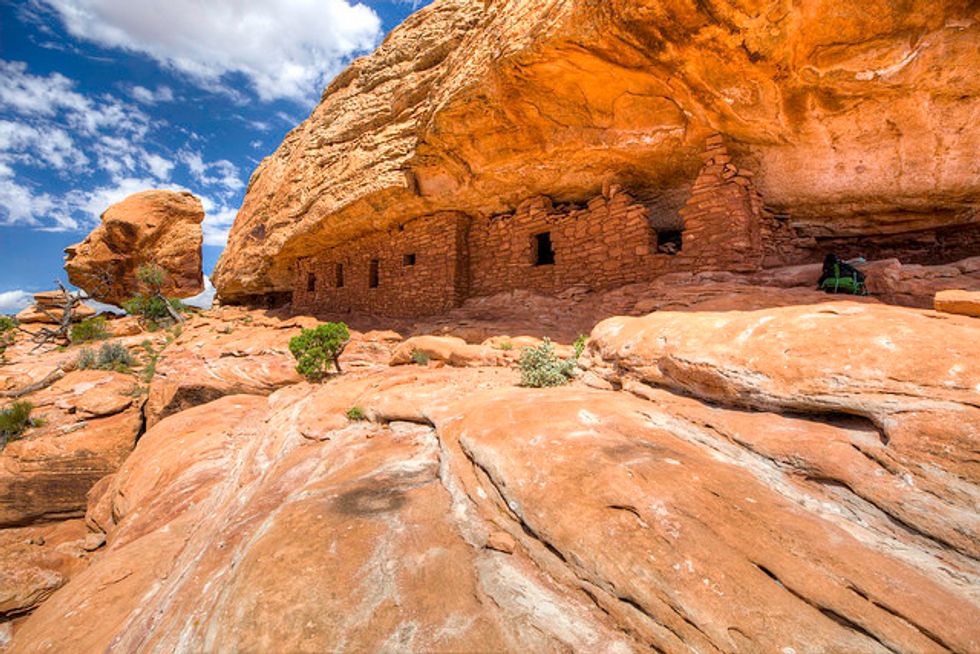 Reprinted with permission from DCReport.
Archeologists helped draft the law that presidents use to protect areas like the Grand Canyon, but today's Republicans want to muzzle archeologists and others to keep them from weighing in on a lawsuit over Trump's yanking protections from Utah sites that date back to the end of the last Ice Age.
Our nation's Congress passed the Antiquities Act in 1906 to protect ancient American Indian sites, but Deputy Assistant Attorney General Jean Williams asked a federal judge not to accept legal documents from archaeologists objecting to Trump's largely dismantling two national monuments in Utah. She said the blitz of documents was "inherently prejudicial" to Trump and the other defendants.
"Federal defendants do not have adequate time or space to address every formulation of the arguments," Williams wrote.
Williams works in the environmental division, led by Jeffrey Bossert Clark, who represented BP in lawsuits over the 2010 Deepwater Horizon disaster in the Gulf of Mexico, the nation's largest oil spill.
The Hopi Tribe, other American Indian tribes and environmental organizations sued Trump over eliminating 85% of Bears Ears in Utah, the first national monument designated at the request of Native Americans, and carving Grand Staircase-Escalante, also in Utah, into three smaller monuments.
Legal scholars Michael Blumm and Olivier Jamin have called reducing national monuments and other attacks on public land by Trump and Republicans "the most substantial rollback in public lands protections in American history."
Archeologists who aren't plaintiffs in the lawsuit want to file documents in the case. The American Anthropological Association and the Archaeological Institute of America helped draft the Antiquities Act, giving presidents the authority to create national monuments. Other groups, including 26 U.S. senators and 92 U.S. representatives, also want to weigh in. Judge Tanya Chutkan, an Obama appointee hearing the lawsuit in federal court Washington. D.C., will decide.
"This may be their only opportunity to be heard," wrote attorney Natalie Landreth of the Native American Rights Fund.
The Department of Justice's own manual says department attorneys "shall nearly always consent" to filing an amicus brief that complies with the rules.
Grand Staircase was "the last place in the continental United States to be mapped." People have lived in the area since as early as A.D. 700.
Only 5% to 7% of Grand Staircase has been surveyed. The monument is rich in rock art and petroglyphs and has 3,985 officially recorded archaeological sites. Trump's proclamation would remove protections from 1,915 of those sites, including ones dating back to the end of the last Ice Age.
The Lampstand, known for Ancestral Puebloan villages, and the Hole-in-the-Rock Road, a historic trail used by Mormon settlers, were both removed from Grand Staircase.
Bears Ears has about 9,000 recorded archaeological sites, including petroglyphs, woven cloth, human remains and ancient roads. Trump removed the Greater Cedar Mesa area, "one of the most significant concentrations of archaeological sites in the nation."
Featured image: Citadel Ruins, Bears Ears National Monument, Utah. (BLM photo)