Trump Ally Purged 235,000 Voters In Ohio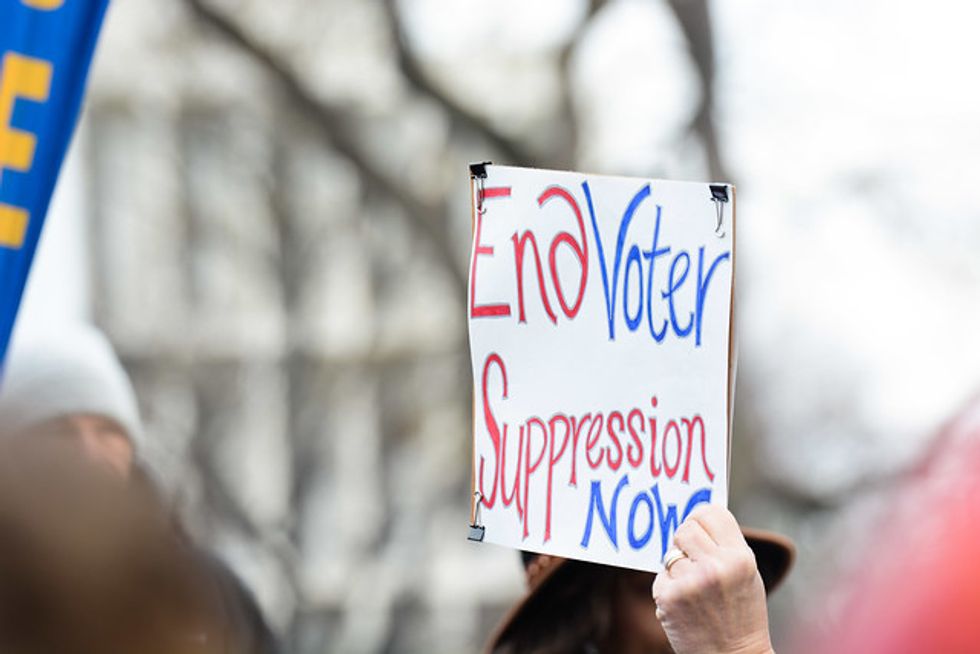 Ohio is purging 235,000 voter registrations on Friday despite evidence that thousands of the registrations flagged for deletion were eligible to vote.
Ohio has historically been a key swing state in presidential elections, going back and forth between the two parties. Trump won it in 2016, while President Barack Obama won it in 2012 and 2008.
In 2018, Sen. Sherrod Brown (D-OH) won reelection there, but so did Gov. Mike DeWine (R), highlighting the fact that neither party has a lock on the state's votes.
Frank LaRose, Ohio's secretary of state, is spearheading the purge. Last year, LaRose called Trump "a visionary leader" and "a disruptor."
Purges have been a key element in Republican voter suppression efforts. A purge of voters in Georgia last year was followed by a victory there for the Republican gubernatorial candidate by a slim margin.
According to HuffPost, LaRose initially "published a list of 235,000 voters at risk of losing their registrations in August but soon discovered there were errors and corrected them."
Republicans in the state have said the purges are an attempt to keep the voting rolls accurate with information about currently active voters. But the process by which inactive voters are determined is flawed.
Later in August, however, voting rights groups identified another 4,000 residents on the list who were active voters and slated to be purged.
Those groups — The League of Women Voters, the NAACP, All Voting is Local, and the Fair Elections Center — wrote a release in protest of LaRose's crusade.
"Thousands of voters are at risk of losing the fundamental right to vote by a system that has been shown time and again to be deeply flawed," said Mike Brickner, Ohio State Director for All Voting is Local.
"African Americans had to fight, and some even died, for people of color to get the right to vote," said Tom Roberts, President of the NAACP Ohio State Conference. "So, why should anyone think because I did not exercise my right to vote, that this right should be taken away? The right to vote is the cornerstone of our democracy and 'use it or lose it' is wrong."
The Ohio Democratic Party sued over the process, citing the errors in the lists, but lost its case.
Trump's victory in Ohio in 2016 was a surprise, but as in the national trends, he has lost standing there over the course of his presidency.
At the start of his term, Ohio was one of the few states where Trump had a positive approval rating. But his support there has since decreased by 19 percentage points, to 46%.
Recent polling has shown Trump in a close race against leading Democratic presidential candidates, and even losing in some instances.
The 2020 election could come down to the closest of margins — and the man who hailed Trump as a "visionary leader" is making key decisions about who can and cannot vote.
Published with permission of The American Independent.