Trump and the Traitor: A New York Tale
@JamieStiehm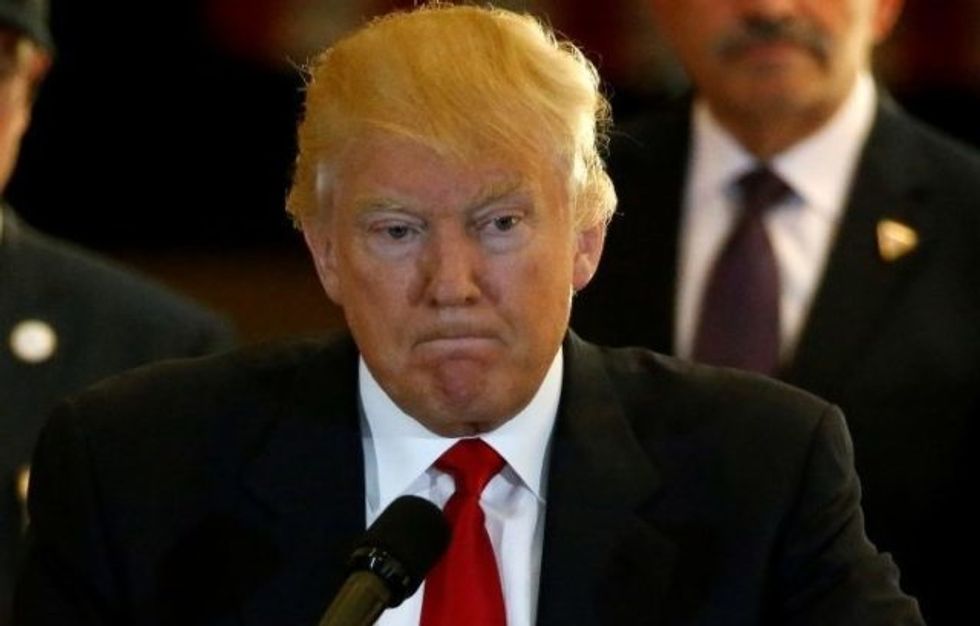 After a period of basking in public glory, he became the most hated American of his time.
His base of operations was in New York, along the Hudson River.
He married a beautiful woman, Peggy Shippen of Philadelphia, who was showy.
Oh, did I mention he had a touchy temper, full of bitter malice? And yet he had a strange, dark charisma that rested on his own superiority.
There we have Donald Trump's historical alter ego: Benedict Arnold, the American general who turned traitor during the Revolutionary War. The turncoat escaped hanging at the gallows.
Best-selling author Nathaniel Philbrick's new book, "Valiant Ambition," portrays Arnold, quarrelsome and self-destructive, for a start, at a perfect moment for us.
Fast forward to our gaudy guy, the Republican presidential nominee. Trump is in a frenzied free fall in the polls, in the military community and within his own despairing party.
Along the way to the nomination, Trump alienated wide swaths of the populace, (like Muslims and Mexicans). But he just made a mistake the arrogant Arnold would not make: Trump belittled the Khans, a Gold Star family who had buried a son at war.
That's a tipping point for Trump, aided by Democratic opponent Hillary Clinton's punches at his uneven temperament. Oh, how he hates it when women challenge him.
In a rare rebuke, President Obama declared the New York tycoon is "unfit to serve" as president. The presidential historian Douglas Brinkley told The New York Times the sitting president's statement was a "highly unusual and almost unprecedented moment."
We've come to a pretty pass, when the flailing Trump refuses to endorse Speaker of the House Paul Ryan, a company man Republican. Trump is nursing a grudge over Ryan being slow to support him. Sweet revenge. The man keeps track of every slight, no matter how small, and then acts out again.
The smell of napalm in August is creeping closer as the Republican Party starts to fall apart. The crisis is not near — it is here.
Clearly, Trump has no clue to how to act presidential, as promised after the primary. He couldn't even play one on television. Oh, I liked him better in the box, but now recall: The authoritarian character he plays in the NBC reality show, "The Apprentice" is himself. He often humiliates people and always has the last word. Jeff Zucker was the genius (at NBC) that created this monster.
Is the colorful Revolutionary traitor a cut above Trump? Arnold risked his own skin and saved the young country in battle once or twice. He almost lost a leg.
Arnold's betrayal and secret plot hatched with the British spy chief was a blow to George Washington, who saw Arnold as a top-notch military leader. The affair was a personal affront to Washington, who had entrusted Arnold with the command of West Point, the ruggedly beautiful American fortress on the river.
But the 1780 tale gets better. Washington, the general on horseback, rode over to see Arnold at his new military post at West Point. Arnold was knee deep in a plot to turn over the prized strategic West Point to the British for a king's ransom. Under trees for cover, he had conducted a nightlong conversation with Major John Andre, the story's romantic hero who was captured and hanged by the Americans.
Galloping back to the British side of New York, Andre was halted with incriminating papers and maps in his boots. Word was sent to Washington: Arnold was in league with the enemy.
The call was close, on the cusp of meeting Washington. Arnold, alerted the plot was discovered, said a rushed goodbye to his wife and sped away on his horse down a steep incline to reach the water and safe passage to the British-controlled part of New York. Within an hour, Washington sent his best aide, Alexander Hamilton, riding after him. But Arnold escaped from American hands. It was kind of a small world.
From the leading "loyalist" family, Peggy Arnold went into hysterics when Washington arrived at the house. Her show was likely staged.
Trump, who can't say he's sorry for anything, shares that trait with Arnold. As Washington observed: "While his faculties will enable him to continue his sordid pursuits, there will be no time for remorse."
The Arnolds lived ever after in style in London.
To find out more about Jamie Stiehm and read features by other Creators writers and cartoonists, visit creators.com.
Photo: U.S. Republican presidential candidate Donald Trump speaks during a news conference at Trump Tower in the Manhattan borough of New York, U.S., May 31, 2016. REUTERS/Carlo Allegri