Trump-Appointed Judge Tried To Shield His Taxes
@Snipy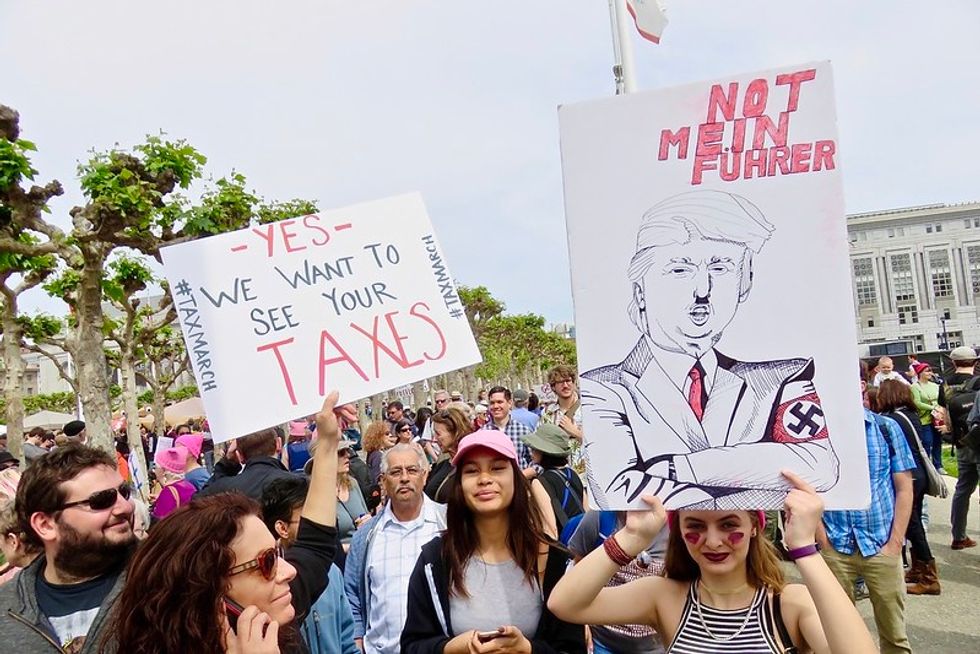 At the first opportunity, Judge Neomi Rao tried to do what Donald Trump put her on the second-most powerful court in the country to do: run interference for Trump.
On Friday, the D.C. Circuit issued a ruling in Trump v. Mazars . That's the case about whether Trump can stop his accounting firm, Mazars, from giving his tax returns to the House Committee on Oversight and Reform as part of its investigation into Trump's finances.
The Oversight Committee has argued that its investigation underpins a larger inquiry as to whether Congress needs to amend disclosure and ethics rules. Trump has contended the committee has no right to investigate him because it's looking at his underlying criminal behavior, and it should only be able to do that in an impeachment proceeding.
The majority of the court didn't buy that at all, holding that "[c]ontrary to the President's arguments, the Committee possesses authority under both the House Rules and the Constitution to issue the subpoena, and Mazars must comply."
Rao — whom Trump picked to replace Brett Kavanaugh after he was elevated to the Supreme Court, despite credible allegations of attempted rape — disagreed.
She penned a 67-page dissent that is untethered from actual law and serves only to prop up Trump's reasoning. It's not a big surprise that a judge who had no previous judicial experience, is a rape apologist , and brags about gutting regulations would side with Trump.
Rao's underlying conclusion is exactly what Trump says: that he can't be investigated by Congress outside of an impeachment hearing.
Of course, Trump is refusing to cooperate with the impeachment proceedings as well, but that's another matter. Rao writes that "[t]he most important question is not whether Congress has put forth some legitimate legislative purpose, but rather whether Congress is investigating suspicions of criminality or allegations that the President violated a law. Such investigations may be pursued exclusively through impeachment. The House may not use the legislative power to circumvent the protections and accountability that accompany the impeachment power."
In case her stance wasn't clear enough, elsewhere in the dissent she writes that "[w]hen Congress seeks information about the President's wrongdoing, it does not matter whether the investigation also has a legislative purpose. Investigations of impeachable offenses simply are not, and never have been, within Congress's legislative power."
These statements not only have no basis in law, but Rao makes no attempt to say that they do — and the majority opinion calls her out on it, noting her dissent "identifies nothing in the text, structure, or original meaning of Article I or Article II of the Constitution to support such a sweeping rule of legislative paralysis."
Rao's stance, the majority says, would mean that "Congress must either initiate the grave and weighty process of impeachment or forgo any investigation in support of potential legislation."
It's that "legislative paralysis" that is precisely what the Trump administration is going for. He's declared that House committees can't investigate him because it touches his underlying crimes. In other words, his — and Rao's — argument is that if a House oversight investigation turns up criminal behavior on the part of the president, it just has to stop investigating.
The majority points out that Supreme Court precedent already says otherwise and that "a congressional committee which is engaged in a legitimate legislative investigation need not grind to a halt whenever … crime or wrongdoing is disclosed."
Rao's dissent also deliberately mis-frames what the Oversight Committee is doing. She states that, by trying to get Trump's tax returns, the Committee is seeking "to reconstruct whether the President broke the law."
While the net effect of getting Trump's tax returns may be a determination that he broke the law, the committee is investigating whether any of his actions warrant strengthening ethics and oversight rules — a task wholly within the legislative purview. The existence of impeachment cannot possibly mean that a House committee must immediately commence impeachment the minute its members suspect wrongdoing.
Rao's stance is absurd on its face, but it also highlights a key problem with the Trump era. The laws didn't anticipate a president who would be gleefully, continually, and openly engaged in wrongdoing. The Congress and the courts didn't anticipate that a possible defense to Trump's crimes might be an assertion that he cannot be investigated for those crimes the minute anyone in the House suspects he has committed a crime.
This victory at the D.C. Circuit is sweet but may be short-lived. Trump can ask the entire court to rehear the case, or he could appeal directly to the Supreme Court. Unfortunately, there he likely has at least four solid votes — Justices Neil Gorsuch, Clarence Thomas, Samuel Alito, and Kavanaugh — who will share his view that he cannot be investigated.
That leaves Chief Justice John Roberts, who has already proven, when gutting the Voting Rights Act, that he's willing to overturn key constitutional provisions without saying what part of the Constitution is actually violated .
Published with permission of The American Independent.