Trump Attacks Pelosi As Left And Right Reject His 'Deal'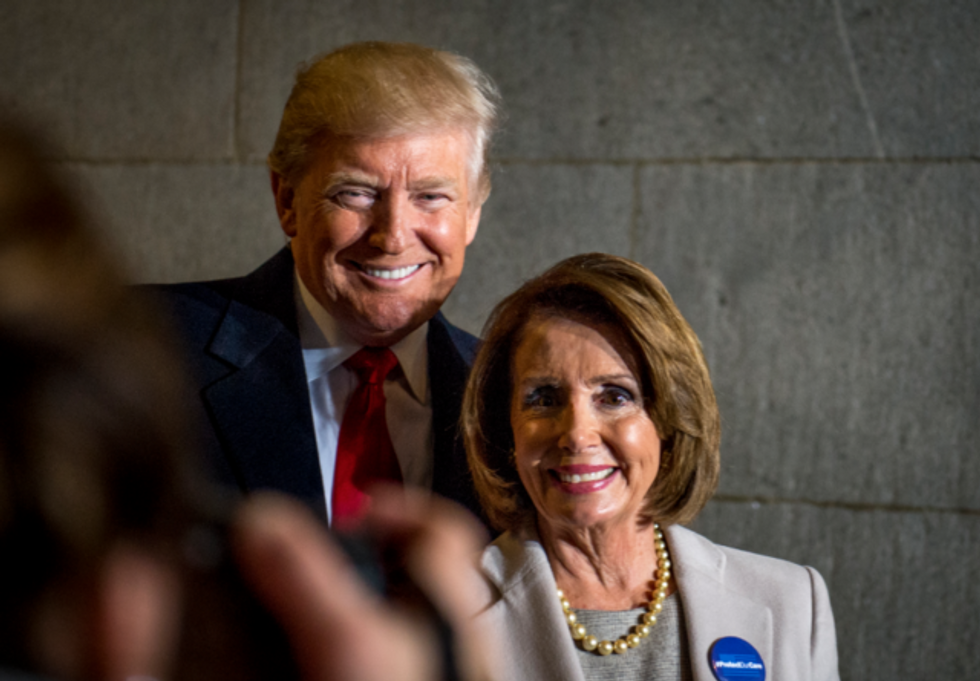 Reprinted with permission from AlterNet.
by Gwendolyn Smith / The New Civil Rights Movement
President Trump is facing criticism — and responding to it — over his latest proposal to end the government shutdown over his demand for border wall funding.
While it was clear that any plan including his wall would be, to use Nancy Pelosi's language, a "non-starter" amongst congressional Democrats, even with its inclusion of limited protections for Temporary Protected Status (TPS) recipients and "dreamers," it was also panned by the right, most notably right-wing commentator Ann Coulter.
Trump proposes amnesty. We voted for Trump and got Jeb!

— Ann Coulter (@AnnCoulter) January 19, 2019
President Trump, who largely appears to have started his hardline stance on wall funding due to statements from Coulter and other right-wing pundits, appeared to respond directly to Coulter via Twitter this Sunday, pushing back on the notion that he was offering Amnesty.
No, Amnesty is not a part of my offer. It is a 3 year extension of DACA. Amnesty will be used only on a much bigger deal, whether on immigration or something else. Likewise there will be no big push to remove the 11,000,000 plus people who are here illegally-but be careful Nancy!

— Donald J. Trump (@realDonaldTrump) January 20, 2019
As indicated in the jab at "Nancy" at the end of that Tweet, Trump also continued to attack Speaker Pelosi, calling her irrational and claiming that she would have some say over the condition of the streets in the City of San Francisco.
Nancy Pelosi and some of the Democrats turned down my offer yesterday before I even got up to speak. They don't see crime & drugs, they only see 2020 – which they are not going to win. Best economy! They should do the right thing for the Country & allow people to go back to work.

— Donald J. Trump (@realDonaldTrump) January 20, 2019
Nancy Pelosi has behaved so irrationally & has gone so far to the left that she has now officially become a Radical Democrat. She is so petrified of the "lefties" in her party that she has lost control…And by the way, clean up the streets in San Francisco, they are disgusting!

— Donald J. Trump (@realDonaldTrump) January 20, 2019

The government shutdown is now the longest in U.S. history, going over the 30-day mark and threatening critical programs throughout the country.