Trump Begged Mexico's President Not To Tell The Truth About His Vile Border Wall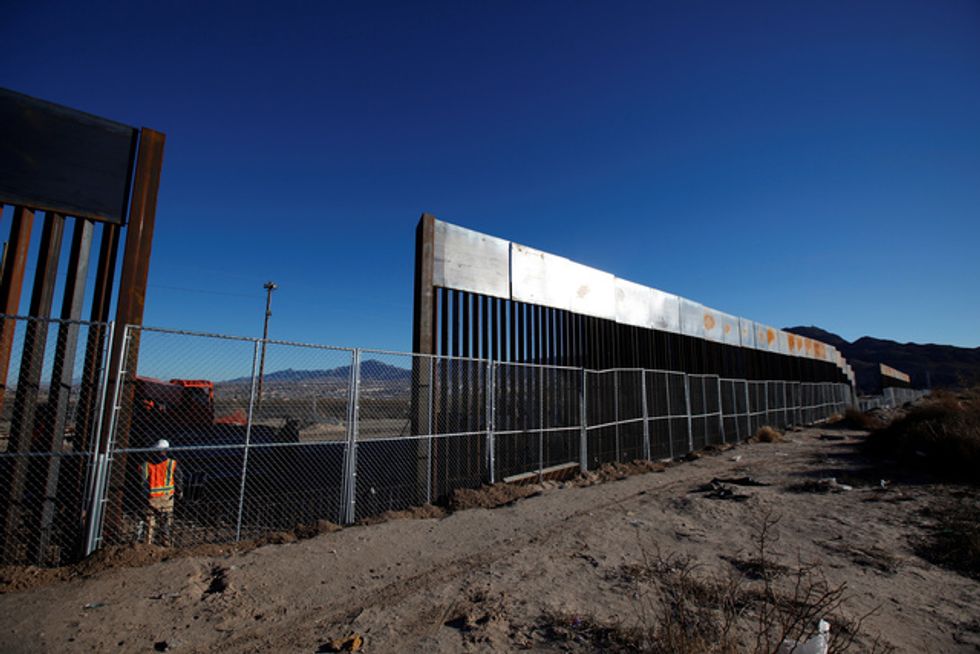 Reprinted with permission from AlterNet.
Despite making it the cornerstone of his presidential campaign, Donald Trump doesn't actually care whether or not the U.S. builds a southern border wall, or who might pay for it.
The president admitted as much during a January 27 call with Mexican president Enrique Peña Nieto. Transcripts of the conversation published Thursday by the Washington Postoffer proof that Trump has long been aware the Mexican government will not fund the border wall project, despite his endless assurances to the contrary. In the call, he pleads with Peña Nieto to play along with his ruse.
The calls also show that Trump has used the wall to con his easily duped base. Not only does he admit the project isn't a priority for his administration, he concedes that it serves as a tool to drum up support for his political agenda. The president described the wall as "the least important thing" he and Nieto discussed during their conversation, "but politically…the most important."
All in all, the call records make plain what has been clear since Trump's campaign was launched: he makes empty promises he has no intention of fulfilling, and cynically takes whatever position is politically expedient to acquire power. While his base complained that Obama was too deferential to foreign leaders, we now have evidence of Trump virtually begging another world leader to help him save face.
At several points in the conversation, Trump tells Nieto he "cannot say to the press" that the Mexican government refuses to pay for the border wall because of its cost to the administration's political currency. "The press is going to go with that," Trump whines, "and I cannot live with that."
Instead, Trump suggests, Nieto should stand down for appearance's sake, and they'll figure out some backroom deal. He goes on to suggest that if Nieto doesn't comply, Trump will take his ball and go home. From the Post:
The funding "will work out in the formula somehow," Trump said, adding later that "it will come out in the wash, and that is okay." But "if you are going to say that Mexico is not going to pay for the wall, then I do not want to meet with you guys anymore because I cannot live with that."

"We should both say, 'We will work it out.' It will work out in the formula somehow," Trump said. "As opposed to you saying, 'We will not pay,' and me saying, 'We will not pay.' "
Interestingly, Trump's bargaining chip includes appealing to Nieto as a fellow reviled leader. The Mexican president's approval ratings are even more abysmal than Trump's, which have hit historic lows for a U.S. president.
"The fact is we are both in a little bit of a political bind because I have to have Mexico pay for the wall—I have to," Trump tells Nieto at one moment on the call. "I have been talking about it for a two-year period."
Other promises Trump is readily willing to abandon include tough talk on trade with Mexico and tax increases on imports. Trump admits during the conversation it's an issue he's prepared to drop if Nieto will co-sign his border wall lies.
"I am very happy to not have any more meetings and just put a border tax on, like everybody else does," Trump tells the Mexican president. "Right now, every nation in the world is charging us what we are not putting on anyone. We have been led by people who really hurt our country. We will not let it go on anymore. With that being said, if you guys want to continue the talks, or if you do not want to continue the talks, it is okay, but I would only like to know your thinking on it because I am willing to go either way."
For his part, Nieto remains firm throughout on his resistance to Trump's press pleadings.
The Washington Post also published excerpts of Trump's call with Malcolm Turnbull, the leader of Australia to whom he moaned about taking in refugees. The great dealmaker apparently relies on begging and complaining to sway his opponents.
"This is going to kill me," Trump says during the discussion. "I am the world's greatest person that does not want to let people into the country. And now I am agreeing to take 2,000 people."
The contentious conversations apparently left the president longing for his favorite authoritarian:
Before ending the call [with Turnbull], Trump noted that at least one of his conversations that day had gone far more smoothly. "Putin was a pleasant call," Trump said, referring to Russian President Vladi­mir Putin. "This is ridiculous."
None of these revelations are likely to sway Trump's base, but the evidence is there for any clear-minded person: Your president doesn't see you as anything but a road to power. And you were all too happy to help him on his journey.
Kali Holloway is a senior writer and the associate editor of media and culture at AlterNet.