The Trump Brand Goes Down-Market
@FromaHarrop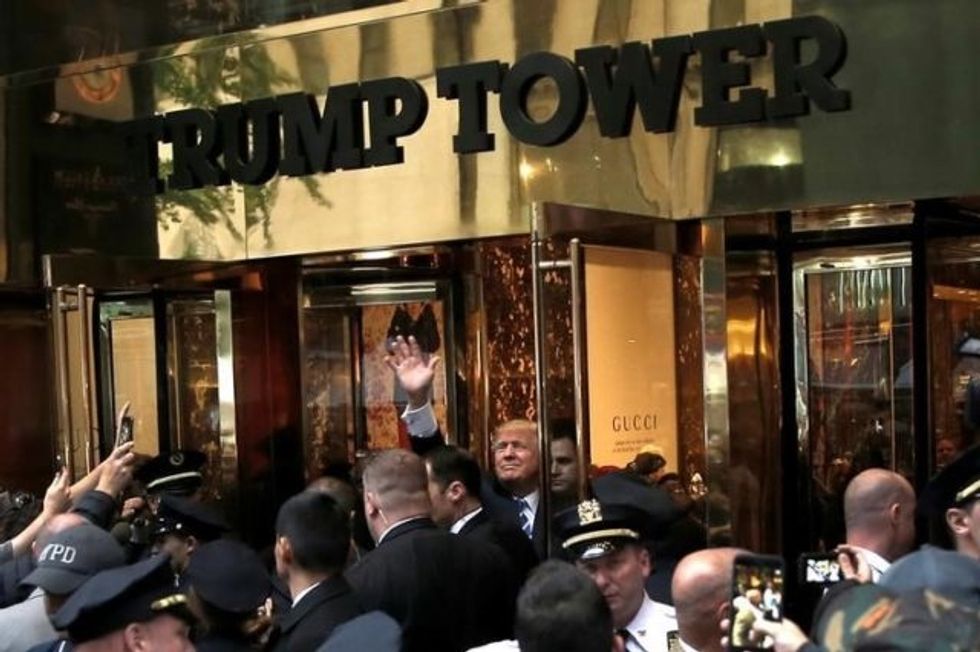 With polls and prayer as a guide, let's assume that Donald Trump loses the election. What will he do for a next act?
If Act 1 was selling the Trump name, the play's in trouble. Ticket prices for things named Trump are selling at a deep discount.
Just last month, a deluxe room at the swanky new Trump International Hotel in Washington, D.C., posted a rate of $805 a night but could be had for $445 on Hotels.com. And this was during an International Monetary Fund conference, when every other five-star hotel in the vicinity sold out.
Two restaurateurs who had signed up for the hotel fled after Trump called Mexican immigrants rapists. The day after the hotel opened, the Trump Organization executive overseeing the project quit in disgust.
It's hard to make gold on a brand name that has turned to sludge. Those able to afford these prime locations are finding it most inconvenient to live, work or play golf under the shadow of a Trump sign.
Who would invite Latin American or Muslim dignitaries to a building named for the man who has smeared their people, not to mention the female half of humanity? And would said dignitaries patronize such properties, especially when they have a world of Trump-free real estate to choose from?
The luxury market has spoken. Bookings at Trump Hotels caved 59 percent in the first half of 2016. And since Trump announced his candidacy in June 2015, foot traffic at Trump properties has tripped 17 percent.
In a sage move, the Trump Hotels group is dropping the Trump name for its new line of fancy hotels. They will now be called Scion. "We wanted a name that would be a nod to the Trump family," CEO Eric Danziger explained in diplomatic fashion.
But the scions named Trump can't be feeling terribly optimistic. With many women shunning anything associated with Trump, the Ivanka Trump line of clothing and accessories seems headed for the bargain bin.
In a Morning Consult survey, 57 percent of women said they wouldn't consider buying Ivanka Trump products. A group has even organized a boycott of stores selling Ivanka Trump brand merchandise.
"As the Trump brand goes, so goes the Ivanka brand," Chad Kawalec, head of the Brand Identity Center, told The Wrap, an entertainment news organization.
Despite Donald's anti-trade rants, Ivanka procures about 75 percent of her merchandize from foreign factories. We were reminded of this recently when the Consumer Product Safety Commission recalled 20,000 of her made-in-China scarves for being too flammable.
Concerning her role in developing the Washington hotel, Ivanka does have her defenders, sort of.
"As much as her father makes our skin crawl, we have said that Ivanka knows what she's doing," said Jason Clampet, editor of Skift, a travel news company. "The question the brand's new property raises is whether her smarts outweigh his non-smarts."
Trump's name is plastered all over Manhattan, but Donald owns very few of the buildings on which it hangs. Flashing his celebrity, Trump cleverly duped the real owners to pay him license fees to use his name. Many no doubt feel burned at the moment. Should they rename the buildings, they would still own them, not Trump.
A Dubai business consortium has erased the Trump name from its new golf course project. The developer of a troubled hotel complex in Toronto is attempting a similar exorcism.
The most plausible Act 2 for Trump would be some sort of TV network, with his devoted fan base as audience. Worth a try as his affluent consumers decamp for other trademarks. For them, "Trump" and "classy" have parted ways.
Follow Froma Harrop on Twitter @FromaHarrop. She can be reached atfharrop@gmail.com. To find out more about Froma Harrop and read features by other Creators writers and cartoonists, visit the Creators webpage at www.creators.com.
IMAGE: Republican presidential nominee Donald Trump waves to supporters outside the front door of Trump Tower where he lives in the Manhattan borough of New York, U.S., October 8, 2016. REUTERS/Mike Segar