5 Cringe-Worthy Moments From The Trump Brothers' Millennial Town Hall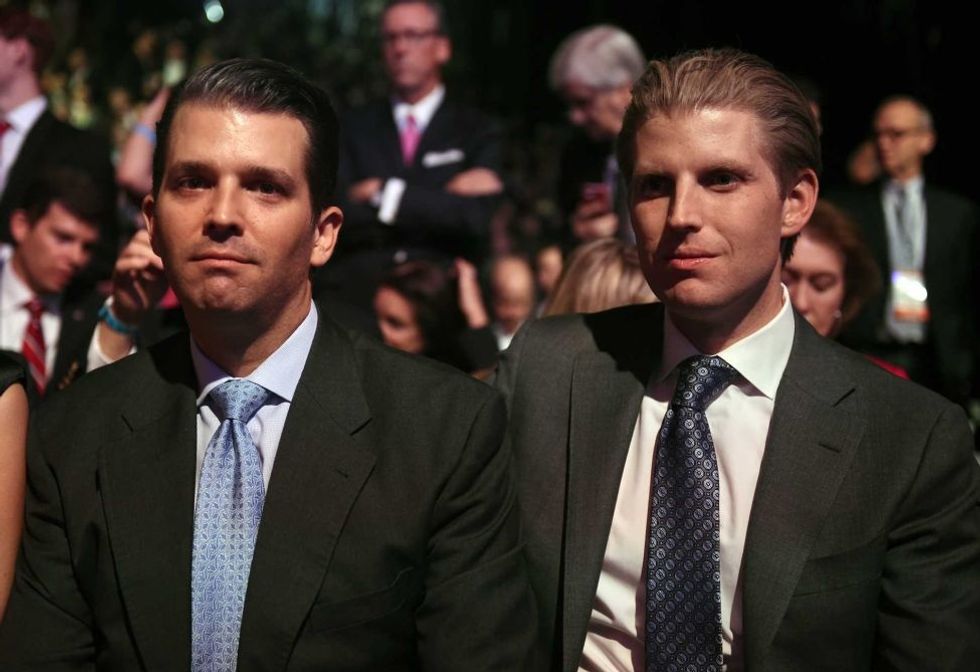 Reprinted with permission from AlterNet. 
The Trump brothers returned to Fox News for a town hall meeting on November 2, eager to woo millennial voters. Unfortunately, they may have missed the mark. Here are five of the most cringe-worthy moments from the excruciating special.
1. Eric Trump: The American dream is dying, these are scary times for… (What age group am I addressing?)
"Sixty-six percent of millennials want to be small business owners or be entrepreneurs," one town hall attendee told Eric Trump. "How will future President Trump address this issue and support aspiring small business owners?"
But Eric Trump didn't want to answer that question. "The American Dream is dying," Eric told her, paraphrasing his father's talking point. "These are scary, scary times for your generation that's just entering the workforce."
Way to dodge the question and engage in a little disingenuous fear mongering. Does Eric Trump not realize he's in the same generation, and that millions in this age group have been part of the workforce for nearly two decades? Not to mention, as of 2016, millennials are old enough to run for President. Then again, most millennials are not born with all the privileges of a Trump son, so no wonder he does not relate to the common folk.
2. Sean Hannity: Multi-national companies do bad things (And what is the Trump Organization?)
Fox News host Hannity brought up the issues of multi-national companies outsourcing labor and dodging the corporate tax rate. Ironically, Trump's products have been made in a dozen countries and we don't even know how much Trump actually pays in taxes because he won't release his tax returns.
3. Donald Trump Jr.'s great investment idea has nothing to do with his father's proposals or philosophy.
"Just think of what we could do with that money," Donald Trump Jr. told Hannity regarding taxes. "We could give our kids a better education."
Well, we could, if say people like Donald Trump paid their taxes and corporate tax loopholes were closed, which doesn't seem to be a big theme of the Trump campaign.
Even before Trump Jr. insisted that third world countries outperform the U.S. in education (they don't), this was already a terrible point. Education is hardly a strong suit for Trump. His most damaging scandal prior to the release of the 2005 Hollywood Access tape was his fraudulent Trump University. Then there's Trump's proclamation that he "loves the poorly educated," because they tend to support him, when white. Although, like Trump Jr., who is fairly well educated, poorly educated Americans probably don't know the difference between second and third world countries either.
4. Hillary Clinton may be behind Obama with respect to millennial support, but Donald Trump's numbers are far lower.
"They're trying to do everything they can to make Hillary Clinton more attractive to younger voters and guess what? The latest poll had her at 42% of youth support. At the lowest level, Barack Obama had 66%," Charles Kirk, founder of Turning Point USA pointed out. True, Hillary Clinton trails Obama with this demographic, but she's also ahead of Obama with women. And then there is the fact that Clinton is not running against Obama. She's running against the Trump boys' daddy. And according to an October 26 poll, Donald Trump is backed by just 21 percent of voters 18-29.
5. Donald Trump Jr.: Go to trade school, don't get a 5-year underwater basket-weaving degree
"Agriculture is awesome. We have to encourage people to take up those kinds of jobs," Trump Jr. said in response to an audience member's question regarding what she called "lack of intellectual rigor" among Americans.
Trump Jr. went on to tout the importance of trade jobs.
"There's guys that I know that go get vocational training… and they have probably much higher paying salaries than they would if they got their underwater basket weaving degree for five years."
But college graduates overall earn far more than their non-college educated peers. And while annual income varies greatly between degrees, there's no college in the country that offers a five year underwater basket weaving degree. We checked.
Alexandra Rosenmann is an AlterNet associate editor. Follow her @alexpreditor.
IMAGE: Getty Images / Robyn Beck